Modular AI Defect Inspection Solution Makes Semiconductor Equipment Upgrades More Efficient
2/15/2022
Since AOI equipment finds defective products by vision inspection, associating with AI for deep learning to adjust conditional expressions can sort defective products, even trace back the cause of errors in the manufacturing process.
Partner: Smasoft Technology I Region: Taiwan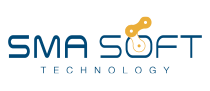 The use of Automatic Optical Inspection (AOI) technology to check the quality of products is a commonly used inspection method in manufacturing. Since AOI equipment finds defective products by taking pictures and comparing them with reference images in a database, it can only play the role of quality control to eliminate defective products. What it cannot do is trace the cause of those defects.
Fortunately, Artificial Intelligence (AI) technology can make up for the shortcomings in AOI. Unlike regular AOI, which only performs image comparison according to the script, AI uses deep learning to adjust conditional expressions. Therefore, it can distinguish whether a product is qualified or not based on experience just like a human. AI can even classify and grade defective products, thereby tracing back the cause of errors in the manufacturing process. This assists manufacturers in further optimizing the manufacturing process and increases yields.
As such AI applications require a large amounts of computing resources, whether they can give full play to their functions depends on the pros and cons of the hardware equipment. With a combination of multiple MIC series products, Advantech provides a modular solution for defect detection AI applications, which not only have high efficiency and stable performance, but also enable adding of computing resources through a plug-in approach. This allows System Integrators to configure hardware according to the current needs of the project, while providing convenience for future expansion. End customers can also benefit from this cost-effective solution to realize AI applications as soon as possible.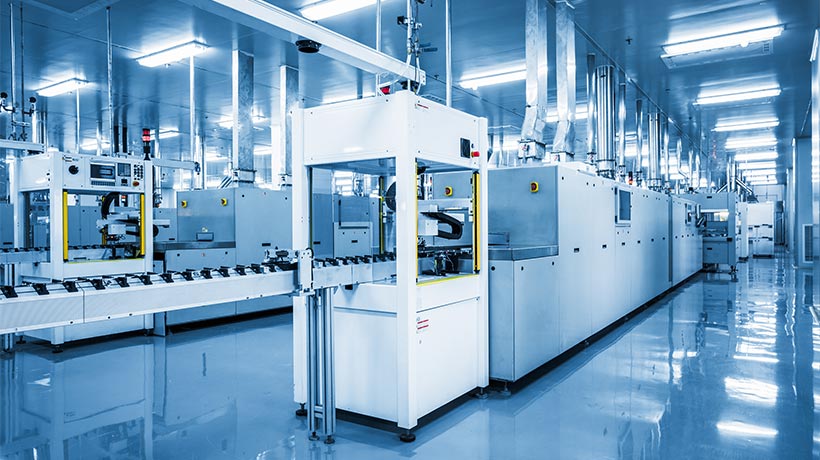 Smasoft Technology Co., Ltd. is a System Integrator that develops industrial automation software and offers AI application solutions. Its self-developed AINavi-AOI-Seq automated software platform and AINavi-AOI-Semicon AI defect inspection tool have been well liked and adopted by the semiconductor and electronics industries. Recently, the company was commissioned by a semiconductor equipment manufacturer that manufactures Extreme Ultraviolet Light (EUV) pod inspection machines to implement defect AI inspection features.
The EUV pod inspection machines have built-in AOI software, but can only find defective products, not determine what is causing the issue in the manufacturing process. To make products more useful, the semiconductor equipment manufacturer decided to upgrade their EUV pod inspection machines with AI features.
According to the customer's request, Smasoft's AI solution must complete the analysis of 380 images for a single pod within two minutes and inspect different materials at the same time. Consequently, multiple sets of AI models (algorithms) were needed for interpretation. In addition, because the solution needed to be installed in a cabinet in the lower half of the machines, the size and configuration of the hardware had to be constrained due to the limited space.
To this end, Smasoft would implement two sets of software, AINavi-AOI-Seq and AINavi-AOI-Semicon, to distinguish the types and locations of defects through AI, and then classify defects by threshold screening. Moreover, the results would be exported into a test report to facilitate identifying the source of the problem.
To meet these software requirements, Smasoft needed to purchase a hardware solution with strong computing performance and stable operation. The solution needed to be compact in size and flexible in configuration to overcome physical space constraints.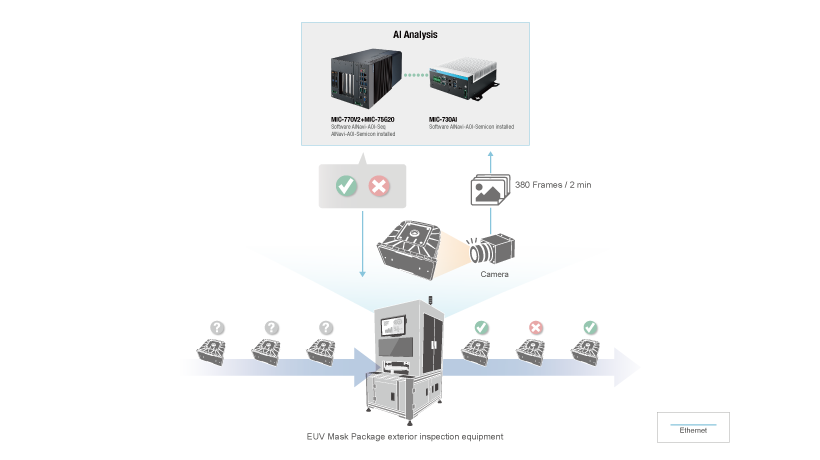 After a rigorous selection, Smasoft tested the hardware products of multiple vendors for several days. The company finally chose Advantech's solution (including compact fanless system MIC-770, GPU expansion module MIC-75G20, and AI inference system MIC-730AI), because its performance, modularity, and stability were deemed the best.
The first step in the implementation process was to install the AINavi-AOI-Seq and AINavi-AOI-Semicon software on MIC-770 and install the AINavi-AOI-Semicon on the MIC-730AI. After that, the EUV pod inspection machine could take images and transmit them to the MIC-770 (built-in MIC-75G20) for preprocessing. The pre-processed data is then analyzed by MIC-770 and MIC-730AI for different AI models. After the analysis, AINavi-AOI-Seq classifies and grades the selected defective products according to the types and severity of defects (such as stains, scratches, and watermarks), while generating quality inspection reports for customers to review.
Among the multiple hardware products used in this project, the MIC-770 is a refined system. This industrial-grade computer with a compact design is most suitable for applications where space is limited. The built-in Intel Core i series processors give it high-efficiency computing capabilities and low power consumption characteristics.
Supporting Advantech's i-Module Series enables the MIC-770 to easily meet the needs of different application scenarios by plug-in expansion. For example, the project chose MIC-75G20 from a variety of modules. Through this expansion module, the system can not only provide powerful GPU graphics processing capabilities, but also can increase storage space with an additional hard drive slot to meet the needs of backing up important data.
Another hardware product, the MIC-730AI, is a master of inference for AI. Just like the MIC-770, this high-performance computer with embedded NVIDIA Jetson AGX Xavier processor is a fanless, compact and low-power design. It can be used as an inference machine for deep learning and can also be responsible for analysis tasks of defect inspection.
In terms of software, the AINavi-AOI-Seq is an automated development platform that connects traditional algorithms and AINavi-AOI-Semicon AI inspection. Users can quickly setup the AI defect inspection process via the user friendly interface. There is no need to develop programs, which greatly reduces the burden on developers and speeds up the development of AI functions for the automated machines.
AINavi-AOI-Semicon has a variety of AI detection algorithms specifically designed for the semiconductor industry and defect inspection tool applications. It can perform multiple tasks such as defect image classification, defect location, defect segmentation, abnormal image detection, and the identification of various flaws in the tested product.
Furthermore, AINavi-AOI-Semicon, which uses a visual web interface, guides users to build AI model training through a step-by-step approach. Its flexible and scalable computing architecture allows AI models and inspection methods to be developed according to the item of inspection and can upgrade inspection equipment without affecting existing machine functions.
MIC-770

Compact Fanless System with 8th/9th Gen Intel® Core™ i CPU

MIC-75G20

GPU Expansion Module for Video AI Edge Computing with MIC-7 Series

MIC-730AI

AI inference system based on NVIDIA® Jetson™ AGX Xavier™

AINavi-AOI-Seq Automated machine development software developed by Smasoft


AINavi-AOI-Semicon AI defect inspection tool for semiconductor industry developed by Smasoft

There are many difficulties for manufacturers to implementing AI applications by themselves. To upgrade, it is necessary to hire dedicated AI expertise and spend a lot of time and money. Fortunately, the modular solution provided by the cooperation of Advantech and Smasoft was able to greatly reduce the threshold for introducing AI applications into manufacturing.
Since AINavi-AOI-Seq is a development tool with non-coding features and AINavi-AOI-Industrial is a guided AI training interface that anyone can use, these two software products from Smasoft make the implementation of AI applications much easier. Plus, Advantech's MIC series products are the ideal hardware platforms for Smasoft's software matchmaking. Taking this project as an example, the customer currently only uses two AI models for defect inspection. If there is a need to create more AI models in the future, the customer only needs to plug in a new AI inference system under the original architecture configuration.
Such a cost-effective AI solution is not only suitable for semiconductor equipment, but other manufacturing industries. The implementation of this project has been highly successful for the semiconductor equipment manufacturer. So they decided to implement AI defect inspection for all their other automated machines. This is the best proof that this combined solution has been recognized for its valuable contribution by the industry.