Overall Equipment Effectiveness (OEE) Application to Maximize Productivity on a Production Filling Line
2/23/2019
Manufacturing companies invest in factories and production line equipment, which must operate reliably according to specifications in order to produce a positive return on investment (ROI).Failures of equipment are monitored and recorded with the collected data being used to improve maintenance effectiveness. This keeps the factory operating longer without failure, and thereby improves ROI. Paper-based OEE systems, which are still prevalent,are vulnerable to data-entry error and absence,delays in communication and problems of data storage. Even when they operate well, they distract line staff from the core functions of production.Furthermore, the data collected needs collation in a central location, calculation of overall results and their display to appropriate personnel, with manual conversion of the data leading to more potential errors, delays and additional problems of storage.
One company experiencing these problems while operating a manual paper based OEE system was an international oil company. Not only did this company experience these problems on one production line in one factory, but it had exactly the same problem multiplied by all of its production lines in all of its factories worldwide. It approached CGI to automate this system, to remove these problems and provide timely information to management across all sites.CGI is a global system integrator and consultant who works in partnership with Advantech to provide complete solutions to industrial problems such as this one.
The oil company logged equipment failures during the production process. Machine operators manually applied timestamps and recorded the reasons for failure. Each operator explained their machine failures in their own words, and indifferent languages, making it difficult for managers to analyse results. The need to review all paperwork meant that no conclusions could be drawn in real time.
The harsh nature of the production environment,which experiences strong vibration, extreme temperatures & wet and dirty conditions, meant that it was difficult to install automated equipment to detect failures, record information or transmit it to management.
UNO-2372G

: Intel Atom/Celeron Small-Size Modular Box Platform with 2 GbE,4 USB, 4 COM, 2 x mPCIe, HDMI, DP

AIM-35

: 8" Industrial-grade tablet / mobile POS system

WISE-4051

: 8-ch Digital Input IoT Wireless I/O Module with RS-485 Port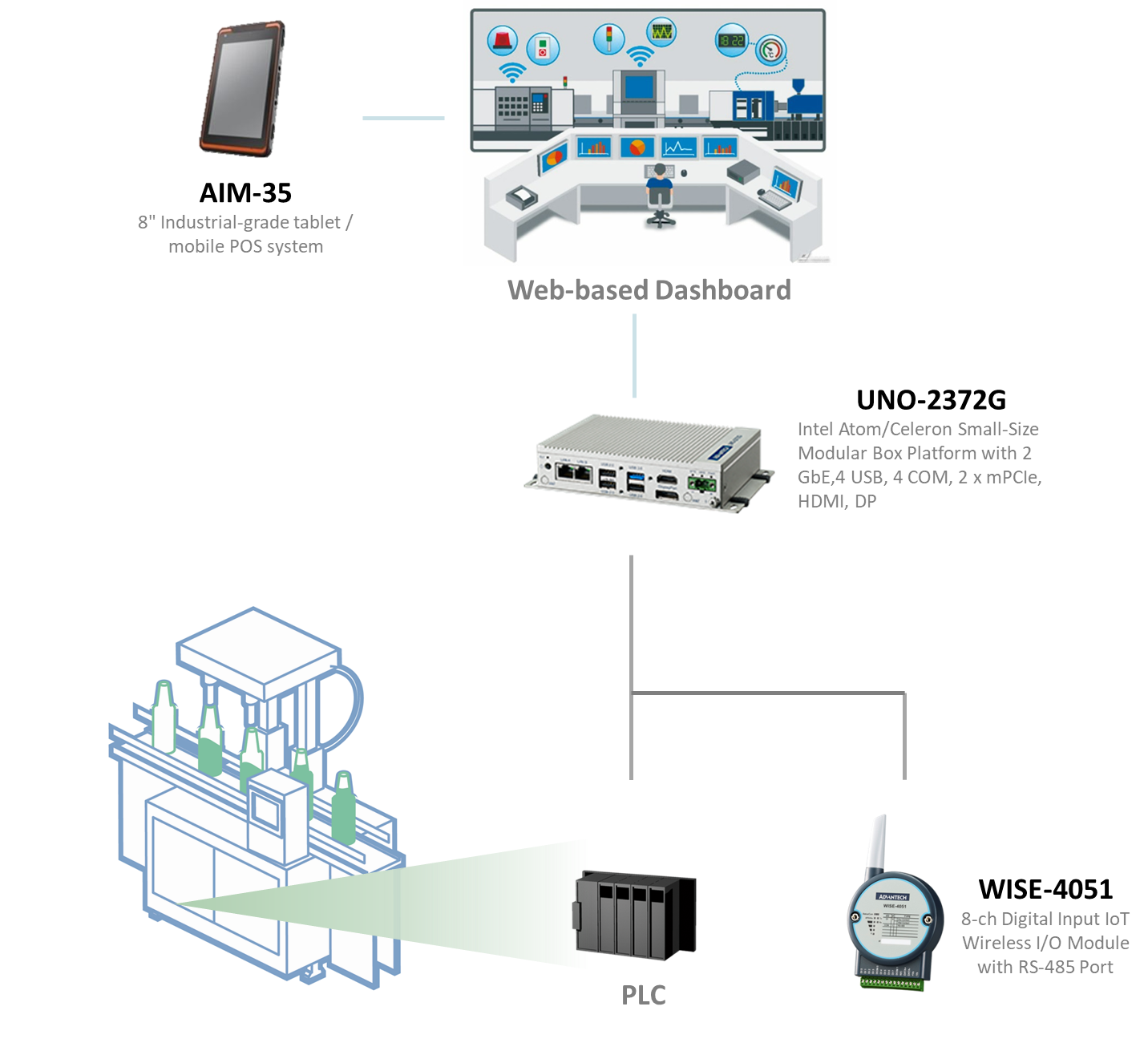 The oil manufacturer wanted to be able to automatically record assorted production data along the production line. A hardware device (controller) needed to be developed which would be placed directly at the filling line, where PLCs are installed, to capture production data. An industrial grade Wireless-LAN infrastructure also needed to be developed and deployed for the system to connect. The production data needed to be accessible to the managers, requiring a web-based dashboard for managers to review and analyse data.CGI and Advantech proposed an end-to-end solution to monitor the production line, identify faults and report on them as they occur, enable simplified and guided reporting by machine operators, and automatically update a management dashboard with pertinent information.The dashboard aggregates and displays the critical information managers use to plan production changes, plan maintenance and to help identify reliability problems. Dashboard widgets allow flexible visualization and easy customization deliver optimal views depending upon manager roles and priorities. CGI designed the dashboard to provide continuous real-time information on status together with instantaneous alarms when failures occur. While the dashboard is presented in management offices, and can run on any browser-based computer, the data itself is collected and processed directly from the harsh environment of the factory floor.
For the production environment, CGI and Advantech selected the UNO-2372G as the main computer and dashboard server for its rugged, fanless and modular design. The UNO will support cellular connection allowing global implementation,however the initial deployment operates on-premise at the primary site. It monitors the production processes and machine PLCs which enables reporting while the factory operates correctly.The status of machines on the production line is monitored by an Advantech WISE module, the WISE-4051, leveraging its time stamped data logging capability to ensure precise recording of failure data, enabling accurate down stream interpretation, analysis and problem resolution.Finally, the machine operator is not left out. Instead of the wasteful and inaccurate paper system, the solution uses the Advantech AIM-35 rugged tablet. CGI built a dedicated interface that allows the operator to simply enter the pre-defined failure modes which correlate with the time stamp from the WISE and the production information collected by the UNO. The solution further correlates failure timestamps with the affected production orders, working shifts and the failed machines automatically. Downtimes are shown instantly on the CGI web-based dashboard. Managers can identify major downtime causes in real time and respond immediately to get machines up and running, resulting in higher overall productivity.Managers can also review and analyse historical data to make better informed decisions about production efficiency and machine health. Monitoring machine downtimes for a period of time, allows managers to derive information such as the top 5 downtime causes, overall equipment effectiveness, live machine performance, predictions, production orders affected,and on-time production achievement. Root-cause analysis provides a better understanding of why technical failures are occurring and how best to minimize machine downtime in the future.