Smart Factory Transformation for Water Hardware Production Line in Taiwan
4/27/2020
In recent years, one of the world's largest manufacturers of zinc alloy faucet components, has been actively moving towards smart manufacturing, investing NT$ 5 billion in establishing a smart factory in Taichung, Taiwan. This move allowed them to upgrade their hardware manufacturing processes and helped them to diversify their products and services. It also transformed the company from an original equipment manufacturer (OEM) to an original design manufacturing (ODM) services company. In the process of digital transformation, they needed a control system with sufficient flexibility, not only to interface with existing controllers and robotic arms, but also to instantly feedback execution status to the management system. The limitations of the overall equipment space also affected the choice of new equipment components. Combining all the above requirements, the customer choose Advantech's AMAX-5000 controller as the main hub in the system.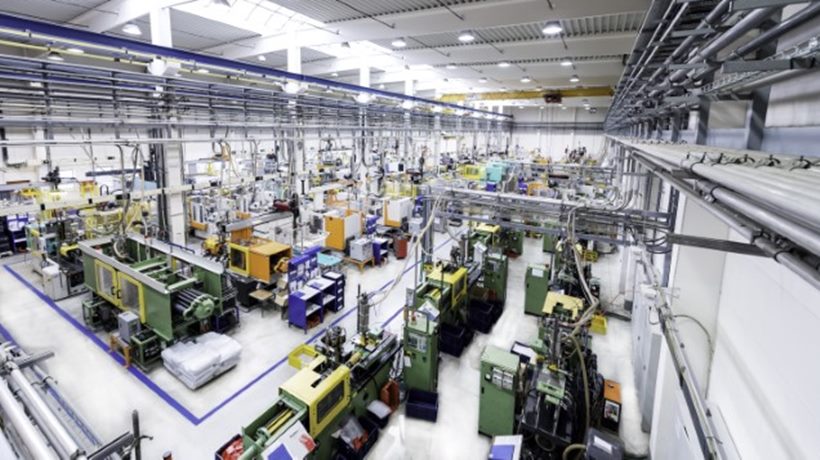 In traditional manufacturing, industrial PCs take up too much space in the overall architecture and they lack I/O expansion capability and flexibility. Standard controllers cannot perform the high data transmission and bandwidth requirements in smart factories, so the customer thought about whether to introduce a new integrated control architecture that could handle large amounts of data, with all the advantages of a PC, but also flexible I/O expansion and integration of legacy controllers. In the new architecture, they wanted to integrate devices and components with an open architecture. In communications with lower system layers, the Fieldbus protocol was used in conjunction with EtherCAT. In the control layer, the internationally-used control language standard IEC-61131-3 Softlogic was used. And the upper layer of communication used Open Database Connectivity (ODBC) or OPC Unified Architecture (OPC UA) as the communication protocol. These universal open protocols also ensure that the system will not be monopolized by specific manufacturers in the future, and that key technologies can be mastered and controlled by their own people.
AMAX-5580 PAC System with CODESYS Softlogic embedded was the main controller which collected all data on the status of the production line and reported back to the central controller via local HMI and web interface. CODESYS RTE—the main control software was installed in AMAX-5580 to provide a real-time control kernel that handles real-time control tasks. Advantech also provided additional value-added software components to facilitate up-stream communication. AMAX-5000 EtherCAT Slice I/O series including the AMAX-5001, AMAX-5052 and AMAX-5056 are also used in this system for remote I/O expansion.
ESRP-SCS-W5-543R3: AMAX-5580 with CODESYS RTE embedded. AMAX-5580 with Intel Core i5 CPU 8G DDR4 RAM 128G SSD, 2M MRAM. CODESYS RTE v3.5 with target visualization and web visualization.
AMAX-5001: Smart power input module with 4-ch DI
AMAX-5052: 16-ch digital input module
AMAX-5056: 8-ch sink-type digital output module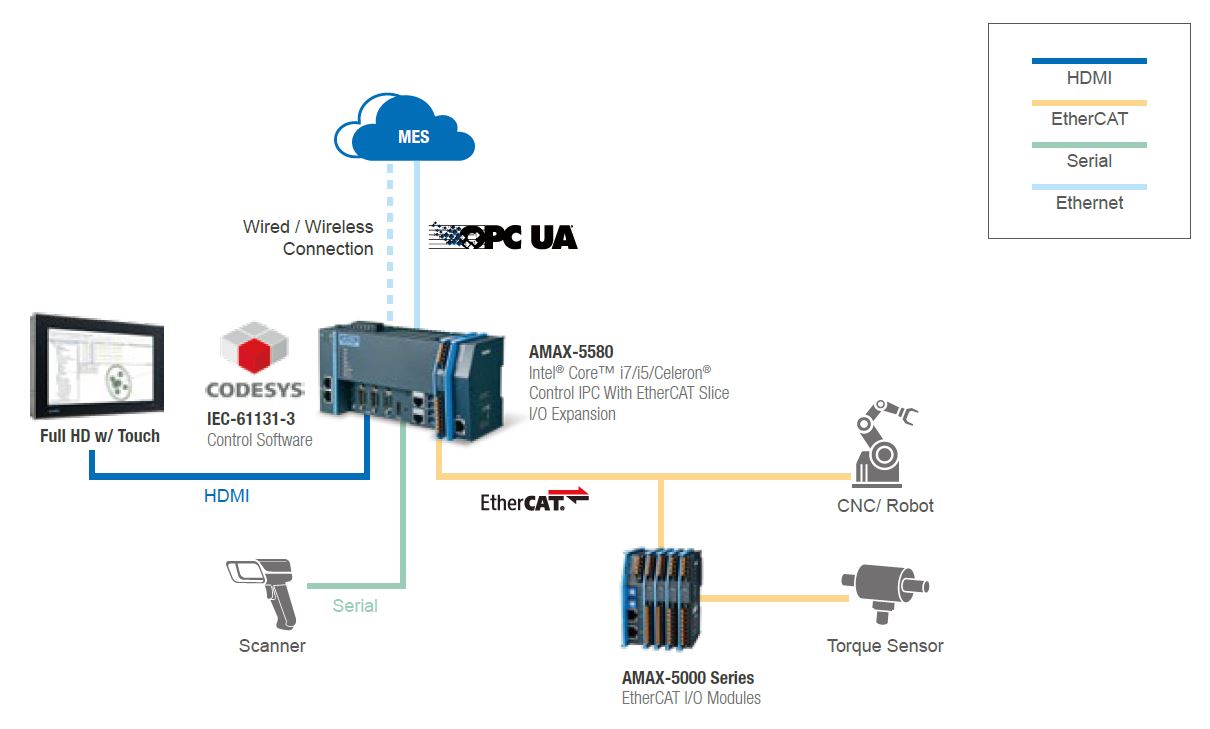 Advantech provided all the necessary training for the customer to quickly get started using CODESYS (IEC-61131-3 standard Softlogic) and we could quickly provide samples for the customer to test their solution. We even provided an exclusive CODESYS training course. AMAX-5580 offered a simple installation path and maintenance was straightforward with its push-in terminal design, easy slide-in mechanism, and front accessibility for component upgrades. Lastly, AMAX-5580 provided an expansion road map because it already has a PoE/USB 3.0 interface that can be used for industrial cameras for the planned future optical vision inspection system upgrade.
Worldwide No 1 IPC manufacturer with global support network
Space saving, more space for other automation components
Easy installation and maintenance
One-stop-shopping for most of automation components
Training for CODESYS and instant support
Cost saving for the total control solution