Smart Machinery for Digitizing Shoe-Manufacturing Machines
3/10/2021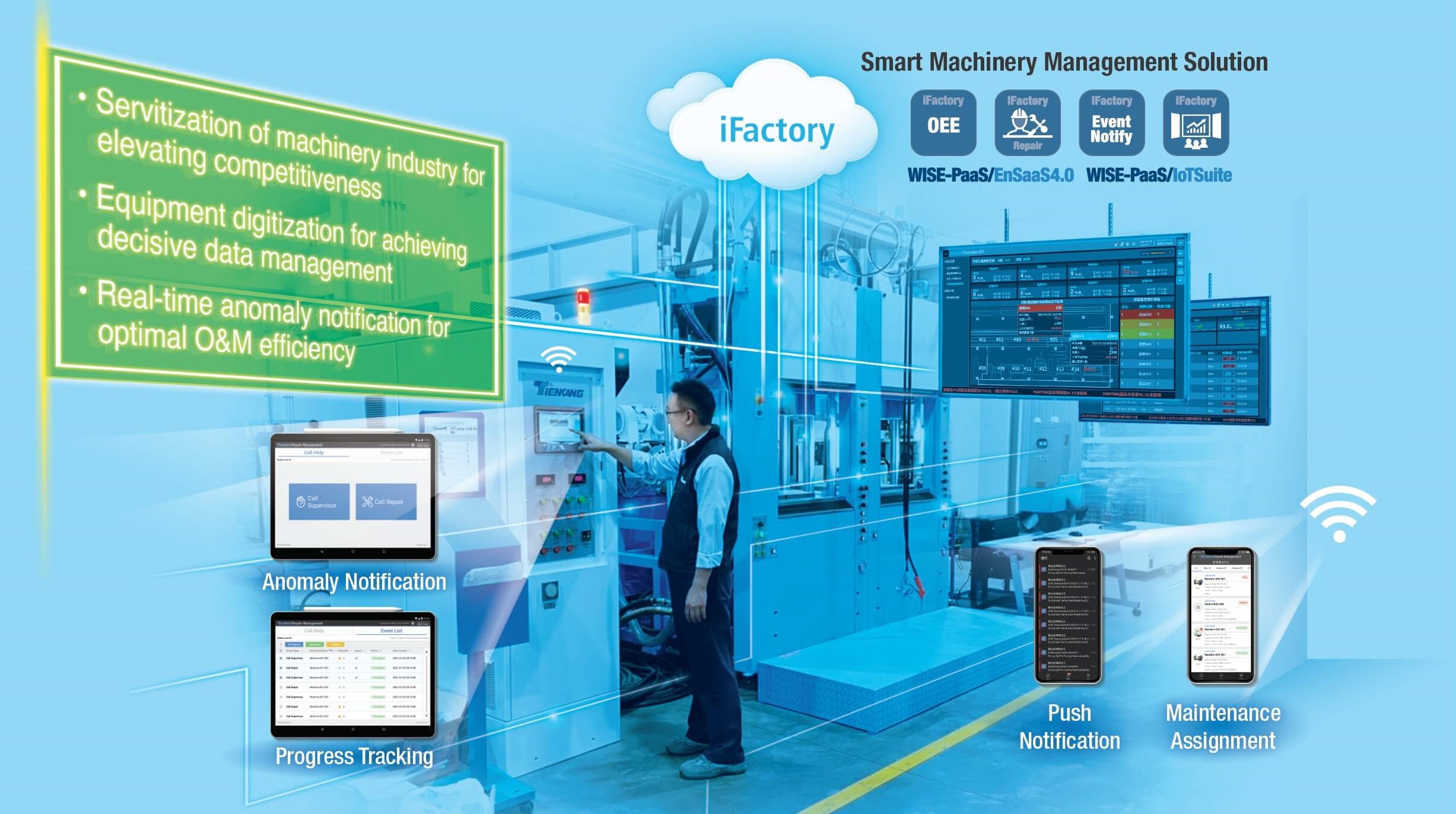 The Shoe Manufacturing Industry has always been about small volume production. Advantech has just launched cooperation with Tien Kang, a major shoe manufacturing machine maker in Taiwan who wanted a custom smart machinery management solution that addressed the efficiency needs of their shoe-machine production facilities. Established in 1982, Tien Kang Co., Ltd. has focused on R&D and production of high-tech shoe manufacturing machines. As the global market gets more and more competitive, it made good sense for Tien Kang to adopt intelligent tools and smart manufacturing processes to improve efficiency, optimize after-sales service, and improve warranty/maintenance support for customers.

The first step to achieving smart machinery management is to acquire accurate data. To this end, the company collected all production parameters, productivity info, and maintenance schedules. The smart machinery management solution would also solve a long-existing data integration problem with the shoe-making machines due to different communication protocols and settings inherited from different legacy equipment brands. After collecting data from sensors and equipment, the plant manager would be able get an overview of the manufacturing process and take control of the production of each machine via the built-in visualized dashboard via the OEE App. With the smart machinery management solution in place, production statistics could be analyzed and adjusted, and production problems would trigger event notifications to inform management to assign engineering teams to troubleshoot issues, with progress tracked via mobile services.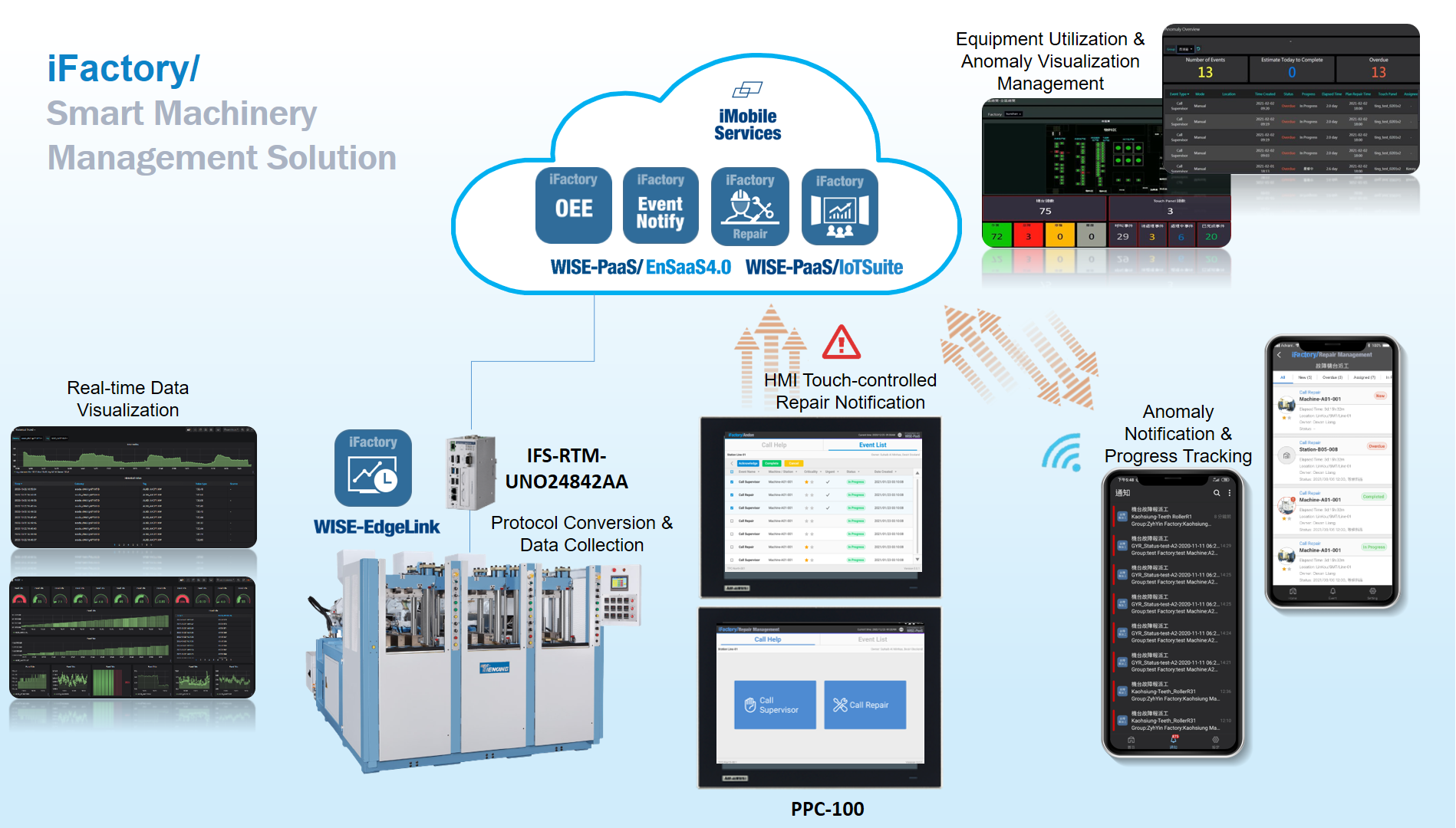 ---
To meet the unique needs of Tien Kang, Advantech integrated one of their iApp services built specifically for smart machinery—in this case the iFactory RTM (Real-Time Monitoring) Gateway. The gateway solution ready package consists of both hardware and software. The hardware components comprised of Advantech's IFS-RTM-UNO box computers, which aggregated data and performed preprocessing at the gateway layer, which reduced unnecessary relays to the cloud. WISE EdgeLink software acquired data from all the various sensors and devices and provided protocol conversion support for older legacy equipment. The main function of the service was to collect data from machines and monitor all operations. This was facilitated by pairing the hardware with the Wise-PaaS Cloud Service, the iFactory – smart machinery management software solution that combines industrial apps for Overall Equipment Effectiveness (OEE), Repair Management Service, and real-time Event Alarm and Notifications (Event Notify). Based on alarm conditions assigned to the respective facilities, anomaly events could be sent in real-time to an edge cloud server so that when the system encountered errors, relevant engineering personnel would be notified via the app. Service assignment and progress reports were then generated accordingly via the Repair Management iMobile Service. This significantly increased equipment utilization by preventing unscheduled downtimes and the equipment maker could also now carry out data analysis for production optimization, with adjustments taken for subsequent machine development and upgrades, thereby boosting their reliability. By digitally upgrading Tien Kang's shoe-making facilities, much more than "just-in-time" after sales services could now be provided.
Currently Advantech and Tien Kang have accomplished the first stage of the iFactory/Smart Machinery Management Solutions. Through this service, the shoe machine manufacturer was able to increase assembly speed, capture equipment data, view systematic and visualized data presentation, perform preventative maintenance and remotely manage all aspects of production across plants and lines. Both parties will continue cooperation in the future to expand the smart functionalities of production.