How to Select the Right Wireless I/O Modules for Your IoT Applications
7/30/2022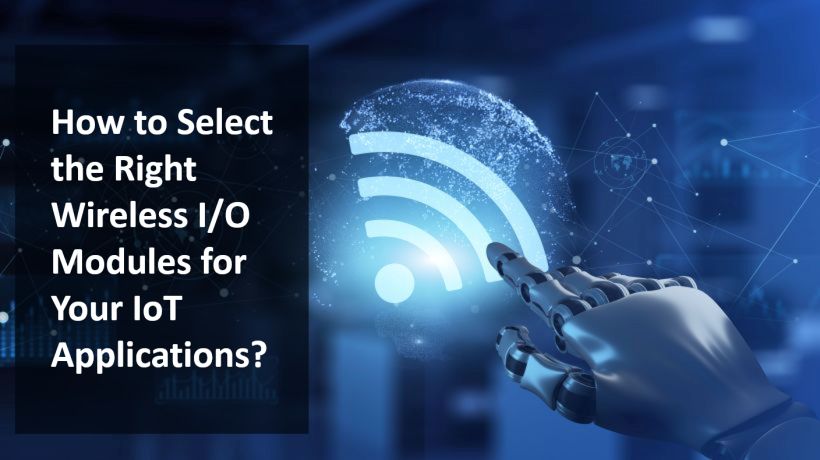 Electronic communications, including emerging wireless technologies, enable new applications such as vehicle tracking and networking. Identifying the most cost-effective wireless solution for a particular application can be challenging. This article will help you evaluate the best wireless solutions for your Industrial IoT (IIoT) applications.
Why Is Wireless Technology Important to the Industrial IoT (IIoT) World?
IIoT ranges from tiny sensors to complex data transmission via the Internet, all managed by software. Since the concept of Industry 4.0 started expanding rapidly, one challenge of IIoT has been getting data from the field devices to the cloud in a smart and secure way. To overcome this challenge, businesses have realized the value of wireless technology and reliable wireless networks have been developed for IoT connectivity.
Compared to traditional wired solutions, an advanced wireless solution simplifies device installation, which increases productivity and efficiency. A wireless network makes IoT deployment more flexible for both indoor and outdoor applications. Furthermore, a wireless network can be designed to support multiple communication protocols such as Modbus and MQTT, allowing data to be easily transmitted between different devices, even legacy devices, so they will not need to be discarded. Most importantly, wireless solutions enable the management of facilities with continuous remote monitoring of assets to reduce downtimes, improve worker safety, and help industry owners make strategic decisions faster.
What Are the Different Types of Wireless Technologies Used in IoT Applications?
RFID: Radio frequency identification (RFID) is the use of radio waves to automatically identify objects, and capture and transfer data in real time. In IoT applications, RFID can be used on cameras, GPS, and other smart sensors to help monitor and track objects. It is widely used in facility monitoring, access control and package-tracking applications in buildings, factories and throughout the transportation industry.
Wi-Fi: Wi-Fi has the advantage of providing high-throughput data transfer for both industry and home environments. It can work alone or interwork with other specialized protocols, or with cellular. However, it has limitations in coverage and scalability, and has higher power consumption. Therefore, Wi-Fi is more suitable for devices that can be conveniently connected to a power outlet.
SmartMesh IP: SmartMesh networks provide redundant routing to the network gateway, as every node in the mesh network has the same routing capabilities. Therefore, channel hopping gives a SmartMesh IP network five nines (> 99.999%) data reliability. Also, SmartMesh IP devices sleep at ultra-low power between scheduled communications, typically resulting in a duty cycle of < 1%. Regarding security, all traffic in a SmartMesh network is protected with end-to-end encryption, message-integrity checking, and device authentication.
LoRaWAN: LoRaWAN is a low-power, wide-area networking (LPWAN) protocol designed to wirelessly connect end nodes to the Internet. LoRaWAN devices transmit signals over a long distance of 15 to 20 km, and provide deep indoor coverage. With its small power consumption, the battery life of a LoRaWAN device is up to 10 years. It supports energy-efficient, cost-effective, and secure bi-directional communication in IoT, M2M and industrial applications.
NB-IoT (Narrowband IoT): Unlike LoRaWAN, NB-IoT is a cellular, narrowband radio technology and is suitable for M2M and IoT devices and applications. With its low bandwidth of 200 kHz, NB-IoT enables the connection of devices which need to transfer only small amounts of data while having long battery life. Furthermore, NB-IoT has wide coverage, but also maintains strong signal quality on LTE networks.
LTE-M: LTE-M is designed for IoT devices to connect directly to a 4G mobile network. Compared to standard LTE, LTE-M is cheaper to implement because of its more limited bandwidth. Also, it is optimized for low-data-rate devices running on small batteries, which can reduce power consumption. However, LTE-M has higher data rates than LoRaWAN or NB-IoT at 1 Mbps, making it a good choice for products that require long-distance cellular access with high data rates.
Key Points for Selecting the Right Wireless I/O Modules
The following reiterates the key points to consider when selecting a wireless I/O module.
Data rate
Distance
Power consumption
Encryption
Frequency
1. How fast can your data be transmitted wirelessly?
Data rate refers to the number of bits transmitted from one device to another across a network per second, which means it defines the speed of data transmission through wireless communication. Furthermore, the speed of data transmission has an effect on power consumption. Take LoRaWAN technology as an example. It offers a lower data rate compared with Wi-Fi, thus reducing power consumption and maximizing battery life. On the other hand, Wi-Fi offers always-on connection at data rates up to 300 Mbps but consumes much more power.

2. What is the maximum distance between your devices?
The coverage of a network is different based on different wireless technologies. Some wireless I/O modules such as LoRaWAN I/O modules support long-range communication up to 20 km in rural areas, but some, like Wi-Fi I/O modules, are more suitable for indoor applications.

3. Do your devices operate in an energy-efficient environment?
Power consumption is a significant consideration in selecting the right wireless I/O module for your applications. Ideally, wireless I/O modules run on batteries for years and are preferred in IoT applications. Therefore, the choice of module for each protocol plays a critical role in battery life due to the difference in power consumption for each module/protocol. LPWAN/LoRaWAN modules with low power consumption can greatly extend the lifespan of the battery, and be suitable for long-range connectivity. Compared to LPWAN/LoRaWAN protocols, although RFID, ZigBee and Wi-Fi generally have higher power consumption, they can be energy-efficient candidates for short-range connectivity.

4. Is wireless encryption suitable for your application?
Different wireless modules use different encryption technologies to prevent unauthorized access or damage to devices and data within the network. Therefore, when choosing wireless modules for IoT deployment, we have to ensure that data transmitters and receivers support the same security standard to achieve end-to-end encryption.

5. Does your device operate smoothly in any frequency band?
Wireless modules communicate within a network based on frequency, and the communication can only be realized on a certain frequency band. However, there may be some situations where there is saturation within a specific frequency band, or it may be illegal in certain circumstances for a device to operate in a specific band.
Now that you have learned the criteria for selecting the right wireless I/O modules, let's take a look at how wireless I/O modules benefit the vertical markets.
Vertical Markets of Wireless I/O Modules and Their Applications
Manual processes are less practical in today's manufacturing facilities and physical networking deployment is time-consuming and costly. Wireless technology advancements like high data rates, low power, long range, and fast roaming help manufacturing processes evolve into highly synchronized, smart, and efficient networking operations.
Overall equipment efficiency (OEE)
Facility monitoring
Machine condition monitoring
Warehouse management
Energy & Environment
While climate change endangers our living environment, the benefits of advanced wireless technologies such as long-distance transmission, low-power yet high penetration rates, and wide-signal coverage can help optimize energy efficiency and promote renewable energy sources. Wireless monitoring of climate and geographic changes can also be done, so we can quickly respond to protect our environment.
Urban environment monitoring
Disaster detection
Renewable energy wireless solutions
Meter monitoring
Emerging wireless technology features, such as high data rates, high bandwidth, low latency, and wide signal coverage, have helped smart traffic management and in-vehicle solutions evolve to improve the efficiency of transportation infrastructure. Safety, travel times, and the comfort of passengers can also be improved to meet the high expectations of intelligent transportation.
Traffic management
In-vehicle networking
Security management
Wireless technology can make IoT connectivity easier; it can be a new way to increase your success in business. The key to selecting the right wireless I/O modules is to narrow down your requirements and focus on the primary criteria that really matters in your applications. The following table summarizes the differences between wireless technologies, including LoRaWAN, proprietary LPWAN, Mesh, NB-IoT, LTE-M, Wi-Fi and RFID, and provides a selection of I/O modules for you to match your needs.