Advantech's UNO IoT Edge Gateways Now Certified to Run on Microsoft Azure IoT Platform
5/5/2022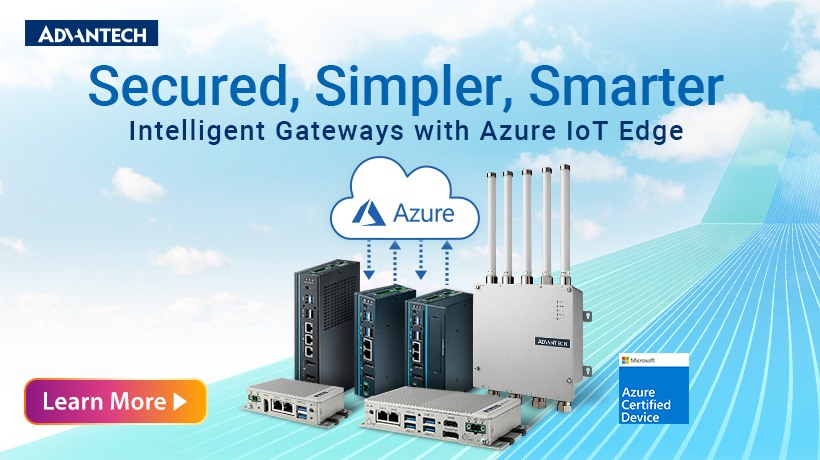 May 2022, Taipei, Taiwan - Advantech, a leading provider of automation technology, is pleased to announce its products are now available in the Microsoft Azure Certified Device catalog. This ensures customers get Internet of Things (IoT) solutions up and running quickly with hardware and software that has been pre-tested and verified to work with Azure IoT services. The Azure Certified Device program allows businesses to reach customers where they are, working with an ecosystem of devices and platforms, allowing for faster time to production.
Recognized as a leading manufacturer of intelligent solutions, Advantech is consistently listed as one of the Top 50 global automation suppliers. With over 17,000 products, Advantech offers solutions for diverse industries including Industry 4.0/Smart Manufacturing, Transportation, Power & Energy, Healthcare, Digital Logistics, Intelligent Retail & Hospitality, Gaming, Intelligent Building, and Smart Cities.
Of these various product offerings, Advantech's UNO series of edge gateways have achieved Microsoft's "Azure Certified Device" and "Edge Managed" certifications, providing advanced devices capable of streamlining deployment, minimizing cost, and facilitating edge computing and analytics. To support various industrial IoT and automation applications, UNO gateways feature a rugged, application-oriented design. The compact size and optimized form factor ensure easy deployment and maintenance for diverse installations, including in-cabinet, outdoors/roadside, and extreme environments.
Azure Certified Device Program and Edge Managed
The Azure Certified Device program validates that UNO IoT edge gateways support connection to the Azure IoT Hub and secure provisioning via Device Provisioning Service (DPS), guaranteeing their functionality and interoperability. UNO gateways have also achieved Edge Managed certification, which specifies device management standards for Azure connected devices. Securing this certification demonstrates the outstanding performance of UNO gateways in regards to edge runtime compatibility for module deployment and management.
IoT projects are complex and can take a long time to implement. Customers may find that choosing and connecting the right set of devices, assets or sensors to the cloud can be time-consuming. Accordingly, to ensure customers can jumpstart their IoT projects confidently, Advantech has secured Azure certification for its UNO-137, UNO-148, UNO-2271G V2, UNO-2372G, UNO-410, and UNO-430 gateway models. This UNO series of IoT edge gateways and the previously certified ESRP-CSS-UNO series of cloud-ready edge gateways have been tested for readiness, compatibility, and usability with the Microsoft Azure IoT Suite.
By choosing a partner from the Azure Certified Device program, customers can save time and effort on project specs and RFP processes by knowing in advance what devices and offerings will work with the Azure IoT platform.
Founded in 1983, Advantech is a leading provider of trusted, innovative products, services, and solutions. Advantech offers comprehensive system integration, hardware, software, customer-centric design services, embedded systems, automation products, and global logistics support. We cooperate closely with our partners to provide complete solutions for a wide range of applications in diverse industries. Our mission is to enable an intelligent planet by developing automated and embedded computing products and solutions that facilitate smarter working and living. With Advantech products, the application and innovation potential becomes unlimited. (Corporate website: www.advantech.com).