Advantech Advances Software-Driven IP Video Workflows With NDI®
5/17/2021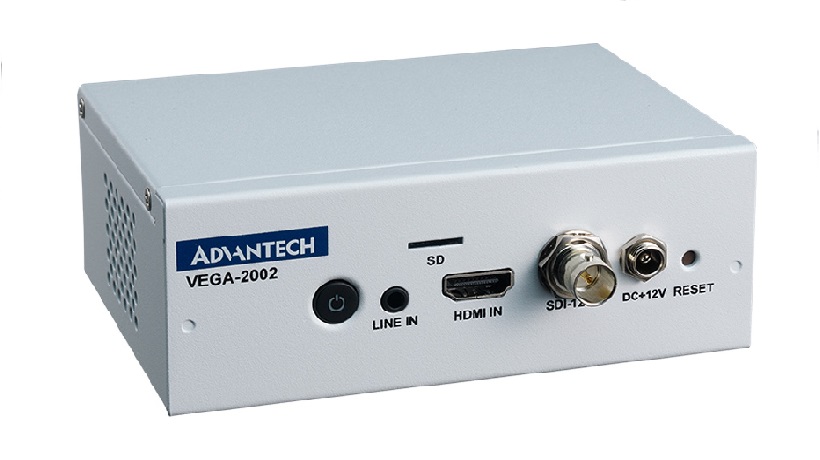 May 17, 2021, Taipei, Taiwan - Advantech (TWSE: 2395.TW), a global leading provider of video processing products and solutions, today announced it was joining the industry's largest IP ecosystem support for software-driven IP video workflows by using NDI® in their established VEGA-2002 4K/UHD live HEVC/H.264 video encoder family.
NDI is a brand of the Vizrt Group and a royalty-free technology that allows video and audio sources to be shared bi-directionally across a network, eliminating the need for costly direct connections, expensive cable runs, and infrastructure upgrades while turning every source into a destination instantly available anywhere on the network.

Advantech have a successful family of small video encoder and streaming modules and boxes called VEGA-2002 which offer live video and audio capture up to 4Kp60 from HDMI or SDI inputs, and feature high quality real-time low-latency encoding using HEVC or H.264. The encoded video can be sent over Ethernet using a variety of streaming protocols. By adding support for NDI®|HX protocol, the VEGA-2002 encoder can be used in NDI-based applications to allow customers to take advantage of the low latency transport, monitoring and management, and multi-vendor interoperability that are the hallmarks of NDI. NDI also supports diversified features such as data streaming mutual recognition and communication, bi-directional control and lossless transmission.

"Adding NDI|HX compatibility to our VEGA-2002 module allows our customers to participate in the fast growing ecosystem around NDI while still taking advantage of the small size, low latency and high quality of our encoder," said Ted Feng, Director, Advantech Video Solutions Master Division.

"Software-driven IP workflows have become ubiquitous in video production," said Michael Kornet, vice president, NDI. "NDI-enabled devices like VEGA-2002 exponentially increase the video sources available for live production creating efficiencies and opportunities for customers that did not previously exist. NDI is the most widely adopted IP technology on the market, epitomized by the millions of customers with access to it today."
The NDI SDK is royalty free for any company looking to establish IP workflows within their organization, or in commercial products and applications they deliver.v
*NDI is a registered trademark of NewTek, Inc.\