Advantech and Actility Launch an Edge Solution-Ready Package to Deploy Enterprise IoT LoRaWAN Networks
6/7/2022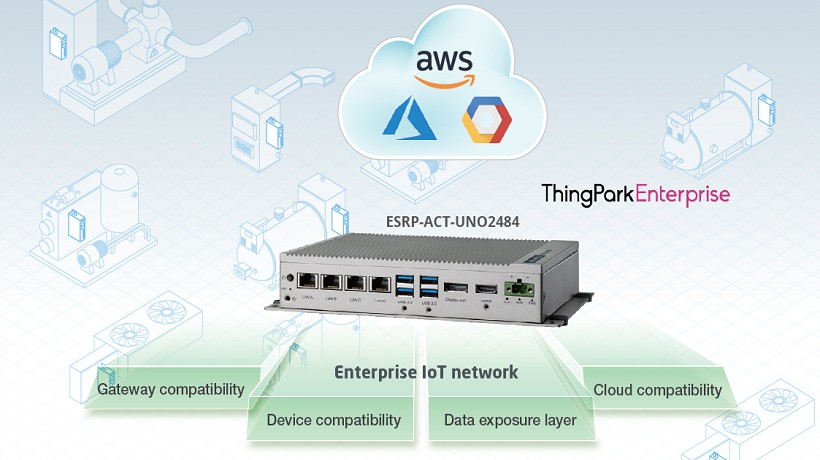 June 2022, Taipei, Taiwan & Paris, France - Advantech and Actility are happy to announce the launch of a new joint solution allowing to deploy and manage private LoRaWAN® networks on customer premises, by combining advanced and ruggedized Advantech IPC with embedded Actility software, bringing a highly reliable and secure career-grade service with extended compatibility with gateways, cloud platforms and devices.
This integrated solution aims at meeting the needs of the fast-growing industrial automation market, by allowing businesses to deploy their IoT use cases in a simplified, quicker et more efficient way, thus accelerating the realization of Industry 4.0.
The Edge Solution-Ready Package, under code name ESRP-ACT-UNO2484, consists of Advantech's new generation UNO-2000 series of Embedded Automation Computers with a preinstalled version of Actility LoRaWAN network server – ThingPark Enterprise® – for set-up on customer premises, which means in a closed environment allowing to ensure complete end-to-end security, instead of its SaaS cloud version. The software is pre-installed under an upgradable 3 months trial license, allowing up to 10 supported gateways and up to 2000 devices.
Accelerating industrial facilities digitalization with easier and more powerful data collection
ThingPark Enterprise is a LoRaWAN IoT connectivity management platform that helps customers build network infrastructure by managing LoRaWAN gateways, add new LoRaWAN devices, monitor network operations, and control the flow of data to application servers.  ThingPark Enterprise is specifically designed for enterprises: it's simple, scalable and easy way to operate, and offers a unique low power IoT communication infrastructure to enable an infinite number of industrial use cases.
LoRaWAN® is a widely used wireless protocol that allows battery-operated devices to communicate with IoT applications via long-range, wireless connections, allowing longer battery life, thus lowering the cost of device ownership.
The Advantech-Actililty Edge Solution Ready Package allows customers to:
Build a multi-gateway, geo-redundant, high-availability LoRaWAN® network with a user-friendly interface and monitor it in real-time
Extend cloud intelligence and analytics to edge devices, with end-to-end infrastructure security, trusted by major telecommunication operators
Enjoy carrier-grade support and maintenance including 24/7 monitoring of smart IoT platform
Benefit from a seamless inter-operability among Smart Things, respecting and aligning with the market's norms

The Actility ThingPark Enterprise is compatible with all popular LoRaWAN base stations on the market, including Cisco, Kerlink, Multitech, Ufispace, Tektelic, Gemtek, RAD SecFlow and Option's CloudGate. Moreover, ThingParkEnterprise supports all LoRaWAN versions and all regional profiles (EU-868,US-915, AS-923, AU-915, RU-864, IN-865, KR-920, CN-470, EU433, CN779...), ensures different LoRaWAN class compatibility (A, B or C) and allows application payload decoding for easy third-party application integration.
ThingPark Enterprise exposes data through various mechanisms including HTTP or MQTT for easy connection to all popular clouds or applications. It comes preconfigured with a series of connectors to popular IoT cloud services including Amazon Web Services, Microsoft Azure and IBM Bluemix. The connectors allow easy, fast and cost-efficient integration for fast go-to-market project delivery. The connectors are key to the overall performance and stability of the system.
As the industrial IoT has many already deployed legacy communication technologies such as Modbus or HART, ThingPark Enterprise comes with integrated interfaces and protocol adaptation services to ease integration with Modbus end-nodes and applications, mBus or RS485 systems, and of course digital, analogue and pulse I/Os, thus allowing easy upgrade of already-deployed solutions.

"Stability is key for IoT as maintenance costs quickly add up when managing thousands of devices. It is even more important for Industrial IoT. Our partnership with Advantech combines field proven industrial computing with the leading carrier-grade LoRaWAN infrastructure and edge processing, adapted to seamlessly integrate with both industrial protocols and leading IoT platforms." said Olivier Hersent, CEO at Actility.
"Although countless facilities are equipped with advanced hardware, the lack of remote monitoring mechanisms makes them susceptible to minor disturbances, lowering efficiency or even halting operations. Therefore, we collaborate with Actility to help customers accelerate the development of industrial applications and build a smart manufacturing environment." said Ching-Po Lin, Associate Vice President at Advantech
Actility is a world leader in Low-Power Wide-Area Networks (LPWAN) industrial-grade connectivity solutions for the Internet of Things. Actility provides its ThingPark™ platform and network technology to deploy, operate and maintain public and private wireless IoT networks within a unified, scalable and versatile network infrastructure. The vast majority of nationwide LoRaWAN® network service providers (over 50) and hundreds of companies trust ThingPark™ all over the world. Through its subsidiary Abeeway, Actility also provides patented ultra-low power tracking solutions. ThingPark Market offers the largest selection of interoperable IoT gateways, devices and applications to simplify and accelerate deployment of use cases. (Corporate website: https://www.actility.com/)
Founded in 1983, Advantech is a leading provider of trusted, innovative products, services, and solutions. Advantech offers comprehensive system integration, hardware, software, customer-centric design services, embedded systems, automation products, and global logistics support. We cooperate closely with our partners to provide complete solutions for a wide range of applications in diverse industries. Our mission is to enable an intelligent planet by developing automated and embedded computing products and solutions that facilitate smarter working and living. With Advantech products, the number of potential applications and innovations made possible becomes unlimited.