Advantech Launches MIC-75G30 Dual GPU Expansion iModule for Edge Computing and AI Inferencing
3/16/2021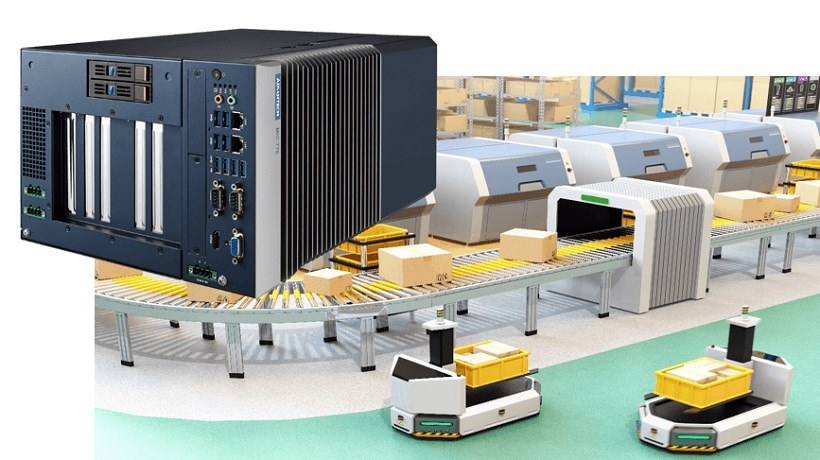 March 2021, Taipei, Taiwan - Advantech, a leading industrial computing platform provider, is pleased to announce the MIC-75G30 iModule, a dual GPU expansion module for its MIC-7 series of IPCs.
Traditionally, edge AI computing requires a large-scale server. But rather than implementing a bulky server with unnecessary capabilities, MIC-75G30 provides a compact (280 x 192 x 384 mm/11.02 x 7.55 x 15.11 in) solution that can support two high-performance GPU cards. Integrated with an MIC-7 series IPC, the MIC-75G30 iModule enables simultaneous AI processing for intelligent AI computing at the edge. This technology not only facilitates 3D image processing and vision applications, but can also be deployed to various automation devices, such as automated optical inspection machines, autonomous guided vehicles, and sorting machines.
Easily Upgrade MIC-7 IPCs for Edge Computing
The MIC-7 series platforms are compact industrial computers that can be flexibly expanded with the integration of Advantech iModules. With the ability to support two GPU cards, the MIC-75G30 iModule transforms the x86-based MIC-7 series IPCs into small GPU servers suitable for AI-based edge computing and inference. The integrated solution features a 10th gen Intel® Core™ i processor, dual DDR4 SODIMM, hot-swappable 2.5" SSD/HDD, as well as a robust mechanical structure with high vibration tolerance (1 Grms), making it the ideal hardware for edge computing in industrial environments.
Three 24VDC Power Inputs Ensure Stable Operation
When MIC-75G30 is integrated with a MIC-7 series IPC, the entire solution features three power inputs, up to 1,400W, and can be supplied by a single power supply unit. The MIC-75G30 iModule has two 24VDC inputs for two GPU cards, while MIC-7 series IPCs have a single 24VDC input. The MIC-75G30 module also features an onboard reserve 12VDC power connector for supplying additional power to connected PoE cameras, when the power requirement exceeds 25W.
Accelerates Real-Time Analysis for Demanding Video Applications
By enabling dual GPU cards plus a PCIe frame grabber card (PCIE-1674V), MIC-75G30 allows the MIC-7 series IPCs to be connected to four PoE IP cameras for surveillance and autonomous robotics applications. By accelerating the data capacity and processing speed, MIC-75G30 boosts real-time image analysis to facilitate wide view imaging and motion guidance/navigation capabilities.
Compact iModule that supports dual NVIDIA 250W GPU cards for AI applications
Integrated with MIC-7 series IPCs, the solution offers three 24VDC power inputs for up to 1,400W peak power
Intelligent LED indicators for system status and GPU card functions
Versatile table mount ensures easy deployment in industrial environments

Two front-accessible storage bays for easy swapping and maintenance

Wide operating temperature range (0 ~ 40 °C/32 ~ 104 °F)


IP30 rating for protection from water and dust and fan filter ensure stable operation in outdoor and industrial environments
Advantech's MIC-75G30 iModule is available for order. For more information about this or other Advantech products, contact your local sales support team or visit our website at www.advantech.com and check out our i-Module Product Portfolio.
About Advantech Founded in 1983, Advantech is a leading provider of trusted, innovative products, services, and solutions. Advantech offers comprehensive system integration, hardware, software, customer-centric design services, embedded systems, automation products, and global logistics support. We cooperate closely with our partners to provide complete solutions for a wide range of applications in diverse industries. Our mission is to enable an intelligent planet by developing automated and embedded computing products and solutions that facilitate smarter working and living. With Advantech products, the number of potential applications and innovations made possible becomes unlimited. (Corporate website: www.advantech.com)