Advantech Launches the Pioneering All-in-One Machine Vision IPCs: AIIS-3411
2/16/2022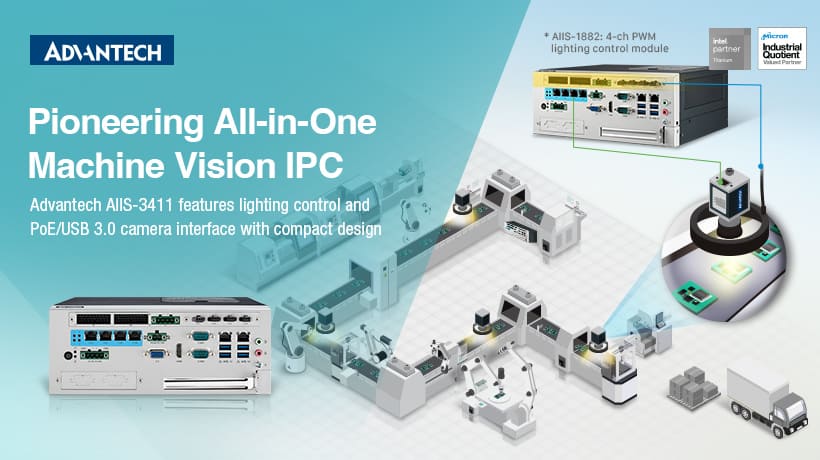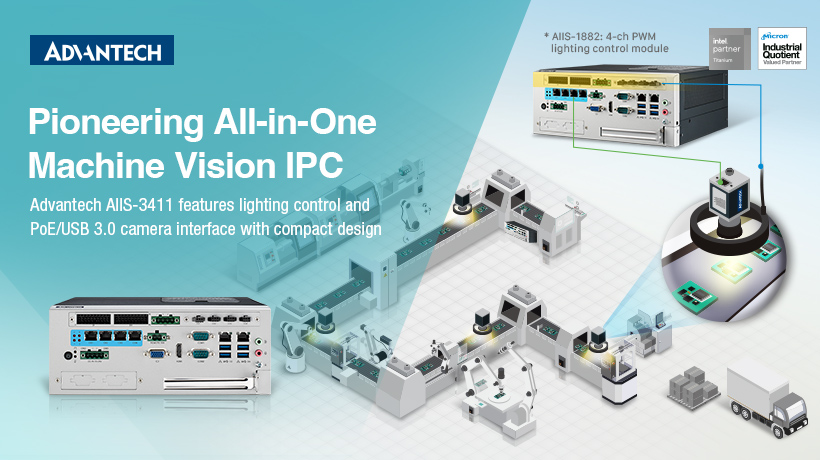 February 16, 2022, Taipei, Taiwan - Advantech, a leading global provider of intelligent systems across multiple vertical markets, is pleased to announce the launch of AIIS-3411. This groundbreaking all-in-one machine vision IPC is powered by a 10th generation Intel® Core™i CPU (LGA1200), supporting PoE or USB 3.0 camera interface via four dedicated channels. AIIS-3411 comes with dual-channel DDR4 memory up to 64GB, and multiple expansion options via 1 x PCIe x16, 1 x miniPCIe, and 1 x iDoor slot. Storage also includes 1 x 2.5" SATA and 1 x mSATA via miniPCIe port. An important feature is the optional four channels of FPGA-based PWM lighting control and isolated DI/O with up to 40VDC capability. AIIS-3411 features 12~24VDC input supporting a maximum 2A per channel as an alternative supply when the system requires over 48W power or more than 12VDC for lighting. With powerful integration and compact all-in-one design, AIIS-3411 is expected to be a game-changer in the ecosystem of machine vision control products for the automation industry.
Expansion module offers powerful integration of lighting control
The integration of AIIS-3411 and AIIS-1882 is the most important innovation of this launch, supporting both the GPIO expansion module and lighting control. This built-in PWM lighting control features 4-channel lighting outputs paired to four dedicated real-time trigger for each lighting channel, including rising or falling edge, and active high or low modes. Its other pioneering design is the 12-ch isolated digital input supported by both dry and wet contact and 16-ch isolated digital output with 2500VDC isolation protection. The digital input can connect sensors, while they detect the presence of objects, and signal back through the inputs. Then, through FPGA, the 4-ch digital inputs are dedicated to trigger and control the next actions of the external device, e.g. to project LED lights, achieving a real-time signal transmission without bypassing CPU and PCH, at the same time ensuring top quality image capture.
The digital output is software selectable between sink (NPN) type or source (PNP) type. Moreover, AIIS-1882 features software-configurable digital filters for isolated digital inputs and triggers to filter down unwanted noises and mis-triggering. The lighting control is programmable for trigger events such as delay time, PWM duty cycle, as well as lighting duration and frequency via DAQNavi APIs and SDKs. With the powerful and optional AIIS-1882 expansion module, AIIS-3411 is the first machine vision system that not only supports cameras but also integrates FPGA-based lighting control and DI/O interface into a compact all-in-one design. This allows customers to reduce the effort for communication with third parties for compatibility validation during their application deployment.
Supports PoE/USB 3.0 for the camera as high-performance machine vision IPC
AIIS-3411 comes in two camera interface versions with four independent and dedicated channels - AIIS-3411P is GigE PoE with Intel i210 controller, 15W power output per channel, and compliant IEEE 802.3af; AIIS-3411U is USB 3.0 with 4.5W power output per channel. It provides real-time and smooth signal and data transmission through PCI express x1 signal, can maximize image acquisition bandwidth, and prevent frame losses. With these dedicated built-in controllers, AIIS-3411 has no need to configure additional frame grabber cards, or to separately set different source of control PCs or lighting controllers. This brings multiple advantages such set-up costs, space-saving, and simple wiring, making customer installation economical and easy. Furthermore, AIIS-3411 has been verified for compatibility with leading camera suppliers such as BASLER, FLIR, and Toshiba, with whom Advantech has been a long term partner, and can be optimized with most vision software that is compatible with Intel I210 for detection, manipulation and analysis.
Compact, all-in-one, DIN rail mount design for various vision inspection applications
With the all-in-one, compact, and front-facing I/O design, AIIS-3411 provides the advantages of easy access and deployment, space saving, and fast set-up. AIIS-3411 is perfect for vision inspection applications. This latest AIIS-3411 also adds three new mount designs, including table mount in the vertical and horizontal. The DIN RAIL mount, which can be built into a typical equipment rack housing cabinet or frame, brings extra flexibility for fitting into different spaces. The compact size of AIIS-3411 is smaller than A4 paper. In addition, it's equipped with commonly used I/O, including VGA, HDMI, storage, serial communications, 2 x LANs, PCIe remote switch card, and internal USB port for a dongle. With its powerful integration and minimal cabling options, AIIS-3411 can be widely used in various machine automation applications including machine vision inspection, automated optical inspection (AOI), wafer inspection, vision guidance robotics, automatic guided vehicle (AGV), autonomous mobile robots (AMR) and AI and deep learning to enhance production efficiency and reduce production costs. Advantech AIIS-3411 Machine Vision IPC delivers state-of-art computing and graphics performance with minimal configuration costs and compatibility validation— a perfect solution for machine vision control.
Intel 10th generation Core i CPU (LGA1200).
AIIS-3411P: 4-CH GbE PoE (Power over Ethernet).
- Powered device auto detection and classification.
- IEEE 802.3af compliant, supports IEEE 1588.
- Compatible with GigE cameras.
AIIS-3411U: 4-CH USB 3.0 with dedicated controller.
- Maximizes USB 3.0 bandwidth for multi-cameras.
- Compatible with USB 3.0 cameras.
Optional AIIS-1882 module for lighting control and isolated DIO.
- Supports 4-ch lighting control output powered by internal 12VDC/1A per channel with trigger input or optional external power input 12~24VDC, 2A max.
- Programmable delay time, PWM high/low time and lighting output duration.
-12-ch isolated digital input and 16-ch isolated digital output and 2,500 VDC isolation protection for all I/O signals.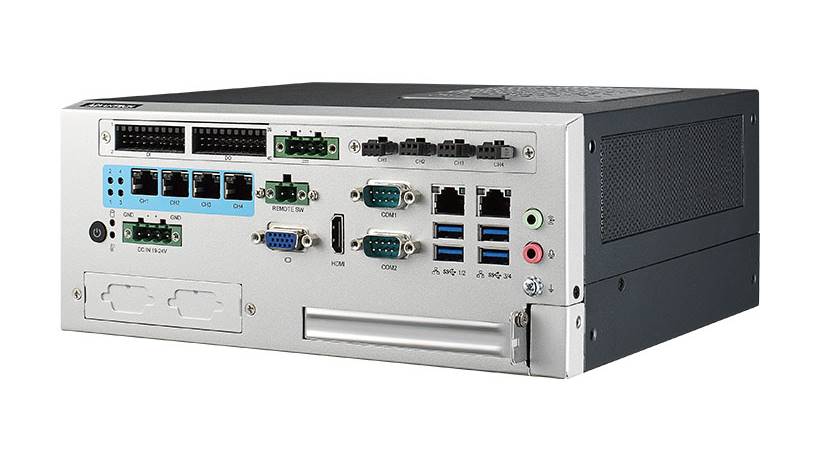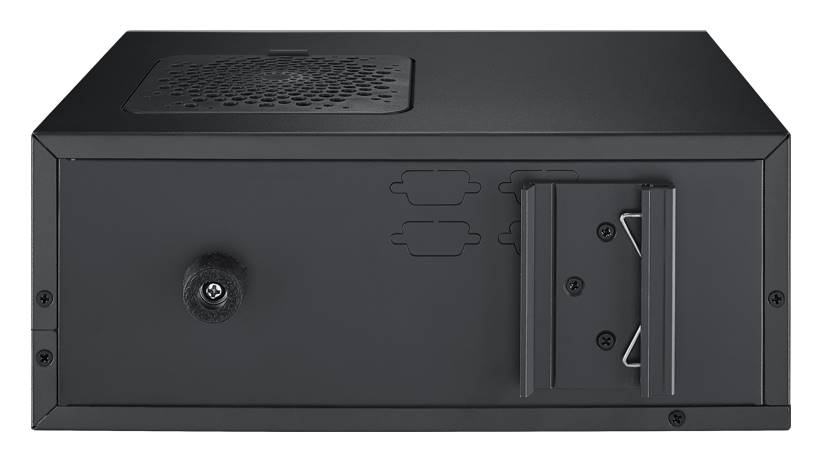 Advantech's AIIS-3411 Machine Vision IPC Machine Vision IPC is available for order now. For more information regarding AIIS-3411 or other Advantech products and services, please contact your local sales support team or visit our website at www.advantech.com.