Advantech Launches UNO-420 PoE-Powered Data Sensing Gateway for Edge IoT Applications
7/30/2019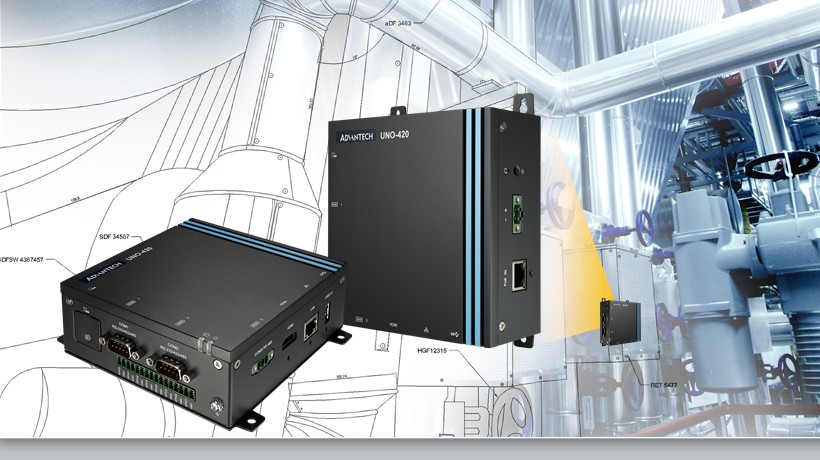 Taipei, Taiwan, July 2019 – Advantech, a leading provider of automation technology, is pleased to announce the release of its UNO-420 data gateway. Powered by an Intel® Atom™ E3815 processor and equipped with three configurable COM, two LAN (one PoE), eight programmable GPIO, one HDMI, and one USB 3.0, UNO-420 provides the ideal solution for connecting legacy equipment to new mesh networks. Aimed at harsh industrial environments as well as in-cabinet installations with limited space, the UNO-420 terminal features a compact form factor (125 x 125 x 50 mm/4.92 x 4.92 x 1.97 in) and supports a wide operating temperature range (-20 ~ 60 °C/-4 ~ 140 °F). To enable remote management of infrastructure, UNO-420 supports diverse Wi-Fi, 3G, 4G/LTE, and NB-IoT wireless modules that facilitate long-distance data transmissions, over-the-air (OTA) updates, and real-time communication. Considering the importance of cyber security amid the rise of the IoT, the UNO-420 terminal is also embedded with a Trusted Platform Module (TPM) 2.0 that provides security for cloud-based data operations. Furthermore, unlike standard data gateways, UNO-420 adopts a PoE-In design that allows the terminal to be powered via a LAN port, which reduces wiring and minimizes overall maintenance costs.
Compatible with Diverse Data Acquisition Devices
Designed to serve as a sensing data collector, UNO-420 is a compact data gateway that can be easily integrated with diverse equipment and machinery. The provision of comprehensive I/O interfaces, including three configurable COM, two LAN (one PoE), eight programmable GPIO, one HDMI, and one USB 3.0, allow raw data to be collected and transmitted directly to the cloud for subsequent visualization and analysis. When combined with optional Wi-Fi, 3G, 4G/LTE, and NB-IoT wireless modules that enable remote management, UNO-420 provides a reliable, cost-efficient, and scalable terminal for infrastructure gateway applications.
Easy Installation with Power Over Ethernet
To ensure easy installation in awkward or remote locations that may be difficult to reach with a power cable, UNO-420 is designed with PoE support. This means a single Ethernet cable can be used for data transmissions and power delivery. Ethernet cables are widely employed in existing infrastructures and considerably less expensive than fiber optic cables. Accordingly, Advantech's UNO-420 gateway with PoE support provides customers with an edge-to-cloud data sensing solution that requires minimal wiring and is cost-effective to install.
WISE-PaaS/Edgelink Software Simplifies Programming
The UNO-420 data gateway is also equipped with Advantech's WISE-PaaS/EdgeLink protocol-conversion software, which supports more than 200 communication protocols (e.g., Modbus, DNP3, OPC-UA, MQTT, and IEC-60870-5-104) to enable data collection from legacy devices. In addition to facilitating data integration, WISE-PaaS/EdgeLink allows user-defined data acquisition periods for each input interface, reducing the volume of data transmitted and stored on the cloud. This combined with the software's plug-and-play functionality dramatically reduces programming and streamlines application development and deployment.
Intel® Atom™ E3815 processor with 2 GB of DDR3L memory
Single Ethernet cable for data transmissions and power delivery
Configurable RS-232/422/485 and 8 programmable GPIO
Supports dual wireless communication for Wi-Fi/3G/4G/GPS connectivity
Equipped with TPM 2.0 for enhanced cyber security
Edge-to-cloud connectivity with WISE-PaaS/Edgelink software

WISE-PaaS/Edgelink supports 200+ protocols for data collection from legacy devices

Advantech's UNO-420 PoE sensing data gateway is available for order now. For more information regarding UNO-420 or other Advantech products and services, contact your local sales support team or visit our website at www.advantech.com.
Founded in 1983, Advantech is a leading provider of trusted, innovative products, services, and solutions. Advantech offers comprehensive system integration, hardware, software, customer-centric design services, embedded systems, automation products, and global logistics support. We cooperate closely with our partners to provide complete solutions for a wide range of applications in diverse industries. Our mission is to enable an intelligent planet by developing automated and embedded computing products and solutions that facilitate smarter working and living. With Advantech products, the application and innovation potential becomes unlimited. (Corporate website: www.advantech.com).