Advantech Powers New FPGA-based Transcoding Applications At Streaming Media West Event
11/13/2018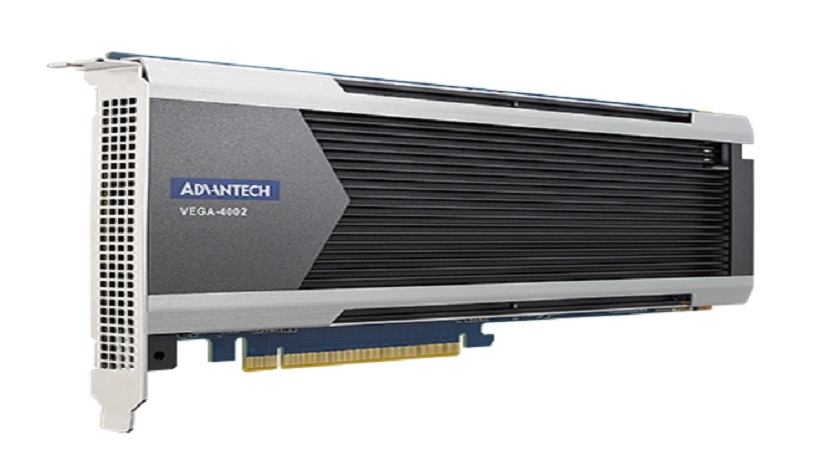 Huntington Beach, Streaming Media West, November 13th, 2018-Advantech (TWSE: 2395.TW) today unveiled the VEGA-4002 – a new member of its VEGA-4000 Xilinx Virtex Ultrascale Plus FPGA-based board family. The new board is optimized for flexible and reconfigurable multi-codec video encoding and transcoding, and is on display on the Xilinx stand at the event together with the rest of the VEGA-4000 family.
Reconfigurable FPGA-based video processing is becoming more appealing to OTT infrastructure users as the range of codecs required for OTT applications grows and the corresponding need for acceleration escalates. In addition to the established video codec standards like H.264/AVC and H.265/HEVC, OTT service providers now need to consider additional use cases for codecs like VP9 and potentially even AV1 in the near future. FPGAs offer a flexible and futureproof way to accelerate multiple live codecs and can be upgraded over time.
The VEGA-4000 family uses the same Xilinx VU9P FPGA as many major public cloud service providers' FPGA instances. Whereas the VEGA-4000 offers a single VU9P in a compact low-profile PCI Express plug-in adapter, the new VEGA-4002 provides a dual-chip configuration on a single GPU form factor PCI Express board. Due to their implementation architectures, the majority of video processing applications do not make full use of the power envelope of an FPGA, so the VEGA-4002 board infrastructure is optimized for lower power operation. Consequently, the VEGA-4002 offers a higher density, more power efficient implementation for encoding and transcoding applications. For servers with efficient airflow, the VEGA-4002 can be supplied with a single slot heatsink configuration, potentially quadrupling the processing density compared to other general-purpose single chip double-width implementations.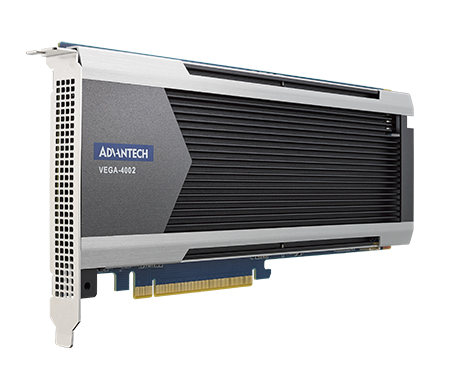 Advantech FPGA-based transcoding platform demonstrates the new & enhanced solutions for live streaming and flexible multi-codec OTT video encoding
"FPGA acceleration offers a way to efficiently support codecs and applications that are not well served by ASICs," said Brian Carr, Product Strategist and Marketing Director for Video Solutions at Advantech. "Advantech is working closely with Xilinx and with a range of IP vendors to ensure customers have access to the latest codecs in an easy-to-use software architecture on our commercially available boards and systems."
Advantech will be showing their FPGA-based boards on the Xilinx booth at Streaming Media West, November 13th-14th 2018 in Huntington Beach, CA. The boards are also powering several live demonstrations at the event, including real-time ABR transcoding from partners NGCodec. For more information, please contact video.solutions@advantech.com or visit www.video-acceleration.com.
About Advantech Video Solutions
Founded in 1983, Advantech is a leader in providing trusted, innovative products, services, and solutions. Advantech VEGA Video Platforms and PCIe Adapters are designed to boost video infrastructure performance from acquisition to distribution at the lowest power budget while fully complying with the media industry needs. By providing access to the latest 4K/8K UHD video processing and IP media technologies on commercial-off-the-shelf IT platforms we accelerate the deployment of next-generation, open and more efficient video solutions across a wide range of applications from broadcast encoding and high-density OTT transcoding to cloud, mobile and 360° video. Advantech's standard portfolio can be tailored to meet a range of system requirements, significantly reducing time-to-market effort for our customers. Contact video.solutions@advantech.com or visit www.video-acceleration.com.