Advantech Releases Newest AIMB-U117 UTX Small Industrial Motherboard with Intel Atom™ E39XX Processors
3/27/2019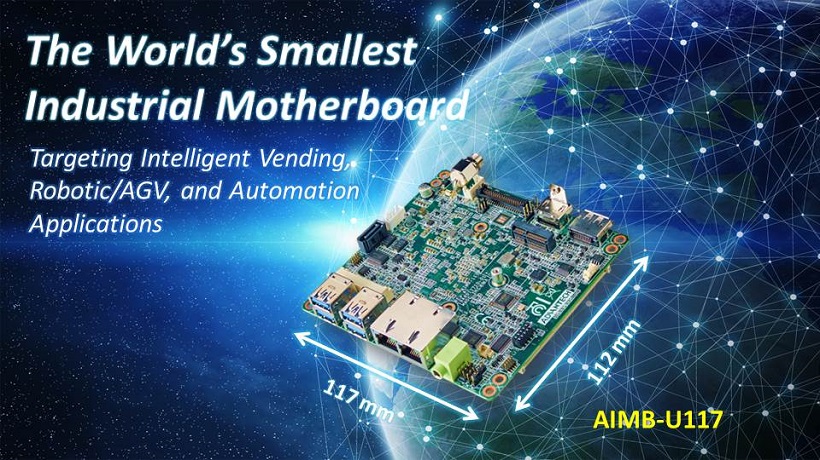 Advantech, a leading embedded computing and intelligent applications provider, happily announces the release of its newest UTX form factor motherboard: the AIMB-U117. Measuring 116.8x 111.8mm, this palm-sized industrial motherboard is equipped with Intel® Atom™ E39XX processors and features 3 independent displays, onboard eMMC storage, and impressive I/O capabilities. It supports a wide range of DC power inputs from 12-24V. Compliant with flexible thermal solutions designed by Advantech engineers, the AIMB-U117 supports extended operating temperatures from -20 to 70°C for rigorous reliability and performance under intense conditions. Small in size, the AIMB-U117 targets multiple applications: digital signage, passenger information systems, automation, robot AGV, robotics, and vending.
Triple Display and Excellent Graphics Performance
The AIMB-U117 integrates an Intel Gen 9 graphics engine for improved throughput, media acceleration, and 4K2K display resolution. It offers substantial display interfaces, including DisplayPort1.2, HDMI1.4, and eDP (or LVDS). It supports three simultaneous, independent display outputs to deliver stunning graphics and media performance (DirectX 12.0, OpenGL 4.4, OpenCL 2.0). The 4096 x 2160 high resolution output meets the requirements of high-quality display applications—making it ideal for digital signage applications requiring a slim-sized solution with high resolution graphics and up to 3 independent display outputs.
Impressive I/O Connectivity
The AIMB-U117 offers an impressive I/O interface, including: dual GbE LAN ports, 4 x USB 3.0, 1 x SATAIII, and 2 x COM (RS-232, RS-422 or 485). For expansion, it supports 1 x M.2 (E key) and 1 x full-sized MiniPCIe (colay mSATA) for flexible modular add-on card installation. Moreover, the AIMB-U117 supports onboard eMMC storage (optional). The optional standard protocol interfaces include 1 x MDB and 1 x ccTalk for vending applications. 1 x CANBus is highly suitable for automation applications.
A Wide Range of DC Power Inputs and Extended Temperature Support
The AIMB-U117 is designed for wide-ranging DC power source input (12V~24V) and features a lockable DC Jack to ensure power cables remain securely connected in high vibration environments. The AIMB-U117 (I SKU) operates under a wide temperature range, -20~70°C, designed for a variety of thermal solutions. It is therefore an ideal solution for use in automation applications and/or semi-outdoor public environments where passenger information systems, signage walls, and vending machines are located such as airports or train stations.
Intel® AtomTM E39XX processor.
Supports single channel DDR3L-1866 MHz 204-pin SODIMM socket up to 8 GB.
Intel® Gfx 9 supports DX12, OpenCL 2.0, OpenGL 4.4. HW decode: H.265. HW encode: H.264.
Supports triple simultaneous displays: DisplayPort1.2, HDMI1.4b, eDP (or LVDS).
Rich I/O and expansion options: 4 x USB 3.0, 1 x SATAIII, 2 x COM ports (or MDB, ccTalk), 1 Mini PCIe socket (F/S, colay mSATA), and 1 M.2 (E key, type: 2230) and 8-bit GPIO.
Supports onboard eMMC storage.
Supports fanless and fan-based for various thermal simulations.
Wide range of DC power inputs: 12V ~24V.
Extended temperature range: -20~70°C (for AIMB-117I only).