Advantech Unveils AIR-500D — A High-Performance Edge AI System with Dual NVIDIA GPU
12/9/2022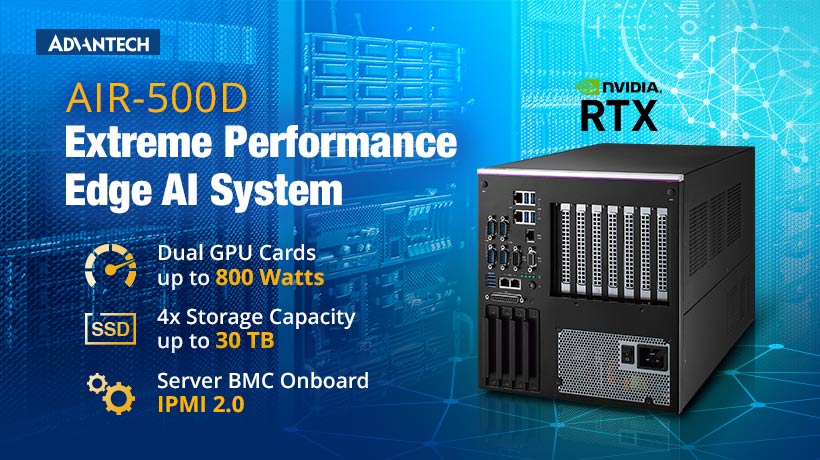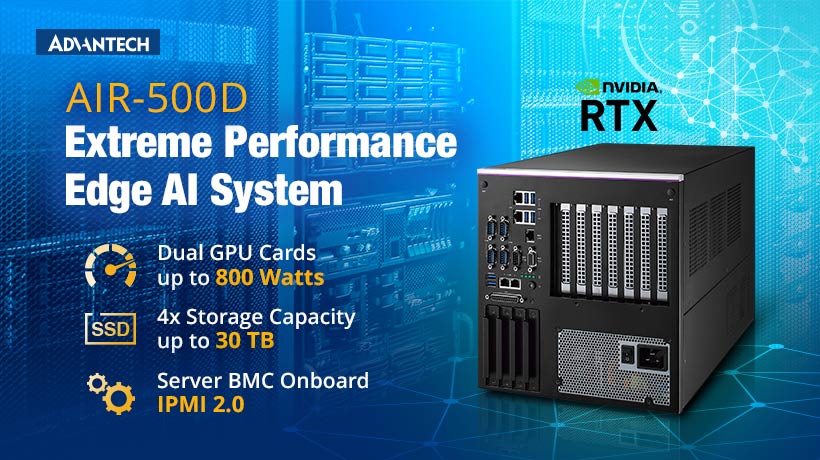 Taipei, Taiwan, December 2022 — Advantech, a global IoT leader, is proud to release a new high-performance AI system that supports dual NVIDIA RTX GPU — the AIR-500D. This solution leverages Intel® Xeon® D-1700 processors and 2 x PCIe x16 slots that support dual high-performance GPU cards to deliver server class performance. Indeed, AIR-500D is able to process large datasets and compute-intensive workloads when applied to AI inferencing and training applications. In addition, it supports wide operating temperature operation (-10 ~ 50 °C) and features a 1200W power supply suitable for industrial environments. AIR-500D further leverages BMC and Advantech DeviceOn software to enable a wide range of edge AI solutions — including those found in machine automation and vision, medical imaging, and smart cities applications.
Designed for Large-Scale AI Projects with Data Training
Deploying AI in real-world applications requires machine learning training and inference for AI models. AIR-500D helps businesses accrue value from their AI investment, especially when applied to massive data, image/audio classification, recommendations, and decision making. AIR-500D is powered by Intel® Xeon® (up to 10 cores) and supports dual GPU cards at up to 800 watts for immediate training and high-performance inference. This creates a solution capable of reducing the effort associated with developing massive CPU-only servers in data centers. Analogously, AIR-500D leverages a compact design and distributed architecture to support deployment at or close to the edge thus fulfilling AIoT era demands.

Intelligent Secure Management via DeviceOn and Onboard BMC
AIR-500D is equipped with an onboard Baseboard Management Controller (BMC) for remote control and management. It also features TPM and adheres to PFR NIST to deliver advanced security and firmware resiliency. This combination of features facilitate the remote execution of administrative tasks and provide an integrated multi-hardware defense mechanism that ensures stable daily operation when applied to server power cycling, fan speed and component temperature monitoring, and hardware failure analysis. Furthermore, AIR-500D supports Advantech WISE-DeviceOn software to facilitate the large-scale deployment of AI devices. AIR-500D leverages AI model container functions and OTA updates for batch software, firmware, and inference model updates to empower AI projects quickly.
The Advantech AIR-500D is available for purchase now. For more information, please contact your local sales office or visit the Advantech website at www.advantech.com.