Advantech Unveils Highly Expandable AIMB-506 Micro-ATX Motherboard with Intel® Core™ i Processor for Interactive Kiosks
7/9/2020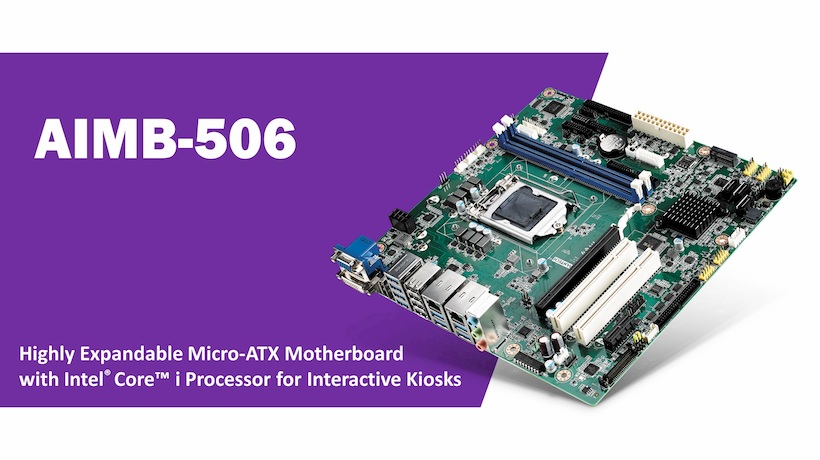 Taipei, Taiwan, July 2020 – Advantech, a leading global provider of intelligent systems and platform solutions, is pleased to introduce AIMB-506, a highly expandable industrial-grade Micro-ATX motherboard aimed at self-service applications. AIMB-506 provides high computing power and multiple expansion slots via an Intel® H310 chipset that supports the latest 9th Gen. Intel® Core™ /Pentium®/Celeron® socket-type processors. Advantech's motherboard is bundled with a WISE-DeviceOn software package, which offers smart software for IoT applications and facilitates remote management and security. By utilizing diverse peripheral device interfaces, Advantech's AIMB-506 meets market demands for interactive kiosks, cash dispensers, and sensor/card readers.
Numerous I/O Support Diverse Peripherals and Flexible Expansion
AIMB-506 features multiple high-speed I/O including 20 x USB ports, 3 x SATA III, PCIe (x16 and x1), 2 x PCI, and a M.2 (B-Key), allowing users to consolidate legacy and modern peripheral devices on a single motherboard. This motherboard has 16-bit digital programmable I/O, 14 x COM ports (2 x support RS-232/422/485), and a 6W dual-channel audio amplifier. AIMB-506 is further equipped with dual Gigabit Ethernet ports that deliver up to 1000 Mbps of bandwidth for network-intensive applications. These high-speed connectivity capabilities allow AIMB-506 to support a wide range of peripherals and network connections in self-service applications.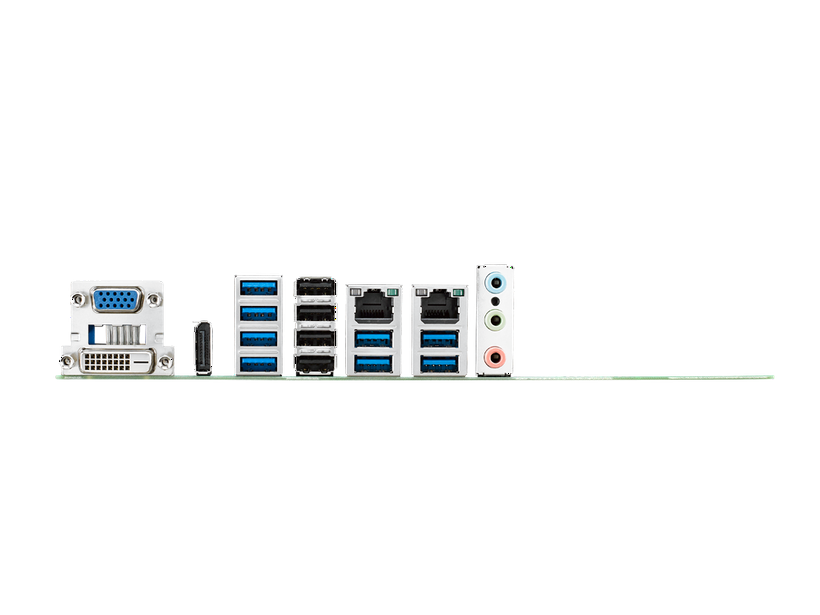 Enhanced Stability for Peripheral Device Connections
AIMB-506 supports 8 x USB 3.0 and 12 x USB 2.0, providing multiple I/O for diverse usage requirements. Built-in voltage regulators stabilize the power voltage for each USB port, greatly increasing reliability while simultaneously reducing maintenance.
Advanced HD Graphics Ideal for Interactive Kiosks
Advantech's AIMB-506 Micro-ATX motherboard integrates Intel® HD graphics with DX11.1, OpenCL 2.1, and OpenGL 5.0 to deliver enhanced graphics performance. Dual independent displays are supported in clone or extended mode with VGA, DisplayPort 1.2, DVI-D, eDP, or LVDS in high 4K2K resolution for DisplayPort 1.2, and eDP ports. This combination of I/O connectivity and excellent graphics/imaging performance makes AIMB-506 ideal for applications in virtual teller machines (VTM), automated teller machines (ATM), and other interactive kiosks.
Value-Added Software for Remote Management
Advantech's WISE-DeviceOn software is designed for remote management of edge computers. This solution minimizes system failures by monitoring hardware and software operations in real time and reduces maintenance and labor costs via over-the-air software installation. DeviceOn also features a BIOS recovery and update mechanism to guard against unexpected interruptions. Additionally, WISE-DeviceOn provides point-and-click interfaces for USB port power on/off remote control. Equipment managers can isolate USB port connectivity during operations to protect unused ports from external threats. Moreover, upon encountering issues, managers can use WISE-DeviceOn to access and control USB devices remotely. Overall, this integrated software and hardware solution reduces maintenance and conserves resources while enabling support for a wide range of peripherals connections.
8th/9th Intel® Core™ i processor
Dual-channel DDR4 RAM and dual displays (eDP, VGA, DVI-D, DP 1.2, and LVDS)
Multiple I/O: 20 x USB, 14 x COM, 16-bit GPIO, and 1 x M.2 (B-Key)
FCC/CB Class B certified and ESD support level 2 (Contact 4 KV)
Product lifespan of approximately 15 years
Pre-installed WISE-DeviceOn software with remote USB power on/off
Advantech's AIMB-506 industrial-grade Micro-ATX motherboard is available now. For more information about this or other Advantech Industrial Motherboard products, contact your local sales support team or authorized channel partner, or visit the Advantech Industrial Motherboards website.