Advantech Upgrades Enterprise Connectivity with new Edge Appliance based on Intel Atom Processors
6/6/2022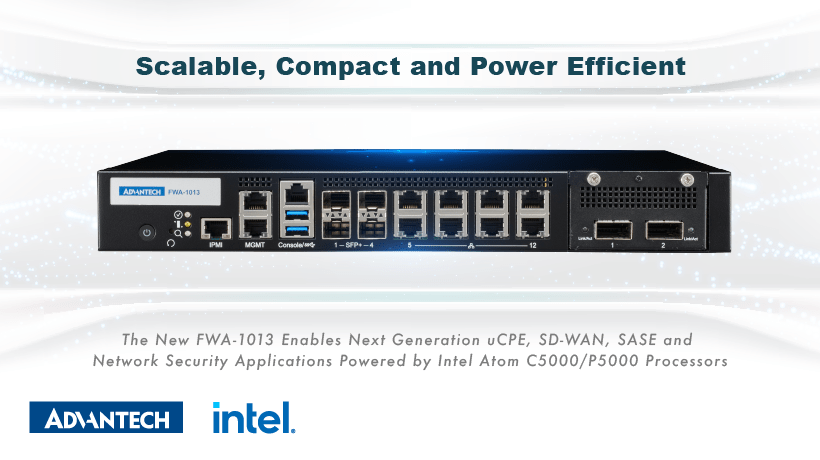 The FWA-1013 optimizes enterprise network performance with a scalable, compact and power efficient platform that enables next generation uCPE, SD-WAN, SASE and network security applications powered by new Intel Atom® C5000/P5000 Processors.
June 6th, 2022, Taipei, Taiwan - Advantech, a global leader in industrial IoT, today introduced a new network appliance based on the Intel Atom® processor to optimize security edge deployment performance for service providers and enterprise. The new platform improves throughput for universal Customer Premise Equipment (uCPE), software-defined WAN (SD-WAN) and next generation cloud-based security applications. The solution has been designed to meet Small and Medium Business (SMB) connectivity needs with rich GbE and wireless interface options in a compact desktop appliance that can scale to meet light and heavy branch strategies.
The Advantech FWA-1013 scales performance of Intel Atom processors from 4 to 16 cores. The platform supports flexible 1, 2.5 and 10 GbE network interfaces to meet a wide range of deployment needs. It also provides an extra Network Mezzanine Card slot to integrate additional Ethernet, PoE or wireless 4G LTE or 5G connectivity. The FWA-1013 has been specifically designed to streamline network operations and minimize downtime. It integrates Advantech's remote management which supports Redfish and advance reliability features such as failsafe remote BIOS and firmware updates and dual power modules. All this combined with its compact design and desktop form factor makes the FWA-1013 the platform of choice for mainstream small and medium size branches.

Advantech FWA-1013 Network Appliance based on Intel Atom® Processors
"Advantech has been designing high performance, highly reliable network platforms for leading networking and security vendors for over 30 years", said Sandy Chen, Senior Director, Cloud-IoT Group, Advantech. "The new FWA-1013 further enhances our network appliance range with a solution that provides impressive scalability to SMBs. Powered by Intel processors and enabled by a broad software ecosystem, our appliances help enterprise and service providers drive innovation in the 5G and AIoT era."
The FWA-1013 targets mainstream small and medium size branch deployments where there is a need for scalability and flexibility. Service providers can leverage the versatility of the FWA-1013 to meet a wide range of cloud-native networking and security needs. DPDK and integrated Intel QuickAssist technology accelerate networking application performance while the power efficiency of Intel Atom processors optimize 5G and IoT edge use cases. In addition, the FWA-1013 is supported by Advantech global service network. The FWA-1013 is available for lead customer evaluation.
*Intel, the Intel logo, and other Intel marks are trademarks of Intel Corporation or its subsidiaries.
Advantech

FWA-1013

Tabletop Network Appliance
About Advantech CIoud-IoT Group
Advantech Cloud-IoT Group helps service, solution providers and enterprises extend the cloud to the IoT edge by providing scalable platforms that reliably execute business and mission critical services anywhere in the network. Our innovative servers and appliances enable a seamless transformation toward cloud native operations and are supported by a vibrant software ecosystem and supply chain, offering key foundational building blocks that accelerate digital transformation. From SD-WAN, SASE and Private Wireless to Open RAN, Edge and Hybrid Cloud, Advantech Cloud-IoT Group is enabling the co-creation of products and services that will form the backbone of the new 5G & AIoT economy.