Advantech USM-500 Embraces NVIDIA IGX for Next-Generation Medical Applications
5/29/2023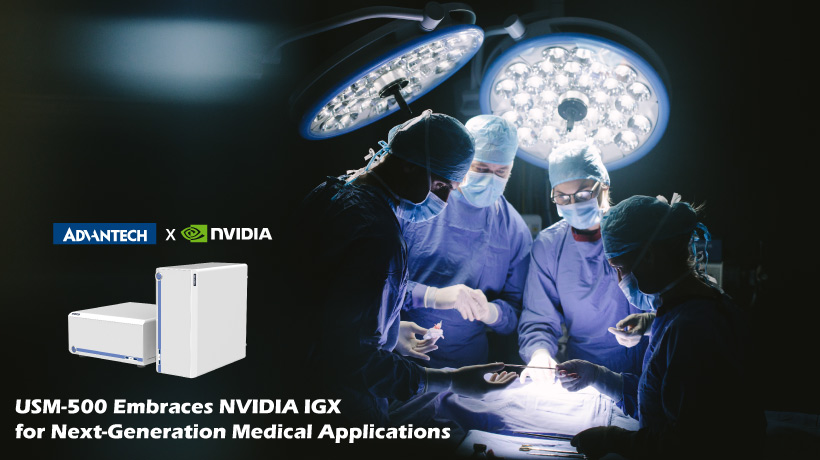 Taipei, Taiwan, May 29, 2023 – Advantech, a renowned provider of intelligent healthcare solutions, today announced the adoption of the NVIDIA IGX platform by its USM-500 series medical-grade box PCs. This strategic integration is scheduled for release in Q2 of 2024, catering specifically to low-latency and real-time healthcare applications.
NVIDIA IGX: Empowering AI Applications in Medical Environments
Medical environments require higher levels of performance, durability, security, safety, and support than most enterprise applications. To achieve these standards, customers often must create custom products utilizing components from various suppliers. Putting these solutions together is often costly and time consuming. This delays the development and deployment of AI-enabled healthcare applications.
NVIDIA IGX is an industrial-grade platform combining enterprise-level hardware, software, and support. As a single holistic platform, IGX allows companies to focus on application development and realize the benefits of AI faster.
IGX is powered by the world's most powerful AI computer for energy-efficient autonomous machines with 248 trillion operations per second (TOPS) of AI performance and includes an NVIDIA® ConnectX®-7 smart network interface card (SmartNIC) with 200 gigabits per second (Gb/s) of networking speed; ideal for securely ingesting high frame rate raw video.
IGX also has a safety microcontroller unit (sMCU)—a critical safety feature that uses several different techniques to prevent and detect random and systematic hardware errors—built into the board design and that can be programmed into the IGX software stack. These capabilities allow organizations to add functional safety into environments where humans and robots work together.
USM-500 Revolutionizes Healthcare Applications
Advantech's USM-500 series, as a valued offering within the NVIDIA IGX ecosystem, brings significant advantages to various domains, notably surgical navigation and video management applications. By leveraging NVIDIA Holoscan as the underlying framework, IGX seamlessly integrates pre-trained models, secure edge AI systems, and a scalable microservices architecture. This powerful combination empowers healthcare applications to be efficiently managed and deployed across devices and edge data centers, revolutionizing the industry with the introduction of a software-as-a-service business model.
For more information regarding USM-500 or other Advantech Digital Healthcare solutions, contact your local sales representative or visit our website.