Advantech's AIM-75 Series Tablets Obtain Android Enterprise Recommended Certification for Android 12
4/19/2023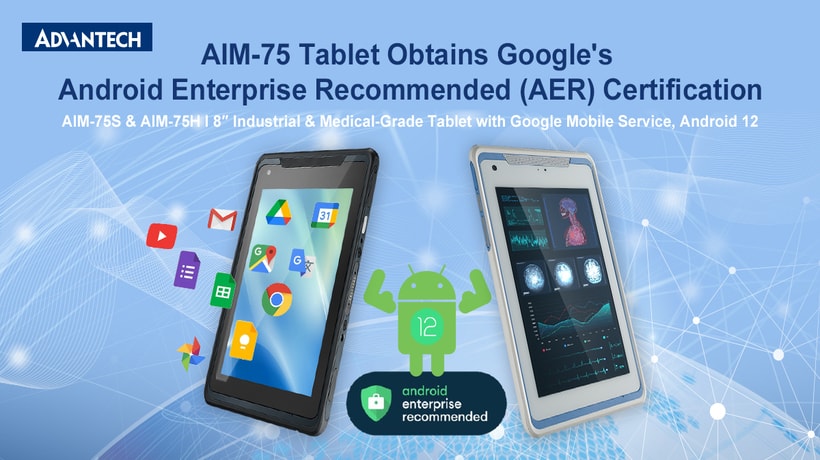 April 2023, Taipei, Taiwan — Advantech, a leading provider of industrial computers, is pleased to announce that its AIM-75S Industrial-grade Tablet and Medical Grade AIM-75H Tablet are the first products in their line to obtain Android Enterprise Recommended (AER) certification. Both devices have been upgraded to Android 12. As part of the AER program, the AIM-75S and AIM-75H are empowered with zero-touch enrollment, 90-day security updates, and full EMM support. This provides businesses with the assurance that they are deploying reliable, secure, and easy-to-manage devices that are compatible with enterprise applications.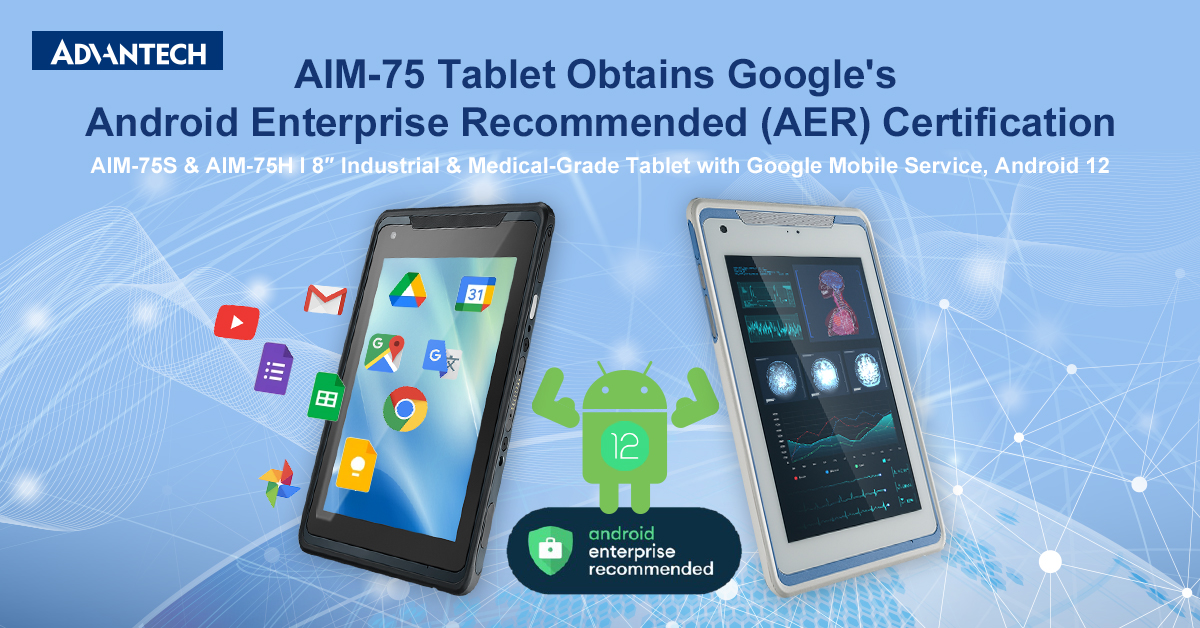 With Android 12 as the default operating system, the tablets provide an open API with customization for different applications. Also, it has passed 7 test suites with 2 million test items to obtain Google Mobile Services (GMS) certification. GMS offers a set of pre-loaded apps and services designed to boost the productivity of certified Android devices and ensure a consistent user experience. The AIM-75S and AIM-75H tablets have had their software certified by Google and are also rugged in hardware design. Additionally, a key advantage of the AIM-75 tablets is that they can be equipped with various application-oriented peripherals for diverse manufacturing, retail, medical, in-vehicle, and field service applications.

The AIM-75S and AIM-75H tablets have been designed with customer usage in mind, providing high-quality, reliable, and secure solutions that meet the demands of their industries.
Android 12 Upgrade and AER Certification for Top-Tier Security and Compatibility
Android Enterprise Recommended is a Google-led initiative that helps businesses choose and deploy devices and services that meet Google's elevated enterprise requirements for security, productivity, and flexibility. This certification ensures that the device is secure, reliable, and easy to manage, making it an ideal choice for businesses looking for reliable and secure devices. The certification offers several benefits to users. Firstly, it ensures that the device is updated with the latest security patches and firmware, reducing the risk of data breaches and malware attacks. Secondly, it provides access to enterprise-level features such as zero-touch enrollment and advanced management tools that simplify the deployment and management of devices. Additionally, certified devices are tested for compatibility with popular enterprise applications, ensuring that users can work seamlessly and efficiently.
Medical Grade Tablet Obtains Rare AER Certification
The Medical Grade AIM-75H Tablet is one of only a few medical grade tablets to obtain Android Enterprise Recommended (AER) certification. This tablet features an 8.1" medical- 2 Press Release For Immediate Release grade display and adheres to the strict guidelines set by EN/IEC/UL 60601-1, ensuring the highest degree of electrical and medical safety. Additionally, the casing of the tablet has antimicrobial properties that effectively prevent the proliferation of infectious agents in healthcare settings. With its advanced features and AER certification, it is a valuable asset for healthcare professionals who require a reliable and secure tool for their work. It also allows for easy disinfection and reduces the risk of microbial transmission.
Reliable Performance in Challenging Conditions
With the IP65 waterproof rating, the tablet is resistant to water and dust, making it suitable for use in outdoor and industrial settings. Additionally, the tablet has been drop-tested to withstand falls of up to 120 cm, ensuring that it can survive accidental drops and impacts. With its advanced features and rugged design, combined with the tablet's Android Enterprise Recommended certification, the AIM-75 series consists of versatile and reliable devices that can help workers get the job done in any environment.
Key Features
Android 12 operating system certified for GMS & AER.
8" LCD with 400-nit brightness and 1920 x 1200 resolution.
Corning® Gorilla® Glass 3 touchscreen supports gloved and stylus operation.
LTE Cat. 6, WLAN (802.11 a/b/g/n/ac/k/v/r), Bluetooth and NFC connectivity.
Supports up to 12 hours of operation.
Optional peripherals include a 1D/2D barcode scanner, MSR reader, multi-tablet charging station, multi-battery charging station, and VESA dock.

Advantech's AIM-75S and AIM-75H tablets are available to order now. For more information regarding the AIM-75 series or other Advantech products and services, contact your local sales support team or visit our website at https://campaign.advantech.online/en/mobile-computing-solution/.
About Advantech
Founded in 1983, Advantech is a leading provider of trusted, innovative products, services, and solutions. Advantech offers comprehensive system integration, hardware, software, customer-centric design services, embedded systems, automation products, and global logistics support. We cooperate closely with our partners to provide complete solutions for a wide range of applications in diverse industries. Our mission is to enable an intelligent planet by developing automated and embedded computing products and solutions that facilitate smarter working and living. With Advantech products, the application and innovation potential becomes unlimited. (Corporate website: www.advantech.com)
Primary Media Contact
Advantech Corporation
Eva Wang
Tel: 886-2-27927818 ext. 9045

Email: eva.wang@advantech.com.tw
Secondary Media Contact
Advantech Corporation
Zianna Liu
Tel: 886-2-27927818 ext. 2207

Email: zianna.liu@advantech.com.tw