AIMB-278 Delivers Superior Performance with 12th/13th Gen Intel® Core™ Processors
11/4/2022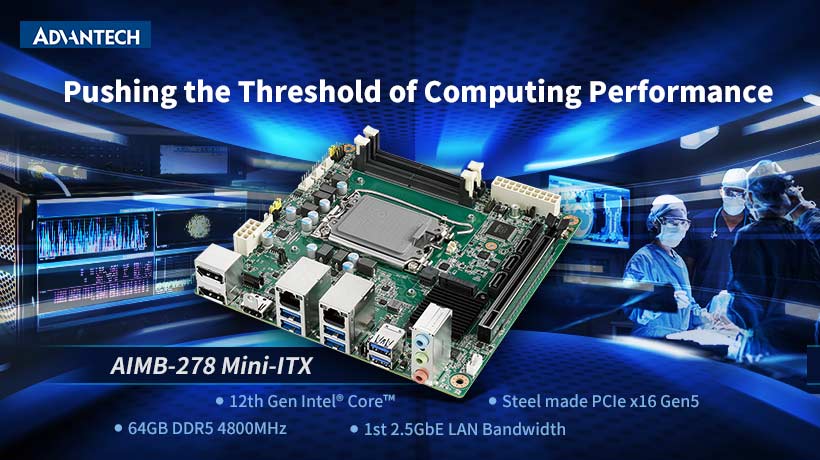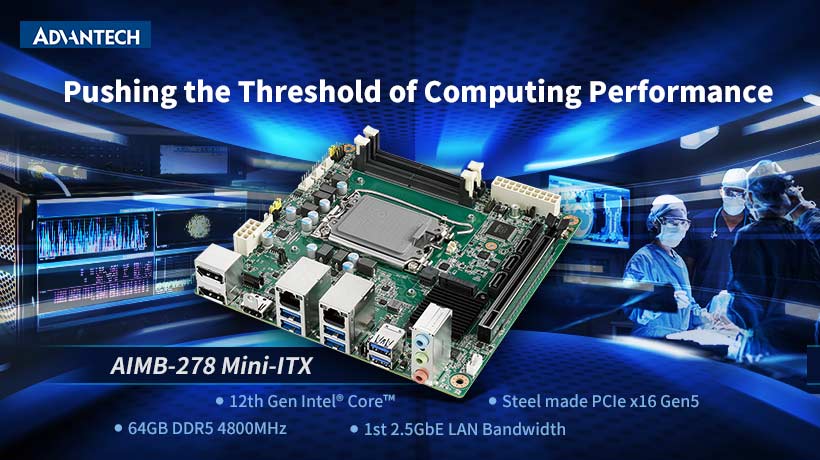 Taipei, Taiwan, October 2022 — Advantech, a leading provider of embedded IoT solutions, is proud to announce the release of the AIMB-278 industrial motherboard. Powered by 12th/13th Gen Intel® Core™ processors, AIMB-278 leverages DDR5 and PCIe x16 Gen 5 to deliver excellent throughput. Likewise, it supports M.2 M key and M.2 E key expansion and diverse I/O (6 x USB 3.2 Gen 2 and up to 4 x 4K displays) to empower heavy data transmission and vivid image processing capabilities. Additionally, it is the first item in the AIMB Mini-ITX series to leverage a 2.5GbE LAN port design. AIMB-278 supports Windows and Ubuntu, and is an excellent choice for medical imaging and super-speed testing & measurements requiring next-level performance.
High computing power expedites analysis and improves data accuracy
The Advantech AIMB-278 yields an unprecedented 40% performance increase via the 16-core i9-12900E when compared to previous generation solutions. With the hybrid architecture of 12th Gen Intel® Core™ processors, the combination of Performance- and Efficiency-cores maximizes single-thread execution and responsiveness for compute intensive workloads, along with multithread capabilities for simultaneous background tasks. AIMB-278 supports DDR5 4800MHz up to 64GB to enhance computing efficiency in medical imaging and test equipment for high-speed digital design requiring increased data rates and stability. In addition, AIMB-278 features a robust steel-reinforced PCIe x16 Gen 5 (32GT/s) expansion for the installation of powerful GPU cards — including NVIDIA RTX series (e.g. RTX A5000 with 27.8TFLOPS) to support AI capabilities that empower deep learning inference applications.
Ample I/O expansion delivers excellent transmission capacity
AIMB-278 leverages 2.5GbE Ethernet to quickly transfer/upload data, ensuring stable, high-resolution video streaming in real time. AIMB-278 provides 6 x USB 3.2 Gen 2 ports to enhance data transition efficiency at the edge with up to 10Gpbs. Its supports M.2 M-key with NVMe SSD which produces a 25-fold increase in data transmission when compared to SATA to improve read/write speed, and extend service life. Likewise, it supports M.2 E-key to enable wireless operation in unmanned/dust-free working conditions. In sum, AIMB-278 provides the expansion and I/O needed for leading computing performance.
Embedded software services enable remote management
AIMB-278 supports Ubuntu OS for edge computing devices, and uses WISE-DeviceOn intelligent networking software for device monitoring and predictive maintenance to enable 24/7 remote control that reduces management costs in applications necessitating the automatic control of myriad machines. WISE-DeviceOn can initiate reboots to address breakdowns and bugs in smart factory applications. It helps users avoid system failure through real-time hardware, software, and peripheral monitoring thus improving productivity and reducing time consumption. Indeed, using Advantech WISE-DeviceOn software delivers stable operation and convenient remote management to IoT devices. Advantech's mini-ITX provide software services that enable innovative and reliable industrial motherboards. Our excellent product quality and long-term technical support is combined with our high OS compatibility to produce leading solutions that helps customer to reduce time to market.
Highlighted Features:

12th Gen Intel® Core™ desktop processors
32GB DDR5 4800MHz SODIMM
4 x displays up to 4K with 2 x DP, 1 x HDMI, and 1 x eDP
Dual LAN, support Intel vPro® and up to 2.5GbE data bandwidth
Expansion support: M.2 M key, M.2 E key, 6 x USB 3.2 Gen 2 & 2 x USB 2.0
Embedded OS: Windows 10, Linux Ubuntu, & WISE-DeviceOn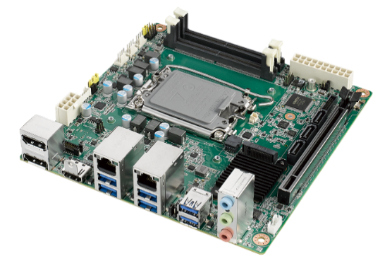 The Advantech AIMB-278 will be available for order in November 2022. For more information about AIMB-278 or other Advantech products and/or services please visit our website or call a regional service provider.