Advantech EPC-U3233 with Ubuntu Certification Accelerates AIoT Applications
1/25/2022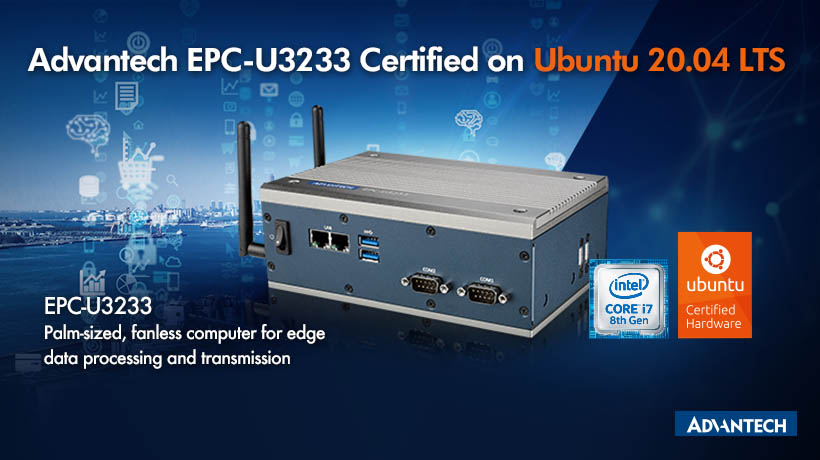 January 2022, Taipei, Taiwan - Advantech and Canonical, in an effort to accelerate AIoT applications, have collaborated on providing Ubuntu 20.04 LTS certification for the EPC-U3233. Powered by an 8th Gen Intel® Core™ i series processor, this compact fanless embedded PC facilitates data-intensive computing in IoT edge applications. By certifying the Advantech's EPC-U3233 for Ubuntu 20.04, Canonical, the publisher of Ubuntu, guarantees both 5-years of maintenance updates and extended security maintenance (ESM). This delivers a stable and secure IoT platform for AI applications and edge computing to enterprises.
Compact fanless computer for AMR/AGV applications
Advantech's EPC-U3233 delivers a 50% increase in performance when compared to previous generation CPUs. Likewise, it adopts a compact fanless form factor that accommodates space-conscious industrial applications. This advanced computing power and compact design are excellent for applications in data-intensive computing, autonomous mobile robots (AMR), and automated guided vehicles (AGV). In addition, the Ubuntu certified EPC-U3233 ensures OTA and transactional updates and maintains secure and uninterrupted Edge AIoT application operation in manufacturing and industrial environments. The Ubuntu certified EPC-U3233 is tested continuously in Canonical's lab to ensure that the latest security updates function smoothly.
Deployment-ready embedded PC with high compatibility and flexibility
Advantech and Canonical work together to provide deployment-ready IoT devices that deliver the best out-of-the-box Ubuntu experiences. Indeed, Canonical performs tests to confirm that the Ubuntu running on the system meets industrial standards and that each I/O on the EPC-U3233 works properly. In terms of I/O, this system includes 2 x USB 3.2 Gen 2 x 1 (10Gbps), 2 x USB 2.0, 4 x COM, 2 x HDMI, 2 x LAN, and 2 x GPIO ports. Furthermore, Advantech's EPC-U3233 features 3 x M.2 expansion slots that enable AI at the edge, support diverse wireless connectivity for data transmission, and accommodate high data rates in demanding data-intensive applications.
Industrial-grade protection and Ubuntu 20.04 ensure reliable operation
Designed for use in sensitive industrial environments and ideal for factory automation, Advantech's EPC-U3233 supports 12 ~ 24 VDC power input and guarantees resistance against electrostatic shock. EPC-U3233 is EMC certified for industrial and residential environments (IEC 61000-6-2, 6-4 & IEC 61000-6-1, 6-3). Likewise, EPC-U3233 benefits from Ubuntu 20.04 enhanced security and stability, including a constant security patching process and kernel self-protection, stack-clash protection, and control flow integrity features. Canonical also provides continuous regression testing for EPC-U3233 throughout the lifecycle of the Ubuntu release and guarantees both 5-years of maintenance updates and extended security maintenance (ESM) software update support.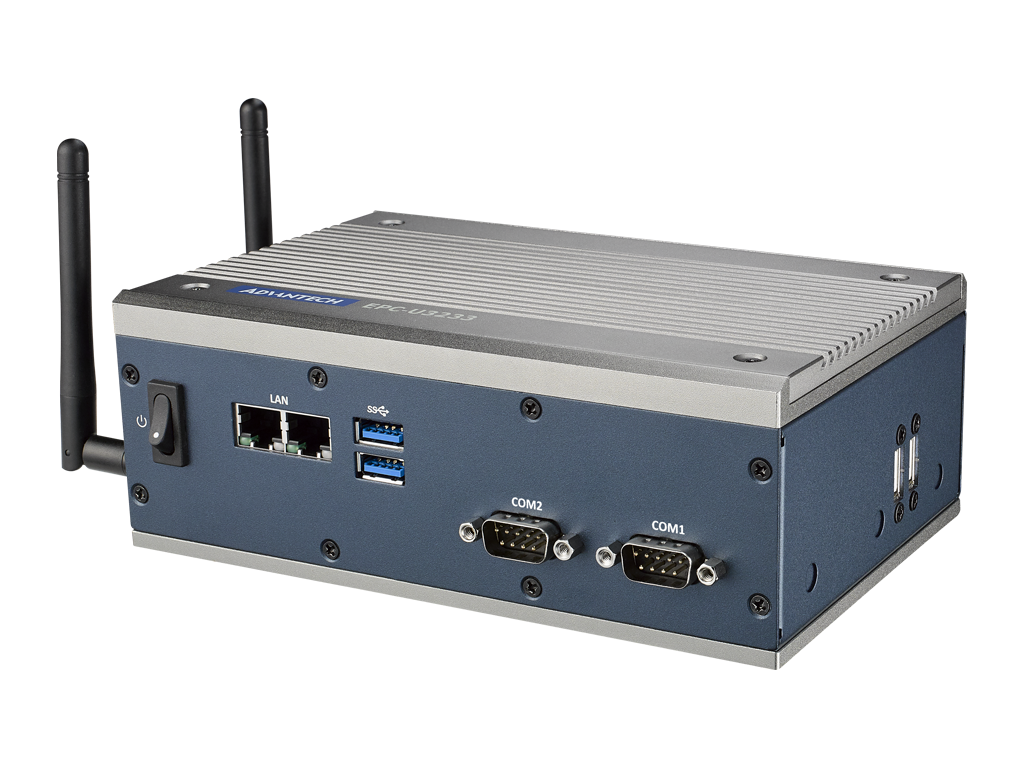 8th Gen Intel® Core™ i processor with fanless design
Palm-sized, mechanical chassis design (180 x 116 x 66 mm/7.28 x 4.72 x 2.55 in) for rapid system integration
Diverse system I/O: 4 x COM, 4 x USB, 2 x HDMI, 2 x GbE LAN, and 2 x 16-bit GPIO
Up to 3 x M.2 slots: 1 x 2230 E-key, 1 x 2242/3042 B-Key, and 1 x 2280 M-key l Hardware-based data protection with TPM and RAID
CE (RED) Wi-Fi and B/T certified
EMC industrial environment (IEC 61000-6-2, 6-4), and residential environment (IEC 61000-6-1, 6-3) certified
Win 10 IoT, and Linux Ubuntu OS compatible
Benefits with Ubuntu 20.04 LTS certification
1 day hardware and OS validation procedure
Pre-installed services can save 30 minutes per device on IT on-site deployment
Security and updates backed by both Canonical and Advantech
10-year, long-term support
Advantech's EPC-U3233 compact fanless computer is available for order now. For more information on Ubuntu certified hardware, check out the Ubuntu website.
About Embedded Core Service
Advantech Embedded Core Services offers design-in services. Their streamlined solutions broadly integrate embedded boards, peripheral modules, and software. This dedicated focus on embedded design-in services fulfills electronic engineering demands at the design-in phase, shortening the design and integration cycle and minimizing uncertainty and risk. https://www.advantech.com/EmbCore
Founded in 1983, Advantech is a leading provider of trusted and innovative products, services, and solutions. Advantech offers comprehensive system integration, hardware, software, customer-centric design services, embedded systems, automation products, and global logistics support. We cooperate closely with our partners to provide complete solutions for a wide range of applications in diverse industries. Our mission is to enable an intelligent planet by developing automated and embedded computing products and solutions that facilitate smarter working and living. With Advantech products, the application and innovation potential becomes unlimited. (Corporate website: www.advantech.com)