Advantech Launches the USC-360 AIO POS Computer for Retail and Hospitality
17/04/2023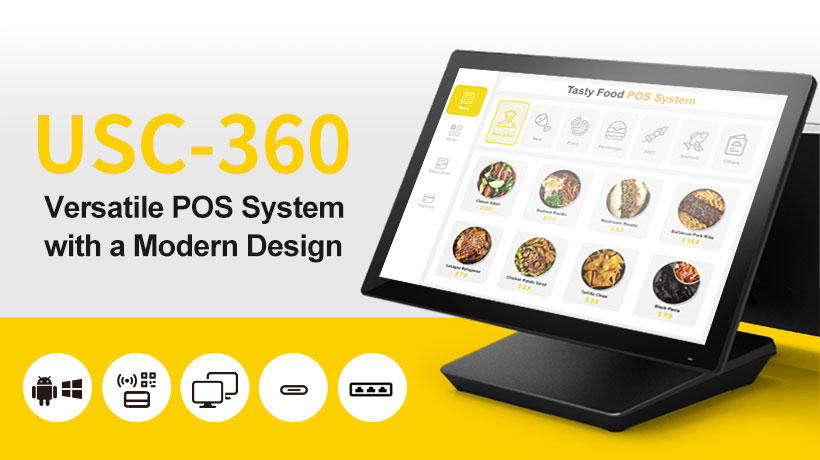 Taipei, Taiwan, Apr 2023 – Advantech, a leading provider of intelligent computing solutions, is pleased to announce its USC-360—a cost-effective and versatile all-in-one (AIO) point-of-sale (POS) system aimed at retail and hospitality applications. Featuring a sleek modern appearance, P-CAP touch control, and an elegant dual hinge stand, USC-360 provides a truly immersive viewing experience. To support a wide range of applications, the USC-360 POS system is also equipped with a USB Type-C connector for integrating additional devices and an I/O extension hub for specific usage requirements. Moreover, USC-360 supports multiple platforms and also offers flexible installation options for a second display and various peripherals. All these features make deploying the USC-360 effortless in restaurants, convenience stores, coffee shops, supermarkets, shopping malls, and more.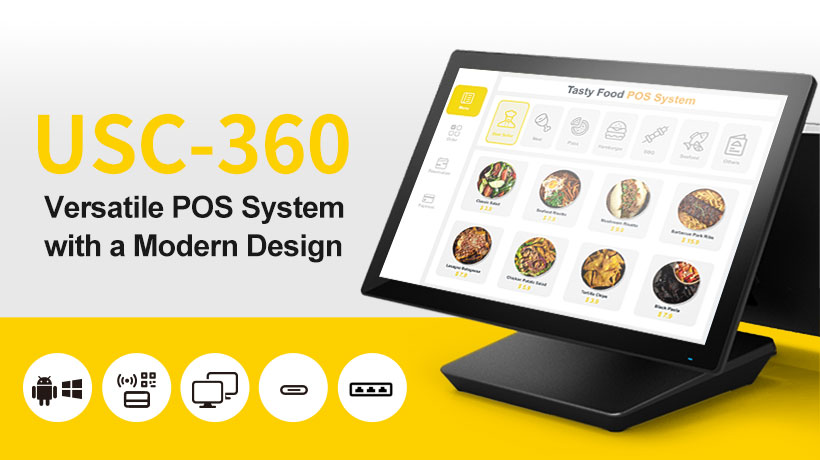 Multiple Platforms Available to Balance Performance and Cost
The USC-360 POS system supports multiple operating systems to meet the varied demands of customers. There are three different versions of the USC-360, including USC-360H, USC-360J, and USC-360D. USC-360H is powered by an 11th Gen Intel® Celeron® 6305E or Core™ i3-1115G4E/i5-1145G7E processor. USC-360J is powered by an Intel® Celeron J6412 processor, and USC-360D is an ARM-based system powered by the Rockchip RK3568 processor. USC-360 can easily accommodate existing IT infrastructure and user ecosystems. The variety of processors available also ensures that customers can choose the best option for their specific needs and find the right balance between performance and cost.
USB-C Connector Streamlines Data Transfers
The USC-360 POS system has been designed with future compatibility in mind, featuring a USB Type-C connector that can be used to connect a secondary display or I/O extension module. USB-C technology provides many benefits for POS systems, as a single cable can transmit video, audio, and data simultaneously while also supplying power to charge devices. This reduces the number of cables required for setup from three to just one, simplifying the installation as well as the servicing process. This also has the benefit of keeping the retail counter tidy.
Flexible and Diverse Expandability for a 2nd Display and Peripherals
In addition to the various mounting options available for the USC-360 POS system, it also offers flexible and diverse installation options for a second display and peripherals. There are three different configurations for a second display: the first is to have it separated from the USC-360 by up to a distance of two meters, the second is to have it integrated, and the third is to have it rear-mounted. The USC-360 can also be integrated with modularized peripherals such as MSRs, barcode scanners, RFID, fingerprint readers, LED bars, and more. Customers can choose the peripherals that best meet their needs based on their specific application scenarios.
Key Features
15.6" 16:9 full-HD LCD with LED backlight and P-CAP touch
Supports multiple platforms for CPU SKU: 11th Gen Intel® Celeron® 6305E/Core™ i3-1115G4E/i5-1145G7E / Celeron® J6412 / Rockchip RK3568 processors
Sleek modern design with dual hinge stand
Flexible and various installation options for a 2nd display
Rich peripherals for diverse applications

Integrated wiring with USB Type-C that supports video, data, and power signals

Supports an extension I/O Hub (via USB Type-C)
Advantech's USC-360 Versatile AIO POS system is available to order now. For more information regarding this or other Advantech products and services, contact your local sales support team or visit our website at www.advantech.com.
About Advantech
Founded in 1983, Advantech is a leading provider of trusted, innovative products, services, and solutions. Advantech offers comprehensive system integration, hardware, software, customer-centric design services, embedded systems, automation products, and global logistics support. We cooperate closely with our partners to provide complete solutions for a wide range of applications in diverse industries. Our mission is to enable an intelligent planet by developing automated and embedded computing products and solutions that facilitate smarter working and living. With Advantech products, the application and innovation potential becomes unlimited. (Corporate website: www.advantech.com)
Primary Media Contact
Advantech Corporation
Mercy Weng
Tel: 886-2-77323399 ext. 9685

Email: mercy.weng@advantech.com.tw

Secondary Media Contact
Advantech Corporation
Yui Yu
Tel: 886-2-77323399 ext. 9656

Yui.Yu@advantech.com.tw