Advantech Releases RSB-3810 2.5" Pico-ITX with MediaTek's Genio 1200 for Vision-Based Applications
29/05/2023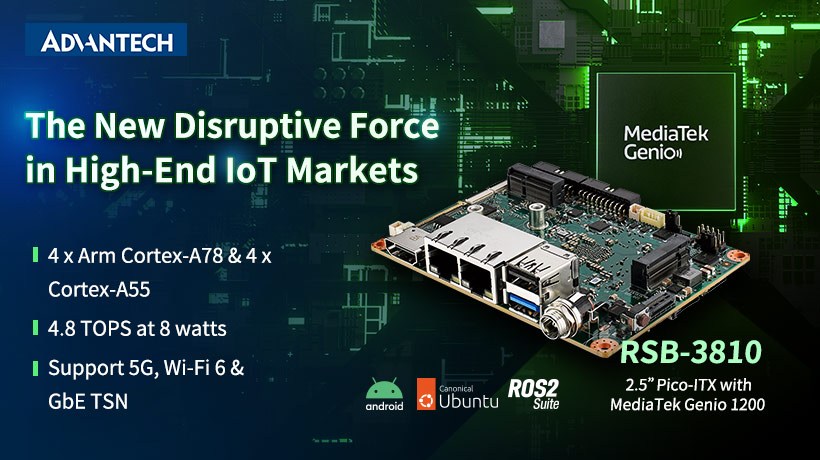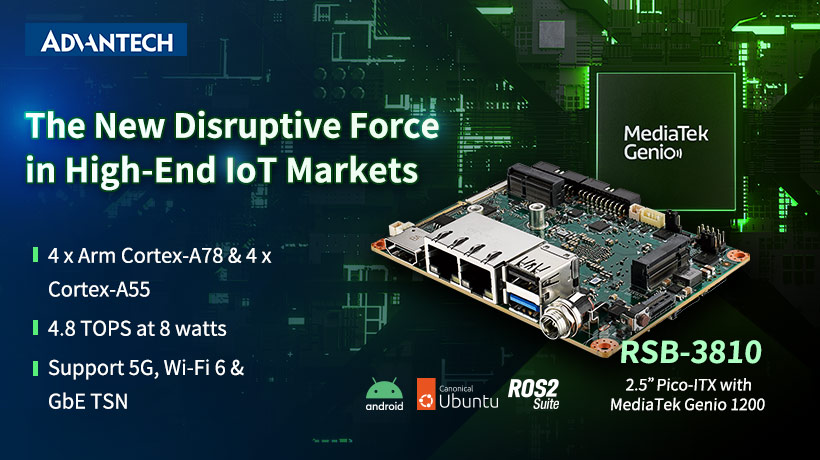 Taipei, Taiwan, May 2023 — Advantech, a leading industrial embedded AI solution provider, is pleased to release the RSB-3810. A 2.5" Pico-ITX SBC that adopts MediaTek's flagship chipset Genio 1200. This solution enables responsive AI inference capabilities up to 4.8 TOPS with 8-watt power efficiency. It also integrates MediaTek's 5G and Wi-Fi 6 connectivity to empower IoT applications at the edge including robotics, and industrial IoT.
Powerful and Efficient with Multitasking Performance for IoT Applications

MediaTek's Genio 1200 chipset is at the core of the RSB-3810 and boasts a robust octa-core CPU configuration. It features 4 x premium Arm Cortex-A78 and 4 x Cortex-A55 processors, all integrated into an advanced 6nm-class chip. The result is exceptional power efficiency, with the RSB-3810 consuming a mere 8 watts while effortlessly handling compute-intensive workloads. To enable seamless on-device AI processing for deep learning, Neural Network (NN) acceleration, and machine vision applications, the Genio 1200 chipset incorporates a dedicated dual-core AI processing unit (APU). This specialized unit delivers an impressive 4.8 TOPS of performance, enhancing the RSB-3810's capabilities in AI-driven tasks. By effectively offloading tasks from the host CPU, this intelligent architecture achieves an optimal balance between system performance and power consumption.
Seamless Image Processing with Ultra-Low Latency Transmission

The RSB-3810 offers exceptional camera input capabilities via 3 x MIPI-CSI and USB 3.0 ports, featuring an embedded starlight-grade ISP. This enables intelligent vision-based systems to operate effectively even in extremely low-light conditions. With the incorporation of the Mali-G57 chipset, the RSB-3810 supports H265 4K60 video capture and 4K90 image processing to accommodate a wide range of AI applications. Additionally, it facilitates multi-display setups with 1 x 4Kp60 HDMI, and 1 x dual channel LVDS.
In terms of connectivity, the RSB-3810 provides the necessary I/O interfaces for advanced network and peripheral connections, including 1 x M.2 3052 Key B, and 1 x M.2 2230 Key E Slot. This allows seamless integration with MediaTek's 5G and Wi-Fi 6/BT networking modules. Furthermore, GbE TSN (Time-Sensitive Networking) is supported as an applicable protocol for efficient data transmission in monitoring systems and equipment. These features make the RSB-3810 an ideal solution for edge computing applications in industrial IoT and surveillance domains.
"We designed the MediaTek Genio 1200 specifically to process highly demanding AI and performance-centric applications in the industrial IoT space," said Mr. CK Wang, General Manager of IoT, MediaTek. "In addition to these benefits, the Genio chipset built into the RSB-3810 can also take advantage of the latest multimedia graphic support for 4K and multi-display products to offer even more impressive performance in heavy workloads."
Flexible OS and Robot-Oriented Software Package Facilitate Integration

The RSB-3810 offers extensive support for various operating systems, including Ubuntu, and Android, catering to diverse development environments for AI and edge computing applications. In partnership with Canonical, the company behind Ubuntu, Advantech enhances enterprise-grade Ubuntu support and provides pre-loaded and certified services. This collaboration ensures efficient over-the-air security updates, enabling developers to focus on their core applications and reduce time-to-market.
As for robotics development, the RSB-3810 is designed to facilitate seamless integration with the ROS2 Suite. This comprehensive software package, built on Advantech's AIM-Linux embedded software, is specifically tailored to support Robot Operating System (ROS) environments. With the inclusion of MediaTek's NeuroPilot SDKs, edge intelligence is further enhanced through the utilization of APUs within the processor. The RSB-3810's high level of software integration significantly reduces the time and resources required for robotics development, streamlining the process for developers.
Advantech's AI-native 2.5" Pico-ITX RSB-3810 is available now. Please contact an Advantech sales office or authorized channel to find out more. For more information on Advantech's Arm computing products and services, visit our solution page.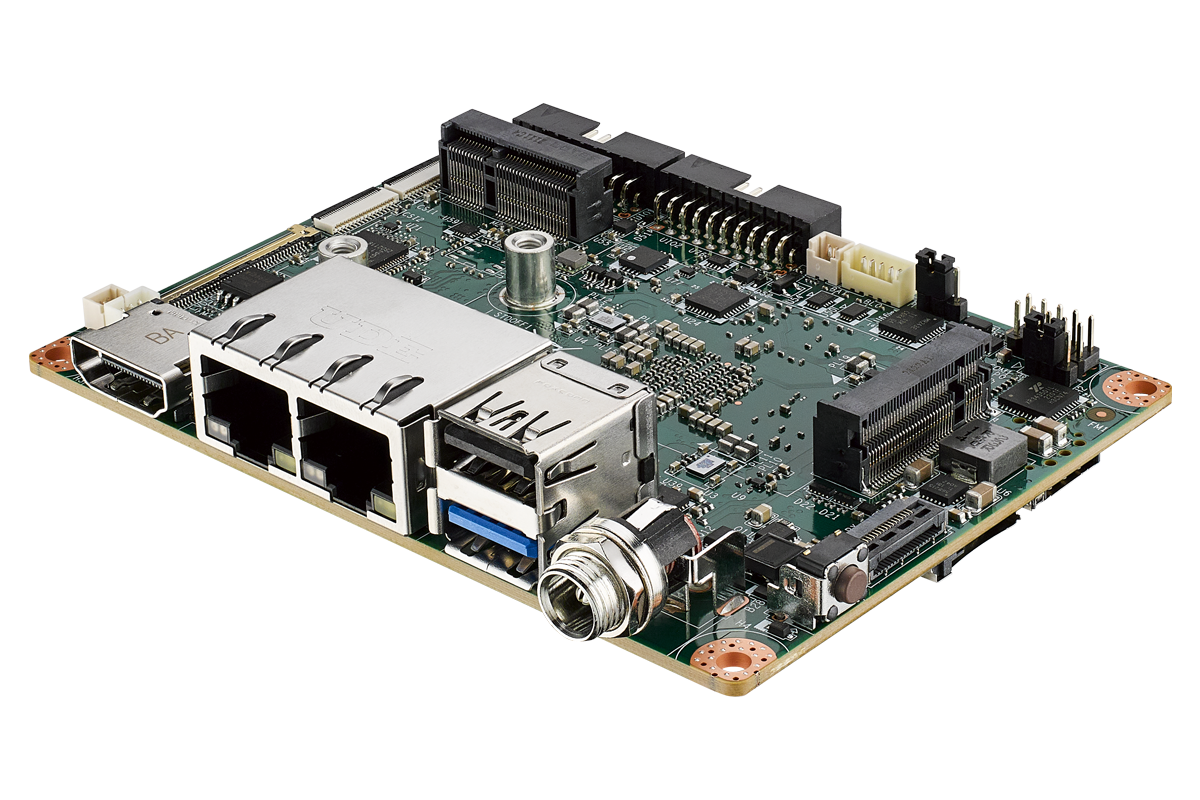 RSB-3810 Key Features
MediaTek Genio 1200 with 4 cores A78 & 4 cores A55, onboard 8GB LPDDR4
HDMI 4k60fps, 1 x Dual Channel 24 bit LVDS
1 x 4-wire RS-232/422/485, 2 x USB3.2 Gen1 By 1
1 x M.2 3052 Key B for 5G, 1 x M.2 2230 Key E Slot for Wi-Fi 6/BT
Rugged design: 0 ~ 60 °C / -40 ~ 85 °C / 3.5Grms
Rear I/O expandable with UIO40-Express I/O boards
Supports Ubuntu, Android, and ROS2 Suite