A Palm-Sized Embedded PC for Industrial Automation - Huge Potential in a Small Package
6/5/2020
The industrial automation market is seeing a trend towards small form factor embedded computers. Contemporary manufacturing processes necessitate improved computing power within limited working spaces. Modern smart factories require more peripheral devices while simultaneously demanding faster processing for machine vision and deep learning applications.
Industrial automation applications require industrial computers with rugged housing, diverse I/O ports, and optimal computing power. Similarly, the AIoT era has seen device graphic analytics capacity and compactness become increasingly important. Holistic systems—edge computers with peripheral devices and factory equipment for sustained automated manufacturing, have become increasingly intricate. As, among other factors, operative costs are calculated on an hourly basis, this extended time frame yields increased expenses. In sum, system installation has become an unavoidable and progressively more complex burden during system integration. Implementing smart factory strategies means bridging the gap between powerful compact PCs and efficient system installation techniques.
Advantech's palm sized EPC-U3233 is designed for industrial automation markets. This EPC features Intel® CORE-I CPU platforms and up to an 8th Gen i7 processor for tackling the intricate multilevel computing required by machine vision and deep learning applications. Featuring 4 x COM, 4 x USB, 2 x HDMI, 2 x GbE LAN, 16-bit GPIO, and 3 x M.2 expansions, this device's I/O ports and expansions are perfect for smart factory applications. EPC-U3233 M.2 M-Key NVMe PCIE x 4 further enhances potential computing power by utilizing high speed data storage read/write capabilities. Likewise, EPC-U3233 supports fanless i7 level computing power.
Advantech's ruggedized design can operate in harsh industrial environments where ESD exposure reaches levels of 8kV/15kV. With a simple two-step installation, peripheral devices such as DRAM, M.2 modules, or SIM cards can be integrated within minutes, saving on installation costs. Advantech's EPC-U3233 is an excellent choice for system integrators seeking to reduce their operative time frame and slash related expenditures.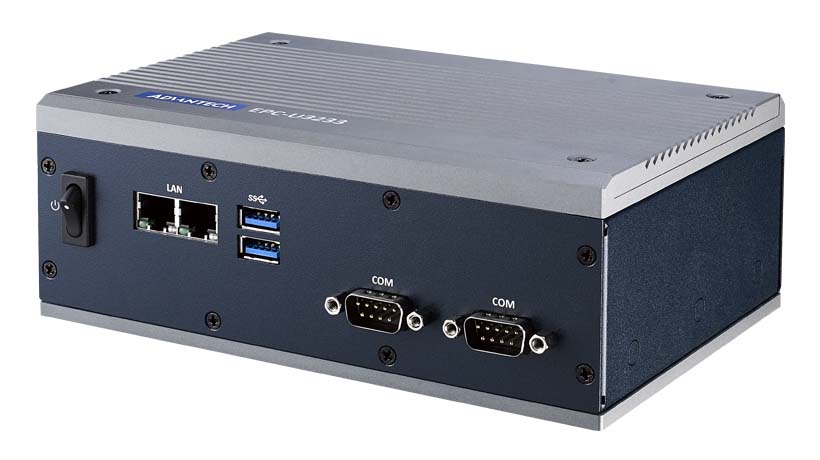 EPC-U3233
Ruggedized small form factor design for tight working environments
Fan-less operation with up to i7-8665UE
3 M.2 Expansions, 2 HDMI, 2 LAN, 2 USB 3.2 Gen2 x1
Learn More Product