Advantech's Comprehensive Range of Solutions Prove Crucial in Developing Experimental Solar Glass Design for Dubai Airport
8/15/2019
Solar is now a mainstream source of renewable energy that a growing number of industries are incorporating into intelligent design processes to reduce their carbon footprints and promote environmental sustainability. Such a synergy has been achieved in the construction sector in part thanks to Professor Young Chin-Huai of the National Taiwan University of Science and Technology (Taiwan Tech). Prof. Young led a team in the development of heat insulation solar glass (HISG)—an ingenious building material consisting of solar film modules and heat-mirror glass.
Capable of letting light pass through, producing electricity, and insulating heat, HISG generates power on its own and reduces the energy used by air-conditioning. This energy-saving benefit has earned the glass considerable international attention. Effectiveness and feasibility have been experimentally tested by Prof. Young's team at a display facility in Dubai—on the request of a contractor commissioned to erect an airport at the same site as the facility—and the results of the experiment were factored into the decision to install the glass in the airport. To stay up-to-date about how the experiment proceeded, the team adopted a monitoring system allowing them to watch the facility anywhere and anytime.
This monitoring system was conceived and materialized in a timely manner by Intelligent Cloud Plus (ICP), a system integrator leveraging Advantech's large portfolio of hardware and software products. This system, combining the "Internet of Things" (IoT) and a private cloud, enabled Prof. Young's team to manage their experiment in a centralized way without having to put anyone on the ground. Ultimately, it demonstrated how their invention could save significant amounts of energy consumption for Dubai's airport buildings.
With 40 years of expertise in automation technology, ICP is dedicated to delivering smart solutions in the fields of environmental control, manufacturing, and energy management. The company ran a Dubai-based subsidiary conversant within the country and was capable of serving its customers in a one-stop manner. Thanks to these strengths, the company was hired by Prof. Young's team to design the remote monitoring system.
The contractor in charge of building the airport gave the team only six months to run a test on HISG. The team built two display facilities (one equipped with HISG and another with single-glaze glass) to determine how well it allowed light to penetrate, how much electricity it produced, and how effective it was in blocking heat, in relation to a conventional type of glass. ICP not only had to catch up to the bustling pace of the experiment to launch a monitoring system capable of visualizing the comparison results in real time, but also had to ensure that the system functioned normally in a climate where temperatures reached as high as 45 °C during the summertime.
To this end, the company requested Advantech offer a comprehensive range of solutions to allow devices on the ground to connect with each other, acquire data, convert communication protocols, process volumes of data, and perform cloud management. The request, by and large, covered the following:
A platform as a service (PaaS) readily available for creating a private cloud in Taiwan.

Easy-to-learn and use programming tools that could expedite the secondary development process.

Solid, durable hardware devices capable of withstanding the intense heat of Dubai's desert climate.
Advantech offered ICP a combination of software and hardware solutions to design the remote monitoring system: the WISE-4010 IoT Ethernet I/O module, the ECU-1251 industrial communication gateway, the ECU-4784 power automation computer, the HPC-7242 industrial server, the WISE-PaaS and WISE-PaaS/WISE.M+ IoT platform, and a WebAccess/SCADA browser-based graphics control program.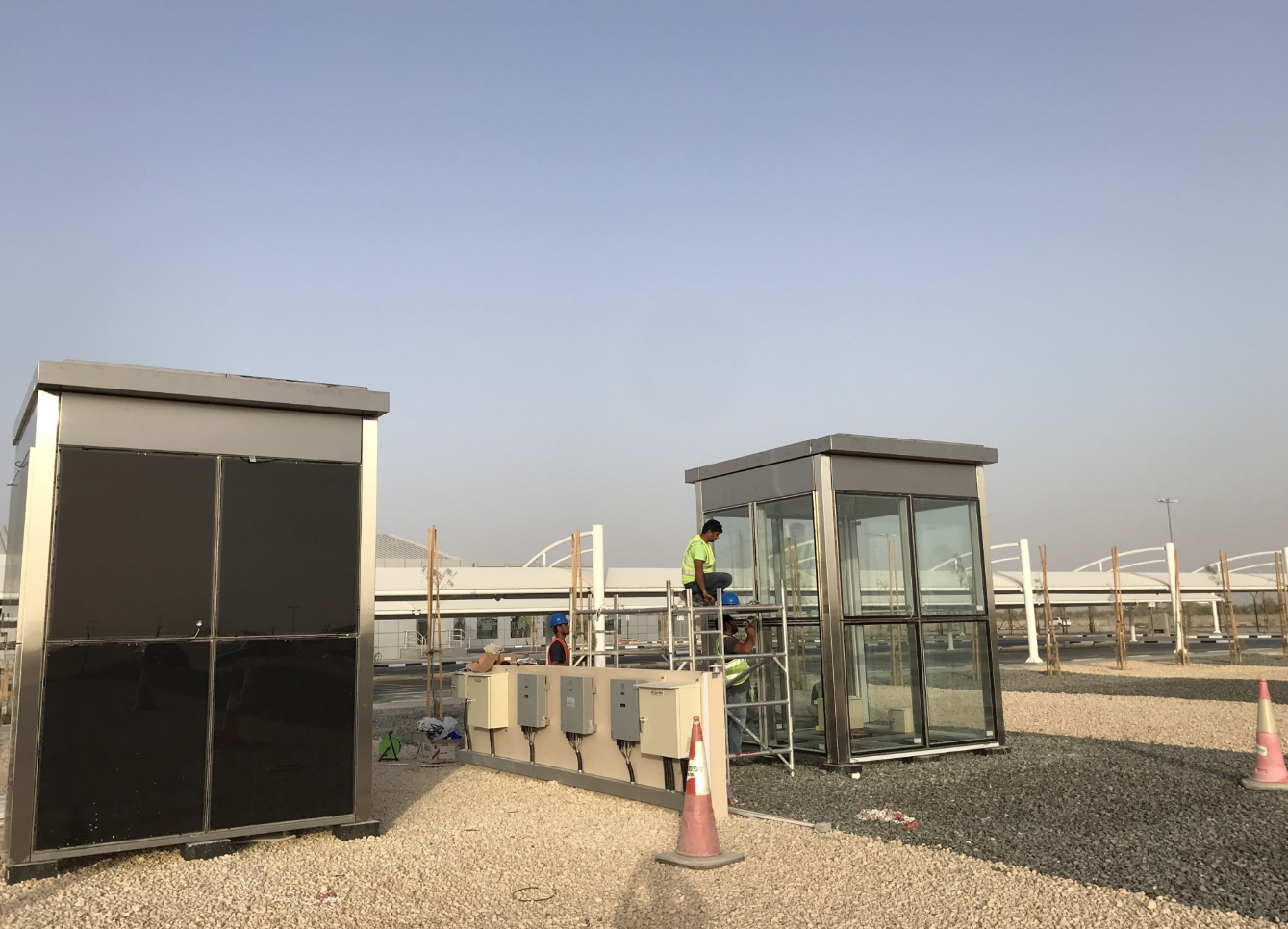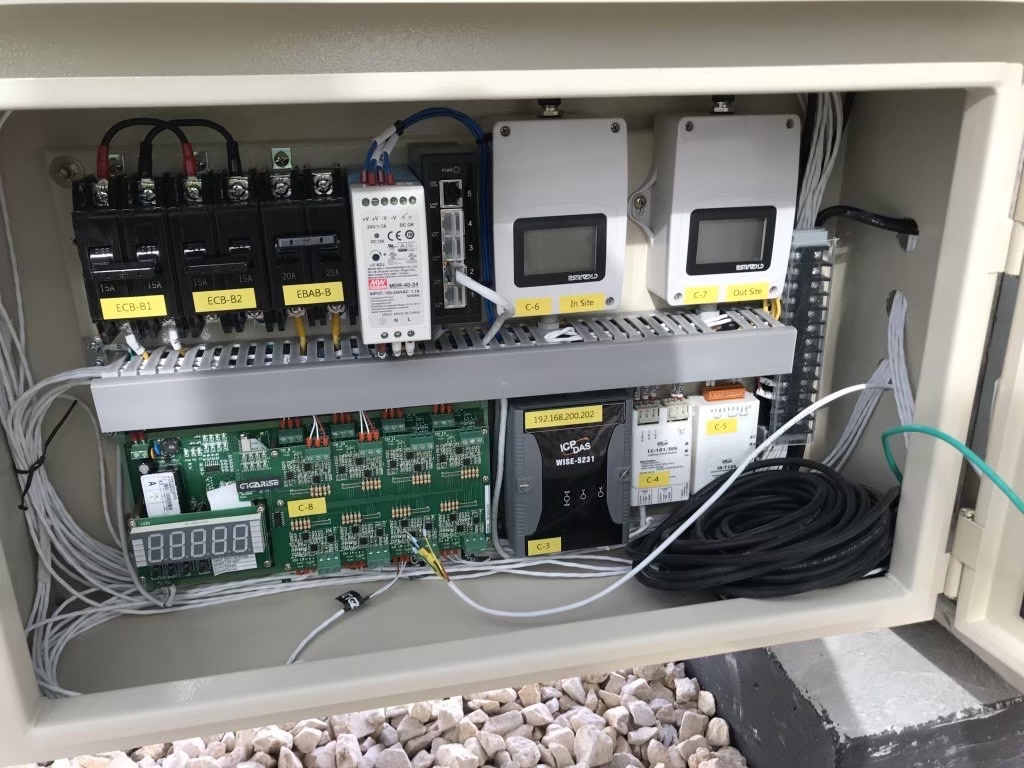 This monitoring system worked in a manner that allowed researchers in Taiwan to keep a remote eye on the display facilities in Dubai. WISE-4010 and ECU-1251 operated at both display facilities: the former device collected plenty of data that spanned glass surface temperatures, environmental temperatures and humidity, electricity usage (from power meters), and A/C operation (from infrared ray transmitters), whereas the latter pre-processed this data. The data was fed to the ECU-4784 computer (installed in the electric boxes outside), which then converted it into a format compatible with the IEC61850 protocol (which the computer supported) and sent it over the 4G network to the HPC-7242 server in Taiwan. Data was displayed in real time on a private cloud built by ICP on WISE-PaaS and WISE-PaaS/WISE.M+.
The hardware devices used in the monitoring system—the I/O module, the computers, and the server—were robust, and each operated normally across a wide temperature range. The ECU-4784 computer effectively converted and delivered the data received, even though it was working in the interior of electric boxes at a temperature that was several degrees higher than the 45°C summer heat outside. The computer, designed for electrical substations and certified by IEC 61850-3 and IEEE 1613 standards, proved more resistant to disturbances, vibrations, and impacts than ordinary models.
The monitoring system used two software programs: WISE-PaaS/EnSaaS and WISE-PaaS/WISE.M+ at the cloud level and WebAccess/SCADA at the edge level. Together, they were integral to achieving a seamless end-to-cloud integration for the system. Both provided a dashboard-like user interface where a system integrator displayed data from all the devices at the bottom level. IPC, who were time-pressed to launch the monitoring system, relied on the interface to simplify the process of configuring the settings and dragging and dropping objects on Advantech's cloud platform for a straightforward programming environment. In doing so, IPC completed the secondary phase of the system's development sooner than expected by adopting a customized approach. The software programs provided by Advantech cut the overall time it took to design the system in half.
The web-based programming environment facilitated remote monitoring—allowing users to log in via an ordinary browser, check data, and run commands online. With Internet access, users viewed data sent from the display facilities in Dubai and adjusted the A/C temperatures at the facilities in response to local environmental conditions.
Crucially, IPC took advantage of WISE-PaaS and WISE-PaaS/WISE.M+'s high scalability. Now that HISG was in service at the airport, IPC improved its existing cloud with additional apps and tools offered by WISE-PaaS and WISE-PaaS/WISE.M+. For example, the monitoring system was equipped with WISE-PaaS/EdgeLink (a protocol conversion program) and WISE-PaaS/WISE.M+ (an IoT platform for real-time management) to incorporate devices that consumed power and/or performed environmental control. Through this improvement, the system enabled more thorough equipment monitoring and contributed to energy reduction on a larger scale than before.
Applied Products:
WISE-4010: 4-ch Current Input and 4-ch Digital Output IoT Ethernet I/O Module
ECU-1251: TI Cortex A8 Industrial Communication Gateway with 2 x LAN, 4 x COM Ports
ECU-4784: IEC-61850-3 Certified Power Automation Computer
HPC-7242: 2U Rackmount Chassis for ATX Motherboard with 4 Hot-Swap SAS/SATA HDD Trays and RPS
WISE-PaaS/EnSaaS: Industrial PaaS Solution for the Edge to Cloud Service
WISE-PaaS/WISE.M+: Cloud-enabled Industrial IoT Real-Time Monitoring and Operating Platform
WebAccess/SCADA: Browser-based SCADA Software Platform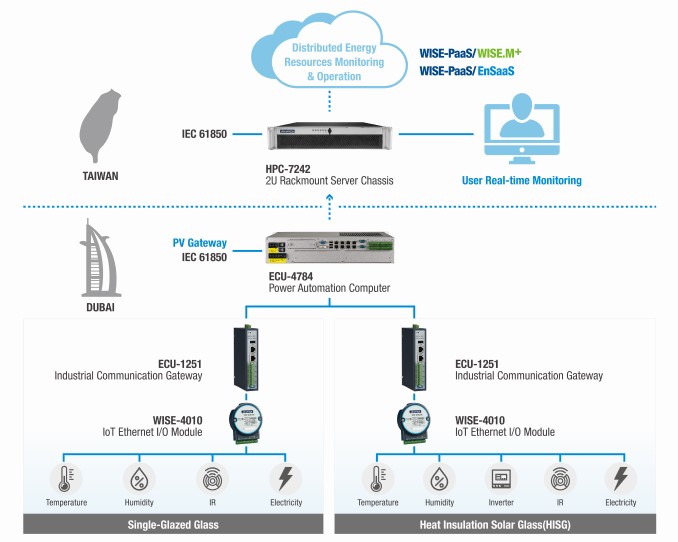 For devices designed to produce renewable energy, like the HISG or solar panels, a remote monitoring system capable of displaying operational data in a cloud environment is essential. This ensures that operators can check the device as it generates power in a timely manner and assess whether it is doing its job properly—in turn reducing electricity use and costs.
Drawing on Advantech's user-friendly, readily serviceable solutions, ICP was able to shorten the monitoring system's development timeline. Using this system, Prof. Young's team tested their energy-saving building material thousands of kilometers away and demonstrated how they worked. Boasting a very short time-to-market, this monitoring system tops the list of solar energy solutions that IPC's customers will consider implementing.