Advantech hailed for its LoRa-based cold chain solutions
6/6/2019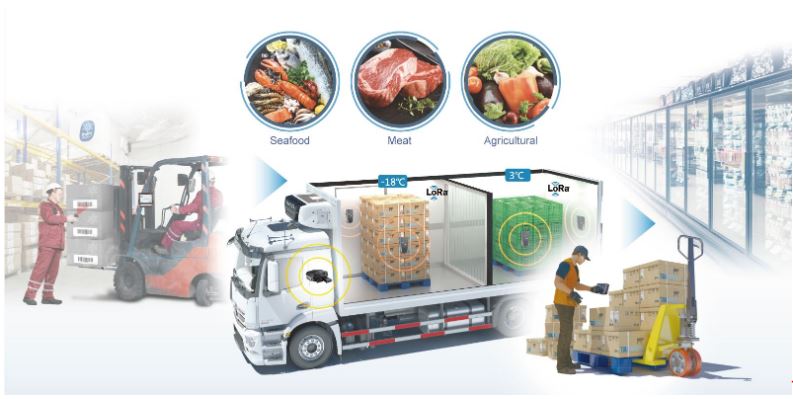 Author │ Hua-Yu Yenh
Photo │ Advantech
Interview │ Advantech Intelligent Logistics SRP Product Manager David Yang, Technical Manager Liwei Chang
Advantech hailed for its LoRa-based cold chain solutions
The advent of the Internet of Things has given rise to an important consideration for cold chain logistics operators that are developing their application services; that is, the selection of the right technologies from among the available technical standards and specifications, so that they can accelerate the introduction of industrial applications.
Cold chain logistics plays an important role in making it possible for customers to purchase various foods ranging from fresh produce and meats at supermarkets to ready-to-eat meals at convenience stores. Without the support of cold chain logistics, it would be a lot more difficult for consumers to enjoy convenient access via multiple channels to a vast variety of fresh food products. Furthermore, the growing demand of consumers has driven channel, retail, and even logistics operators to invest in the development of cold chain capabilities. To this end, the incorporation of Internet of Things (IoT) application services is the optimal option for operators who intend to maintain their products within a certain temperature range throughout storage, transportation, and sales processes.
LoRa Edges out Competing Transmission Technologies in The Cold Chain Industry
Since issues relating to power consumption and transmission range have to be considered by cold chain logistics operators, the Low-Power Wide-Area Network (LPWAN) has become the ideal choice for signal transmission. However, solution providers face a tough challenge in selecting the transmission specifications that best meet their LPWAN requirements from among the various possible options, which include Narrow Band Internet of Thing (NB-IoT), Sigfox, and Long Range (LoRa) technologies.
Advantech Intelligent Logistics SRP Product Manager David Yang indicated that, even though various options are available if one intends to set up a LPWAN, the unique operational needs of the cold chain logistics industry led Advantech to ultimately settle on LoRa as the primary transmission architecture due to its long-distance, high-penetration data transmissions, and low battery consumption characteristics.
Advantech Intelligent Logistics Technical Manager Liwei Chang said that LoRa consumes low power, allowing for the use of batteries and ensuring stable operations over long periods of time, and further stated that, with the integration of operating frequency and spread spectrum modulation technologies, LoRa boasts strong anti-interference, penetrability, and long-distance transmission capabilities, making it the preferred architecture for LPWAN. He also stated that the most important factors were that LoRa operates in the sub-1GHz band, does not incur additional band licensing fees, and is relatively more open than Sigfox.
Chang stressed that these conditions enable operators to make selections quickly and flexibly and establish their own communication networks, such that they can develop their application services more conveniently. He further highlighted the view that the biggest advantage of LoRa lies in the fact that the convenience it offers also grants operators a high degree of flexibility with respect to sensing, relay, and cloud components, enabling them to design and set up their networks according to their actual application needs while also achieving lower overall implementation costs.
Comparison of wireless technology options

Convenient Architecture Implementation with Comprehensive Peripherals Provides Implementation Advantages
In addition to the advantages inherent in transmission technologies, the specific characteristics of LoRa can also shorten the implementation time required at the application site.
Advantech Intelligent Logistics SRP Product Manager David Yang pointed out that, in the past, on-site installations often involved major alterations to the existing equipment or wiring architecture since this was usually required during the placement of sensor devices. Furthermore, gateways will also have to be repositioned during their installation as sensors are affected by the actual application environment, which leads to changes in transmission distance. In some cases, the wiring or set-up may even have to be reconfigured in order for the gateway to receive sensor signals, which is a laborious and time-consuming process that can increase the cost of implementation.
Yang said that the correct information cannot be received if the sensors are installed at the wrong positions, and added that it will also be pointless if you cannot transmit the accurate data that you have obtained or link it to the network. This new technology is significant since it enables the collection of effective data that can be utilized in an optimized manner.
Devices that incorporate LoRa technology can be installed quickly and conveniently. Moreover, the pairing of the LoRa interface's transmission characteristics with the advanced transmission technologies developed by Advantech will allow for a significant improvement in the reliability of signal transmissions at the cost of just a slight increase in power consumption.
Furthermore, with respect to certain aspects of the cold chain process such as the freezers used for freezing storage and the cold chain logistics vehicles used during the transportation process, metals such as aluminum and stainless steel are often used to ensure that temperatures are kept low. These metals can create an electromagnetic shielding effect that will disrupt the transmission of signals. Compared to other technologies, however, LoRa boasts a high degree of penetrability that makes it the ideal choice for the cold chain market.
With the support of Advantech's comprehensive range of software and hardware peripherals, a user will also enjoy the advantages of quick effectiveness assessments, as well as the rapid replication and implementation of mass production. Yang indicated that Advantech not only offers its cold chain customers a range of temperature sensor and gateway products for use in frozen storage warehouses, cold chain logistics vehicles, stores, and other locations; but also sells handheld terminal that can utilize near-field communication (NFC) to sense and collect data, and take infrared temperature measurements to enable product temperature management.
These devices can be quickly implemented in frozen storage warehouses, cold chain logistics vehicles, and stores; and all of the data can be collected and uploaded to a cloud database, which allows for real-time monitoring and alerts and notices to be issued whenever abnormal conditions are detected.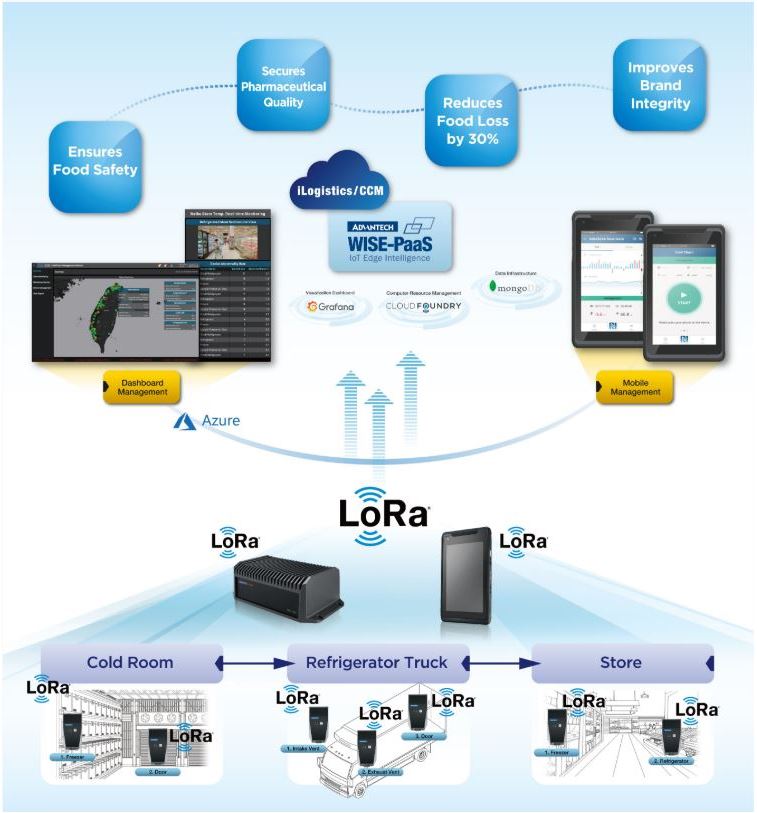 Advantech cold chain solution system diagram
Quick Effectiveness Makes It The Preferred Choice among Mass Retailers
Yang pointed out that a thorough evaluation is required before the introduction of any technology or product in an application service. In the case of cold chain applications, products should be maintained at a certain temperature range; however, the temperature levels in freezers and cold logistics vehicles are not perpetually low as their defrost mode will be activated from time to time. Nonetheless, with temperatures possibly ranging between -20 to 5 degrees Celsius, Advantech's AI technology will ensure that the entire system operates stably. This is also an important factor to consider.
Beyond existing cold chain industry applications, the rapid growth in cold chain demand has naturally given rise to an increasingly diverse spectrum of needs that originate from bulk retailers, retailers, and channel operators. Yang stressed that Advantech remains focused on the cold chain industry. As for similar needs in the medical and pharmaceutical fields, Advantech will naturally seek to leverage its existing technologies and products to provide the best solutions to its customers.