Machine Vision Equipped EPC-P3066 Enables Automated Warehouse in Smart Logistics
6/1/2020
Machine vision in warehouse required powerful edge computers with integrated IP cameras and specific peripherals. These computers had to be capable of multi-tasking and handling heavy workloads for applications requiring fully automated logistics. These devices needed to recognize, categorize, and label thousands of different packages in unmanned warehouses, while comprehensively analyzing and operating conveyor belts.
Powerful and adaptable embedded computers are needed in automated warehouses to implement smart logistics. To sustain operations, these embedded computers need specific I/O ports and expansion slots for diverse applications unique to specific warehouses. Indeed, different types of embedded computer may be required within a single warehouse.
These requirements created two major challenges—configuring and concealing the numerous embedded computers found in automated warehouses. Configuring new systems is time-consuming and accrues considerable expenditure. Similarly, improving time-to-market is always a factor in business success. It regards to these considerations, the diversity of edge computing is simultaneously a challenge and an opportunity.
EPC-P3066 is an embedded computer geared toward machine vision applications. Powered by a 9th Gen Intel® Desktop CPU platform, EPC-P3066 enables powerful computing with multiple expansion slots, facilitating the edge deployment of precise machine vision. Utilizing machine vision edge computing in automated warehouses requires diverse combinations of GPU cards, capture cards, motion control cards, and PoE to accommodate varied applications. To this end, EPC-P3066 supports 4 PCI/PCIe expansion slots with corresponding riser cards and an Advantech iDoor module. Dedicated edge computers can be easily configured by inserting specific PCI /PCIe cards and iDoor modules. The various expansion options offered by EPC-P3066 make it a highly flexible solution for the business of smart logistics.
Advantech plans to launch a fast configure-to-order service (CTOS) aimed at tackling the complexities created by growing diversity. CTOS will utilize Advantech's global manufacturing network and logistics support. This service will establish several databases with compatible models, peripheral components, and chassis. Customers can choose a variety of combinations among different I/O ports, connectivity options, CPU platforms, and OS systems enabling the convenient and efficient assembly of dedicated computers.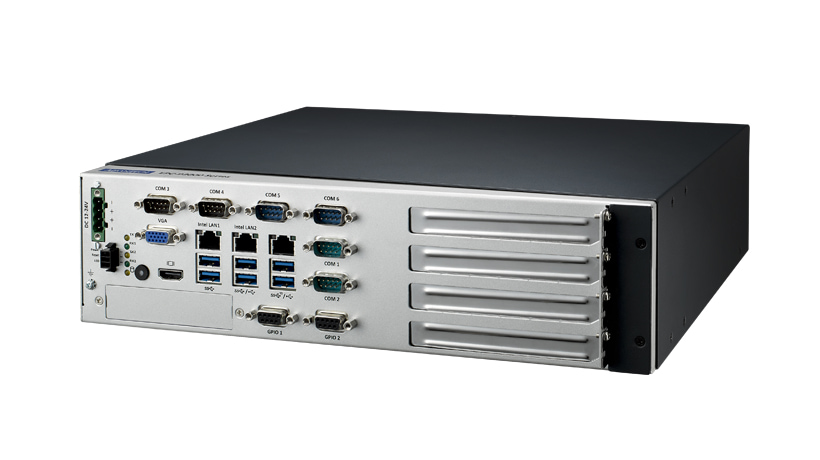 EPC-P3066
Featuring 8th/9th Gen Intel® XEON® / CORE-i Platform
2U rack mounting or DIN rail mounting
Up to 4 PCI / PCIe expansions