NB-IoT Becomes Dominant Technology for Wireless Networking
9/4/2018
Empowered by the M2.COM development platform, application developers are now able to respond to market changes with ease by building different wireless networking technologies into their products as they wish. However, with the gradual expansion of the Internet of Things (IoT) application market, most of the original communication standards are bound to dwindle and only few standards that offer winning features will continue to grow and become mainstream, but their applications will be limited to specific scenarios.
Prior to the year 2016, short range wireless technologies for IoT applications were limited to WiFi, Bluetooth, and ZigBee. Sigfox was the first runner in the low-power, wide-area, wireless network (LPWAN) space, followed by LoRa; both similar in technology but targeting different business segments—Sigfox is aimed at becoming a global IoT carrier, while LoRa is expected to be favored and adopted by existing telecom carriers.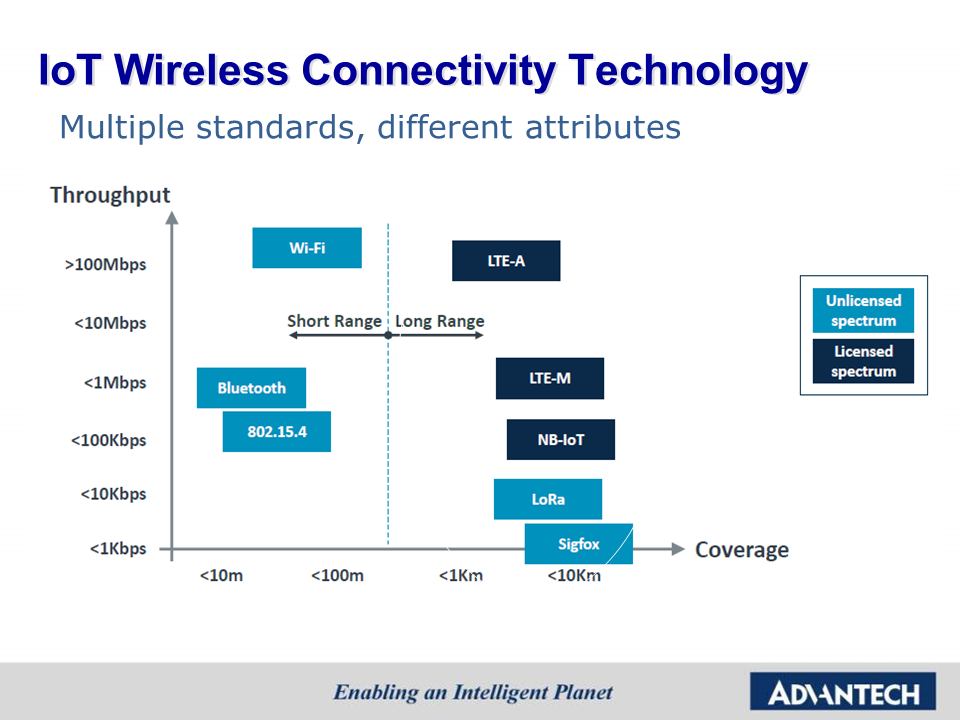 Figure 1: Chart presenting various wireless technologies for IoT with varied bandwidth and signal coverage

However, since the appearance of the NB-IoT and LTE-M standards, the development space for Sigfox and LoRa has been squeezed. Though all these wireless technologies have their own advantages (see Figure1), the LPWAN market has been dramatically reshuffled since 2016 when the major market hitters Qualcomm and Huawei started to promote LTE-M and NB-IoT and rolled out related products. The shipments of devices based on NB-IoT and LTE-M have since risen rapidly, and NB-IoT has especially achieved the fastest growth (see Figure2).
In terms of geographical areas, the US is the biggest market for LTE-M, while South America and Europe have seen more deployment of Sigfox and LoRa. As in China, the market has overwhelmingly supported NB-IoT, but LoRa and Sigfox will still have prospects in the future but are expected to move into smaller niche markets.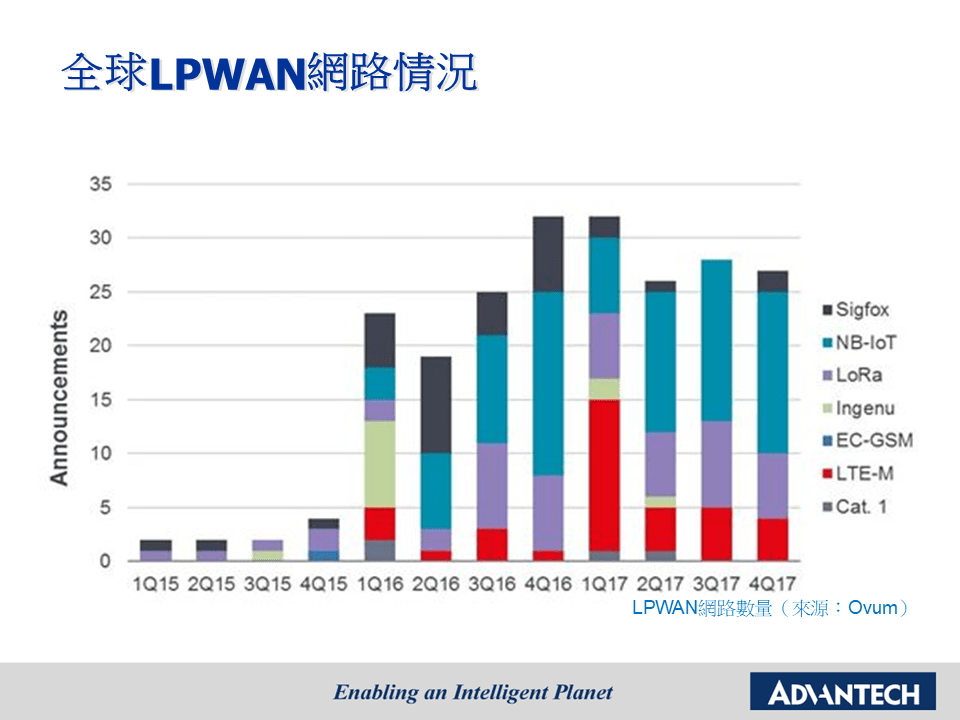 Figure 2: Global market shares of various LPWAN technologies

Andy Lin, senior product manager at Advantech's embedded computing business group who leads the WISE-EC work team said, "Device developers will have to adopt the concept of modularization when designing their products if they wish to sell their products around the world. In fact, telecom carriers and operators in different countries use different bandwidth segments for NB-IoT or LTE-M, which means modular designs will be the required solution."
Responding to these market trends, Advantech has decided to increase its investment in NB-IoT and LTE-M solutions, especially NB-IoT, for which Advantech has already completed its preliminary strategic plan. NB-IoT is a very popular and exciting market which already has 13 chip makers and 25 modular product makers (see Figure 3), all doing their best to get market share, which implies a highly competitive market. Therefore, Advantech has to prepare strategies for product differentiation to make a breakthrough, and AzureWave technologies have become the "secret weapon" for Advantech in the NB-IoT market.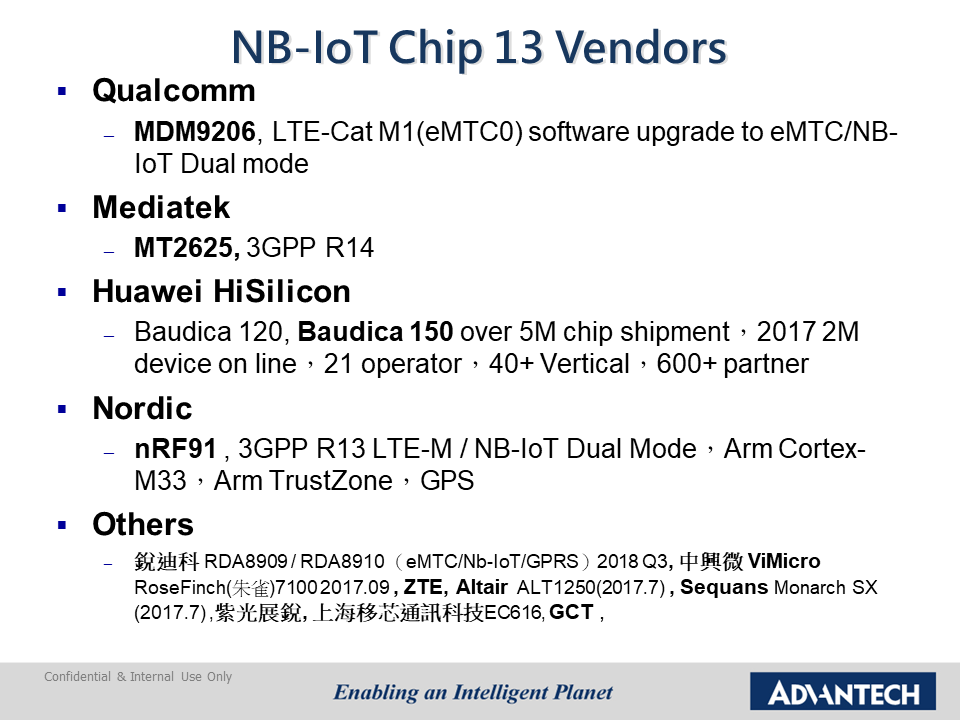 Figure 3: NB-IoT/eMTC chip vendors
AzureWave has been doing pretty well in the WiFi module business, shipping over one million units per year but mainly of commercial grade. Advantech has decided to assist it to help develop industrial grade wireless communication modules. In addition to products with basic wide temperature features, AzureWave will also introduce dust- and water-preventive modules with the help of Advantech and is expected to roll out 15 new SiP modules without MCU.
Numerous IoT applications can be created by combining devices with wireless communication modules. Electronic tags are one such example of a hot ticket item. Advantech has partnered with E InK Corporation to develop e-tag products by using E Ink display panels with Advantech wireless modules and gateway solutions. These products can be applied in areas such as smart retail, warehousing, and logistics.
With the continual expansion of the industrial ecosystem, more vendors who were originally outsiders of the networking communication industry have joined the market now. Accordingly, Advantech, in addition to providing fundamental building blocks for wireless communication, have also considered providing design services to help customers integrate wireless communication technology into their products.
Design services are being initiated because Advantech has seen customers facing many barriers in developing their products, starting from modules, to the completed product, to the final stages of mass production. Even by using a highly integrated development platform like M2.COM, if the customers' domain area of expertise is not network communication, the required front-end investment for them to develop wireless IoT products will be prohibitive.
The Advantech WISE-EC work team recently encountered a similar customer case, after integrating a wireless module into their product, they found that the connection was not stable and reliable and the data transmission performance was lower than average. The team intervened to identify the problem and found that the mechanical design of their product had hindered the antenna's signal connection which resulted in poor wireless reception. The Advantech team worked with them and helped the customer adjust their antenna's design and positioning so the product's wireless performance returned to normal levels.
As for NB-IoT, Advantech, empowered by AzureWave's outstanding research and development ability in SiP, is developing a brand new SiP solution that will integrate a CPU, data module, eSIM, security mechanism, DCP, DMP, and AEP, and will connect it all to the telecom cloud. A single SiP component will contain a complete development toolkit, which can be used to develop all kinds of NB-IoT applications with ease. We believe such a solutions will be highly attractive to telecom carriers and operators. This Advantech SiP will be fully tested by telecom carriers and operators to ensure compatibility before we officially announce the product.
Therefore, Advantech's core strategy in developing the NB-IoT business is to provide fully-complete application development platforms under close cooperation with telecom carriers and operators, instead of solely providing hardware modules to them.