Advantech WISE-DeviceOn and Microsoft Azure: Improve Enterprise IoT Device Management and Application Development
3/15/2021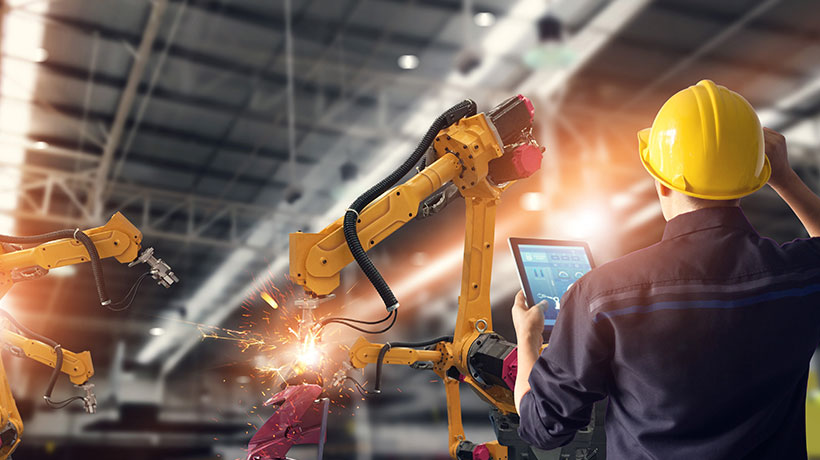 The development of IoT began in 2008, and paved the way for industrial IoT (IIoT) in 2015. Analogously, the past two years have seen rapid advancements in internet communication and sensing technology as well as growing popularity of edge AI technology. This development trajectory has led to the worldwide growth of Artificial Intelligence of Things (AIoT) applications. Congruously, increasing demands and numbers of edge devices has made remote device management vital in enterprise digital transformation.Despite this, enterprises face four equipment management challenges when building AIoT applications.
First, the number of connected devices needed to maximize the benefits of AIoT remains unclear. Second, there isn't a complete and standard-compliant solution to achieve device interoperability and interconnection among myriad equipment specifications. Third, remotely managed devices exposed to public networks encounter information security challenges. Fourth, there is a lack of AI technology platforms on edge devices capable of assisting the development of AIoT applications.
WISE-DeviceOn Optimizes Remote Device Management and Improves IoT Self-Development Capabilities
Advantech's WISE-DeviceOn helps enterprises meet remote device management and in-house AIoT application development challenges. It empowers IoT application architecture by connecting to sensors, gateways, edge computers, the cloud, and other devices. It also provides Application Program Interfaces (API) and Software Development Kits (SDK) for further system integration. This solution enables Enterprise Resource Planning systems (ERP), and Manufacturing Execution Systems (MES), while bridging the chasm between Information Technology (IT) and Operation Technology (OT).
Furthermore, WISE-DeviceOn delivers four features that optimize device management and improve enterprise self-development. First is remote device monitoring and control. WISE-DeviceOn enables enterprises to manage and control devices remotely using data monitoring and collection. Second is intelligent data acquisition and management — achieved by acquiring then uploading device information to the cloud for advanced data analysis and predictive/preventive management. Third is the software management and over-the-air (OTA) updates. This feature monitors remote device software and containerized applications. It empowers optimal configuration and real-time updates. Multi-cloud platform integration is the fourth feature. This feature accommodates on-premises private clouds, and integration with public cloud services such as Microsoft Azure, Alibaba Cloud, and Amazon AWS. This gives enterprises comprehensive application development capabilities that are transferable between the edge and the cloud. Indeed, enterprises can quickly deploy WISE-DeviceOn via Microsoft Azure Single VM quickly to support the management of up to 5,000 devices from a single field. In multi-field IoT applications, such as smart parking lots, WISE-DeviceOn integrates Azure's containerized services to connect with millions of devices. It also integrates Azure's database services to develop big data storage capabilities. In sum, highly flexible application deployment and cross-field connectivity capabilities enable enterprises to develop IoT applications that meet their unique industrial needs.
The introduction of WISE-DeviceOn by electronics manufacturers demonstrates the benefits of these four major features. WISE-DeviceOn's remote monitoring and control function delivers hardware status monitoring to IoT devices — including CPU temperature, fan speed, and voltage. This enables real-time troubleshooting through diverse mechanisms such as remote power on/off and control. In addition, intelligent data collection and management helps monitor IoT hardware. If the target hardware exhibits unstable voltage or hard disk damage, the system will detect the situation in advance using specific algorithms and alert relevant staff to perform predictive maintenance and updates. Likewise, the OTA function helps manufacturers remotely install/configure software updates on mission-critical devices. This reduces manual installation burdens during software updates for individual devices. Finally, multi-cloud platform integration satisfies demands for cloud application and deployment across diverse production fields.
WISE-DeviceOn Affiliated I.App Accelerates IoT Innovation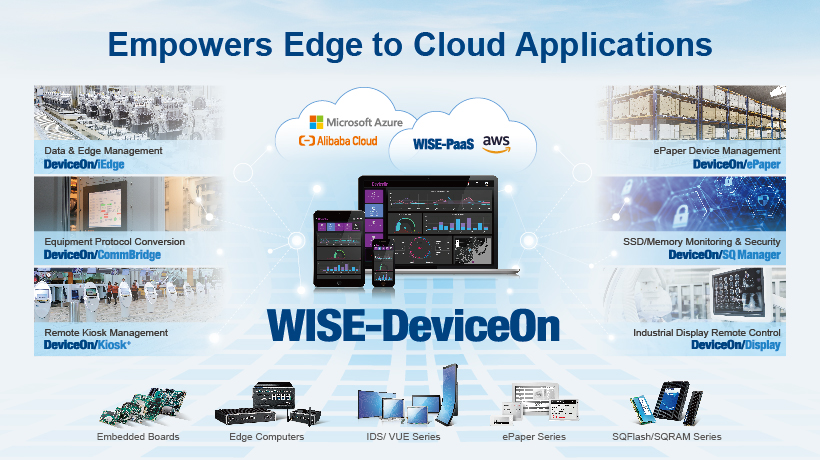 To satisfy various application needs from different sectors, Advantech developed a series of Industrial Apps (I.Apps) based on the core functions of WISE-DeviceOn. Each I.Apps is combined with correct edge devices and peripherals to target specific industries. DeviceOn/iEdge supports a variety of industrial control protocols and can establish an environment for fast AI operations at the edge, providing intelligent upgrades for IoT applications in manufacturing and green energy industries. DeviceOn/CommBridge supports multi-industrial protocol conversion, ideal for CNC machine data acquisition or robot control. DeviceOn/Kiosk+ provides comprehensive remote kiosk machine management and protection for retail/internal operations. DeviceOn/Display delivers remote calibration and control of digital signage in gaming and retail industries through the integration of standardized display control protocols. DeviceOn/ePaper enables the fast implementation of ePaper application management for warehouse management and smart bus stop information displays. Finally, DeviceOn/SQ Manager provides remote monitoring of SSDs, DRAM, and other high-precision components; delivering secure maintenance and operation to the defense industry.
Launching Solutions via Azure Marketplace Enables Fast WISE-DeviceOn Deployment
Microsoft Azure covers 58 regions and is available in 140 countries. Integrating WISE-DeviceOn and Azure will likely hasten the global implementation of IoT applications. Releasing WISE-DeviceOn and DeviceOn series products on Azure Marketplace enables enterprises to choose solutions quickly — and deploy DeviceOn, DeviceOn/iEdge, and other I.Apps to the cloud. This allows enterprises to manage their IoT devices remotely, and develop IoT applications independently in an easy and efficient way.
In sum, this solution meets demands for global IoT applications and cross-field device management. Combining Advantech's stable high-quality hardware with Microsoft's reliable and secure cloud services delivers a complete edge-to-cloud solution. This in turn accelerates the implementation and popularization of IoT applications.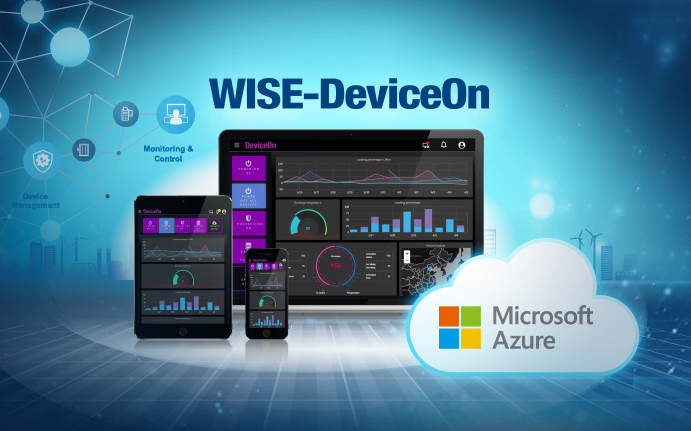 Join our webinar to take a deep dive into edge-to-cloud integration services/technology for efficient and secure IoT device management.