Advantech's verified Intel Select Solutions for NFVI now Available for Remote Evaluation
10/8/2018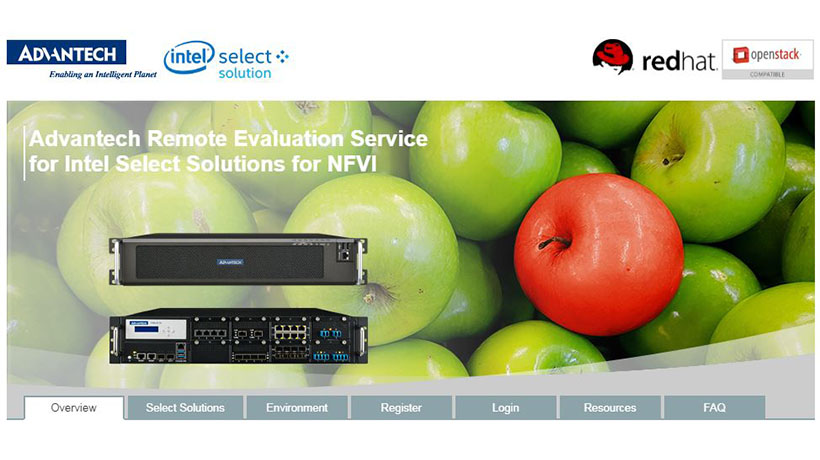 Service providers, integrators and ecosystem partners can access Advantech's new web portal to validate performance and functionality of the SKY-8201 carrier-grade server and FWA-6170 network appliance in an NFV environment
SDN NFV World Congress, The Hague, NL, October 8, 2018
– The Networks and Communications Group at Advantech (TWSE:2395) today announced its new remote evaluation
portal
that provides online access to Advantech's verified Intel Select Solutions for NFVI. The SKY-8201 servers and FWA-6170 appliances available for remote testing are pre-integrated platforms that allow customers to validate NFV workloads and use cases on certified NFVI configurations with minimum efforts. The new portal is part of Advantech Remote Evaluation Service (
www.go-res.com
) and will be demonstrated at the SDN NFV World Congress 2018 in The Hague from the 9th to the 11th of October.
Advantech Remote Evaluation Service (RES) offers secure access to a wide range of network platforms for testing performance and functionality without incurring the costs and delays of shipping and fine tuning different NFVI configurations. Intel® Select Solutions for NFVI are verified hardware and software stacks that are optimized for specific software workloads across compute, storage, and network. The new Advantech portal for Intel Select Solutions combines these two initiatives in a natural match that accelerates time to market and minimizes costs when selecting and deploying the new NFV infrastructure.

The portal will open with a choice of two verified Intel Select Solutions for NFVI: the
SKY-8201
carrier-grade server and the
FWA-6170
network appliance. Both platforms are based on high-performance Intel® Xeon® Platinum and Gold processors and provide high throughput with balanced I/O and on-board acceleration thanks to Intel® QuickAssist Technology and DPDK. They both has been integrated and tested to meet the demanding performance and interoperability requirements of complex NFV workloads.
"Manufacturers, integrators and service providers are working together to build a more open, flexible and programmable network that meets future communication requirements in a more efficient way," said Paul Stevens, Marketing Director for Advantech Networks & Communications Group. "Advantech wants to help the industry achieve this new network paradigm and at the same time reduce the complexity of the new NFV multi-vendor scenario. This remote evaluation portal for Intel Select Solutions is our latest ecosystem effort to simplify the selection and evaluation process when deploying virtual network functions, taking Intel Select Solutions benefits one step further in giving partners and customers a head-start on NFVI."
The new portal will be demonstrated at Advantech's stand C15 in the SDN NFV World Congress expo area September 9-11. To book a meeting, please contact us at ncg@advantech.com.



Remote Evaluation Portal for Intel Select Solutions for NFVI:
Intel Select Solutions for NFVI with Advantech Networking Platforms:
Paul Stevens, Marketing Director, Advantech Networks & Communications Group
Phone: +33 1 41 19 75 75
E-mail: paul.stevens@advantech.com