Advantech Announces DS-085 Ultra-Slim 4K Edge Visualization Solution
7/1/2021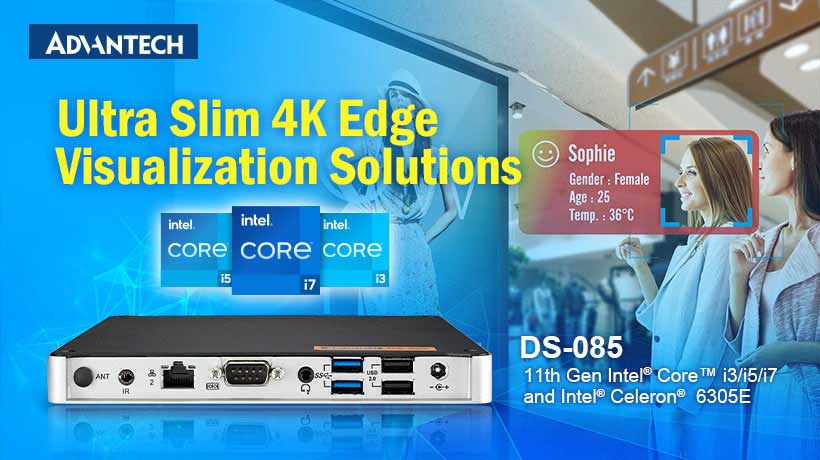 July 2021, Taipei, Taiwan - Advantech, a global leader in embedded platforms, is pleased to announce the launch of DS-085, an ultra-powerful 4K edge visualization solution. This edge system delivers high-impact visual experiences by supporting 4 x UHD displays, and provides AI analytics capabilities powered by 11th Gen Intel® Core™ i3/i5/i7 and Intel® Celeron® 6305E processors with integrated Intel® UHD Graphics. DS-085 features an ultra-slim (19 mm/.74 in), fanless form factor and cable-free design that saves space and eases installation behind displays. In addition, DS-085 uses WISE-PaaS/SignageCMS and WISE-DeviceOn software to deliver ready-to-use edge visualization to applications in smart retail, digital menu boards, and self-ordering kiosks.
Extremely slim and powerful
The impressive processor on DS-085 is buttressed by a small profile and footprint (19 x 180 x 190 mm/.74 x 7.08 x 7.48 in) — making it one of the world's slimmest digital signage players. Indeed, this thin and powerful edge visualization solution fits into most applications and has the high-performance features needed to deliver dynamic graphics/video experiences, AI analytics, and computer vision powered by 11th Gen Intel® Core™ i3/i5/i7 and Intel® Celeron® processors. This fanless, cableless solution ensures reliability and eases maintenance. It also offers a bracket that supports wall, VESA, and DIN-rail mounting to ensure secure installation. Advantech's DS-085 provides an economical, super-compact, and powerful computing solution that ensures cost/performance ratios, functionality, and connectivity. These features make DS-085 capable of empowering myriad edge visualization projects.
Smart content and device management
Advantech DS-085 improves signage network management using WISE-PaaS/SignageCMS content management software and WISE-DeviceOn remote device management software. WISE-PaaS/SignageCMS helps users edit content layout, scheduling, and dispatch programs. It also features an up-to-date scheduling function that enables real-time information and advertising campaign management. In addition, DS-085 supports Advantech WISE-DeviceOn IoT device management software. This software helps users monitor devices in real-time, eases maintenance, and reduces reliance on costly on-site support. WISE-DeviceOn also provides McAfee whitelist security and Acronis — which secure on-screen content and recover essential data/make backups respectively. As a result, DS-085 simplifies digital signage network management while reducing total cost of ownership and time-to-market.