Advantech Announces New 8K Encoder and Decoder Platforms
9/8/2019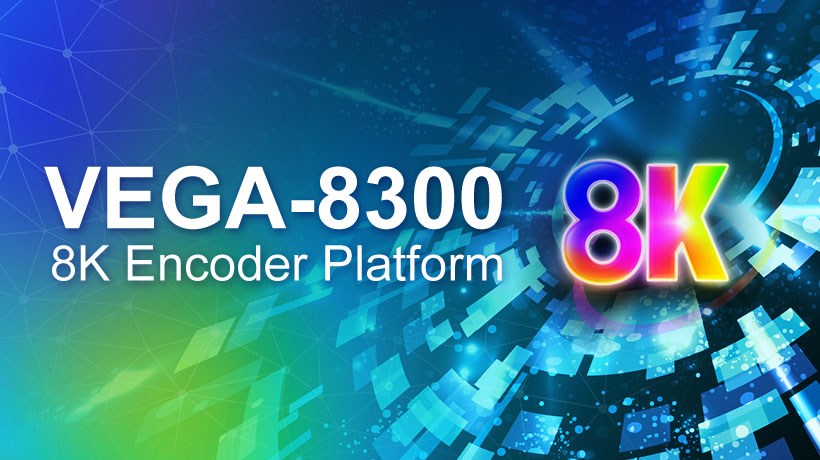 Taipei, Taiwan. August 27, 2019 –– Advantech (TWSE: 2395.TW), a global leader in providing trusted innovative embedded and automation products and solutions, today unveiled its plans for new 8K/UHD2 live encoding and decoding platforms based on their award-winning core 4K/8K video technology. The new platforms will be ready to use by System Integrators or Service Providers who need to create 8K contribution and distribution networks to take advantage of the extra resolution and sharpness that 8K imaging brings.
"With 5G on the near horizon and with 8K cameras and displays hitting production, we are just at the start of the potential for 8K," said Ted Feng, Director of Video Solutions at Advantech. "Accelerating this new video era is in our nature and so we plan to democratize access to 8K technology, previously only available to large broadcasters".
Proven Technology for FranceTV 8K over 5G Trial at French Open Tennis Tournament
The new VEGA-8300 encoder platform uses the latest generation of the company's award winning 8Kp60 10bit 4:2:2 capable encoding technology together with a new 4 x SDI-12G interface, remote web-based configuration, and local HLS or RTP encapsulation and streaming outputs. This was most recently involved in an exciting experiment hosted and led by FranceTV at the French Open Tennis event. During this experiment, Advantech provided live 8Kp60 HEVC encoding services, and demonstrated a point to point link with a 4 x SDI-12G capture and encode from a Sharp 8K camera, streamed across a 5G network to a software decoder/player from partner Spin Digital running on a home theater PC driving a Sharp 8K TV.

8K HEVC Live Streaming Solution
To partner the 8K encoder, Advantech also announced a new VEGA-8300 8K decoder platform. This appliance makes use of the same proven Spin Digital 8K live HEVC decoder in a package that is optimized for field or event use, and includes an option for 4 x SDI-12G outputs for contribution links as well as 4 x HDMI 2.0 (with option for HDMI 2.1 in future) for direct interface to large screens or video walls. The decoder/player supports 10bit/HDR playout and contribution grade 4:2:2 profiles.
8K/UHD2 can underpin highly immersive experiences in a broad range of use cases including live OTT broadcasting, 360 VR, and medical applications. The extra resolution can relay intricate detail, allowing users to zoom in to parts of the picture while retaining clarity. With HEVC encoding, fantastic picture detail can be carried using 100Mbit/s – 200Mbit/s; bandwidths very suitable for 5G network links.
"It's inevitable that in some countries, 8K will take quite a while to become mainstream," said Brian Carr, Product Strategist and Marketing Director for Video Solutions at Advantech. "However, we can see many potential use cases and Advantech VEGA Video Solutions are there to provide reasonable access to enabling technology to allow them to flourish."
8K Live Streaming onsite demonstrations at IBC 2019
Advantech together with Spin Digital will present the new version of its HEVC solutions for 8K live streaming at IBC 2019. Onsite demonstrations will be presented at booth 1.F11 (Hall 1) from September 13-17, at the Amsterdam RAI.
Contact and Meet us: 1.F11
Arrange a meeting with our technical team to learn more about the 8K demonstrations, or discuss with our business team how we can support your video applications using Advantech and Spin Digital software solutions.
About Advantech Video Solutions
Founded in 1983, Advantech is a world-leader in providing trusted, innovative embedded and automation products and solutions. Advantech VEGA Video Platforms and PCIe Adapters are designed to boost video infrastructure performance from acquisition to distribution at the lowest power budget while fully complying with the media industry needs. By providing access to the latest 4K/8K UHD video processing and IP media technologies on commercial-off-the-shelf IT platforms we accelerate the deployment of next-generation, open and more efficient video solutions across a wide range of applications from broadcast encoding and high-density OTT transcoding to cloud, mobile and 360° video. Advantech's standard portfolio can be tailored to meet a range of system requirements, significantly reducing time-to-market effort for our customers.
Spin Digital develops high-performance video codecs for the next generation of ultra-high-quality video applications. Spin Digital software solutions enable media applications that require the latest image and video processing enhancements including very high resolution (4K, 8K, and 16K), high dynamic range, high frame rate, wide color gamut, and 360° video. Spin Digital is based in Berlin, and operates in an international B2B environment, working with customers in different industry segments including UHD-TV, very large screen display, and next-generation virtual reality. For more information visit our website: www.spin-digital.com