Advantech Launches AIM-75S Industrial-Grade Tablet with Android 10 and Certified for Google Mobile Services
3/19/2021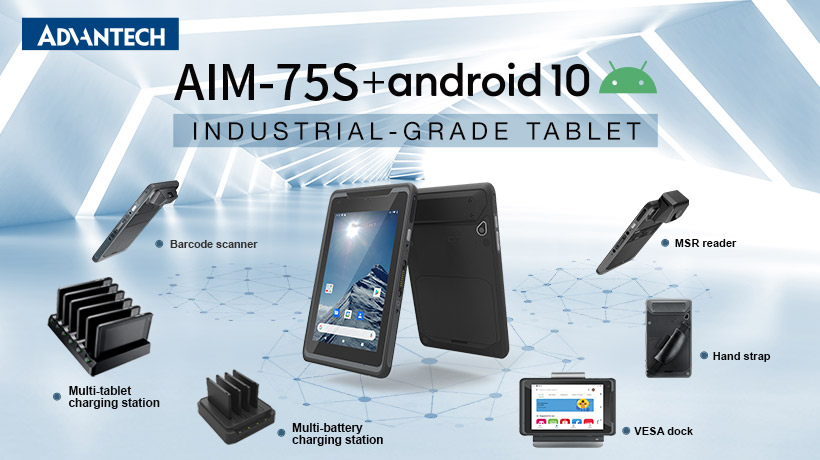 March 2021, Taipei, Taiwan - Advantech, a leading mobile computing platform provider, is pleased to announce its AIM-75S 8" industrial tablet – the latest generation model of its popular AIM series. Powered by a Qualcomm® Snapdragon™ 660 processor, AIM-75S features Android 10 as the default operating system and has passed 7 test suites with 2 million test items to be certified for Google Mobile Services (GMS). GMS offers a set of pre-loaded apps and services designed to boost the productivity of certified Android devices and ensure a consistent user experience.
Lightweight (600g) yet rugged and fanless, AIM-75S is designed for maximum portability and configuration flexibility to support a wide range of applications. The 8" WUXGA IPS LCD display with 1920 x 1200 resolution and scratch-resistant Corning® Gorilla® Glass 3 touchscreen support 10 multi-touch PCAP control as well as gloved and stylus operation. With its IP65 rating for protection from dust and water ingress, 4-ft. drop tolerance (up to 6 ft. with a ruggedized frame), and compliance with SAE J1455 specifications for shock/vibration tolerance, AIM-75S tablets have the durability to withstand operation in harsh indoor/outdoor environments. Additionally, a key advantage of AIM-75S tablets is their high expandability for diverse applications and easy integration with existing systems. To expand the system functions, AIM-75S tablets can be equipped with a variety of application-oriented peripherals, such as a barcode scanner, MSR reader, multi-tablet charging station, multi-battery charging station, and VESA dock, according to specific usage requirements. For diverse vertical manufacturing (inventory checking, material picking, material management, quality inspections, asset management, and order dispatch), retail (drive-through and table-side ordering, sales assistant, store management, and customer management), and field service (on-site troubleshooting and diagnostics, proof of service, situational analysis, and facility inspections) applications, AIM-75S tablets can improve operational accuracy, efficiency, and productivity.
Android 10 with GMS Support Enhances Usage Experience
Android 10 comes with numerous application-ready APIs, which reduces app development time. To be certified for GMS, the AIM-75S tablet passed 2 million test items to provide the optimum out-of-the-box usage experience and assured compatibility with Google's suite of proprietary software applications, such as its Chrome browser, YouTube, Gmail, Google Maps, and even the Google Play Store. This ensures users can easily install/uninstall, manage, and update apps. Moreover, Google's Chrome for Android browser has an option called Lite Mode that routes pages through Google servers so the data is compressed. For users, this can reduce data usage by up to 50% and thereby accelerate browsing speeds.
Sustainable performance and Long-Duration Operation
AIM-75S is equipped with a Snapdragon™ 660 series processor, which is one of Qualcomm's best-selling computing platforms due to its high performance and product longevity support. The 14nm chipset fabrication process reduces active power consumption, while the inclusion of two power management integrated circuits (PMIC) improves power efficiency for extended battery life, allowing AIM-75S to support up to 12 hours of operation.
Excellent Connectivity for Real-Time Communication
To facilitate high-speed data transmissions, and GPS tracking, the AIM-75S tablet features built-in LTE Cat 6, WLAN, Bluetooth, and NFC communication technology. It also supports multiple GPS systems, including GPS, Glonass, BeiDou, Galileo, QZSS, and SBAS, as well as 802.11 a/b/g/n/ac WLAN and the 802.11 k/v/r roaming protocol for enhanced WLAN performance and real-time communication with back-end control systems.
Qualcomm® Snapdragon™ 660 processor
Android 10 operating system certified for GMS
8" LCD with 400-nit brightness and 1920 x 1200 resolution
Corning® Gorilla® Glass 3 touchscreen supports gloved and stylus operation

LTE Cat. 6, WLAN (802.11 a/b/g/n/ac/k/v/r), Bluetooth and NFC connectivity

Supports up to 12 hours operations


Optional peripherals include 1D/2D barcode scanner, MSR reader, multi-tablet charging station, multi-battery charging station, and VESA dock
Advantech's AIM-75S series of industrial tablets is available to order now. For more information regarding the AIM-75S series or other Advantech products and services, contact your local sales support team or visit our website at www.advantech.com.
Founded in 1983, Advantech is a leading provider of trusted, innovative products, services, and solutions. Advantech offers comprehensive system integration, hardware, software, customer-centric design services, embedded systems, automation products, and global logistics support. We cooperate closely with our partners to provide complete solutions for a wide range of applications in diverse industries. Our mission is to enable an intelligent planet by developing automated and embedded computing products and solutions that facilitate smarter working and living. With Advantech products, the application and innovation potential becomes unlimited. (Corporate website: www.advantech.com).
Primary Media Contact
Advantech Corporation
Eva Wang

Tel: +886-2-2792-7818 ext. 9045

Mobile: 0919-993-152

eva.wang@advantech.com.tw

Secondary Media Contact
Advantech Corporation
May Lee

Tel: +886-2-2792-7818 ext. 9656

Mobile: 0921-901-661

May.Lee1@advantech.com.tw