Advantech Launches New WISE-750 Intelligent Vibration Sensing Gateway for Predictive Maintenance Application
10/25/2020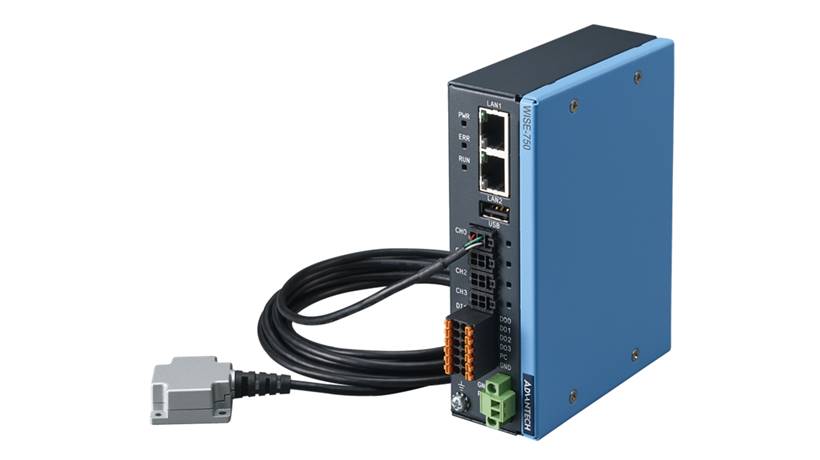 AI is a powerful technology and many businesses want to adopt predictive maintenance (PdM) or prognostic and health management (PHM) solutions to make sensible proactive maintenance decisions in order to increase performance benefits and prevent downtimes. However, due to technical feasibility and economic factors, many owners or operators of valuable assets like CNC machines in factories and other critical assets are hesitating implementing such systems.
To address this, Advantech offers an embedded application-ready solution—the WISE-750 intelligent vibration sensing gateway, which is developed to provide a simple way to realize low cost predictive maintenance. This all-in-one solution includes from high-accuracy accelerometer for sensing and collecting vibration signal, and WISE-750 intelligent machine-learning vibration gateway for edge computing and data acquisition to the integrated AI Utility for users to easily build machine learning models without experts. This solution greatly reduces the complexity and the cost of AI implementation.
Build machine learning models without expertise or expensive customization
Implementing and maintaining a predictive maintenance solution can be expensive and difficult as it requires specialized domain expertise across sensors, DAQ, IoT platforms, data science and more. Advantech's WISE-750 not only serves as the DAQ hardware itself, but also as a pipeline from model training to inference. The WISE-750 AI utility provides an all-in-one solution so that users can configure the DAQ, test the WISE-750 device, train, and download the machine learning model in one program. With the help of the utility, customers only need to set appropriate DAQ parameters. The utility will guide them through data collection, model training, inferencing, and analyzing machine status. Moreover, WISE-750 also allows operators to send information through either Ethernet or digital output for users to take further action such as uploading monitoring data or reporting on maintenance activities.
No more endless searching for suitable and cost-effective sensors
Traditional vibration measurement solutions often use IEPE sensors to measure vibration data, but IEPE sensors are too expensive which would set a high cost barrier for manufacturers of small and medium equipment and machinery to enter the market. Advantech's PCL-M10 accelerometer (vibration sensor) uses the latest MEMS solution which is more cost-effective than IEPE sensors, yet it still can operate with acceptable performance. In this case, our predictive maintenance solution can be widely expanded to more applications. So Advantech provides this cost-effective PCL-M10 MEMS accelerometer along with the WISE-750 for measuring vibration signals, greatly reducing wasted time searching for suitable sensors and also reducing the overall cost of the solution.
High performance but low power consumption
WISE-750 features a Renesas RZ/T1 MCU and e-AI technology so that machine learning could be run on MCU level devices. The RZ/T1 realizes real-time control of industrial equipment and networking via a single chip. It has an ARM® Cortex®-R4 Processor with FPU (floating processing unit) core, which is designed for real-time processing at 600 MHz. The Renesas RZ/T1 MCU and e-AI technology can parse higher-level descriptive machine learning code such as Python to code executable by lower level machine code, C/C++, and even binary code. e-AI technology optimizes processing in the MCU, so that the machine learning algorithm can be executed with lower resources consumed. With the combination of the MCU and e-AI technology, the WISE-750 is capable of full speed vibration data acquisition (800kS/s) and inference using only 6W of power. The PHM solution itself is fanless and doesn't need any extra cooling, which also means lower maintenance.
WISE-750 used for predictive maintenance (PdM) or prognostic and health management (PHM) applications:
Data logger through Ethernet

4 x simultaneous analog inputs @ 200kS/s sampling rate

Cost-effective accelerometer included - Multiple selection of trigger type and sampling type

Machine learning algorithm built-in-ready

Low power consumption with high computing capacity
Combining data acquisition, machine learning modeling, vibration sensors and Ethernet connectivity, WISE-750 provides the easiest way for customers to build predictive maintenance solutions for their critical assets.
For more information about this or other Advantech products and services, contact your local sales team or visit the Advantech website at www.advantech.com.