Advantech Launches the New SMARC Module with Intel® Atom™/Pentium®/Celeron® Series Embedded Platforms for Industrial Automation
6/13/2019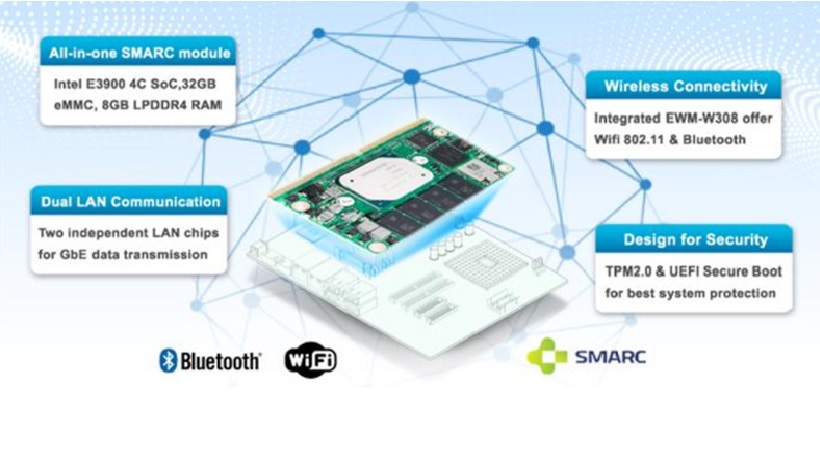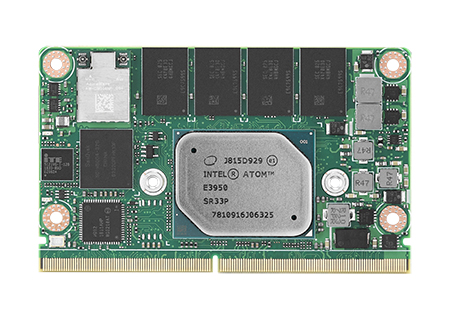 June 3, 2019 – Advantech, a leading embedded computing solutions provider, is happy to announce the launch of its first SMARC module: the SOM-2569. SMARC (Smart Mobility ARChitecture) is a versatile small form factor computer module targeting applications that require low power consumption, the flexibility to upgrade computing performance, and effective budget control in the system development process. Together with bundled WISE-PaaS/DeviceOn, SMARC modules can help end customers with operations management and facility maintenance.
The SOM-2569 SMARC module features Intel® Atom™ E3900, Pentium™ and Celeron™ N Series processors. Its offers a small size — 82mm x 50mm — and supports up to three displays simultaneously. On top of offering multi-display, it also supports several I/O; such as SATA, USB3.0/2.0, COM port, SMBus, and I2C. There are three key features of the SOM-2569: two LAN controllers and an onboard Wi-Fi module; TPM and secure boot for enhanced security; and onboard design for all key components (e.g. memory, eMMC) for maximum reliability. All these features help ensure that the SOM-2569 is highly suitable for automation applications.
Wi-Fi and Dual LAN Controllers: Connectivity Made More Flexible Than Ever
Connected devices are the fundamental elements of modern smart factories. SOM-2569 is integrated with Wi-Fi and Bluetooth onboard, and the dual 1000base-T interfaces to meet both wireless and cable connectivity requirements. With Wi-Fi and Bluetooth in the onboard module, SOM-2569 is compliant with IEEE 802.11 a/b/g/n/ac PCIe Wi-Fi & Bluetooth 4.2 and RF certification. Through its rigorous design and testing processes, Advantech not only offers better wireless signal integrity and compatibility, but also save time for system integration.
Moreover, SOM-2569 includes two LAN controllers which support two RJ45 ports. The combo design provides the flexibility in various factory applications. The security level can also be higher by isolating different network domain. For example, when the wireless LAN connects to an outside network and the wired LAN can connect to two different local area networks simultaneously.
TPM2.0 and UEFI Secure Boot: Eliminate Risk of Cyber Intrusions
TPM2.0 and UEFI Secure Boot: Eliminate Risk of Cyber Intrusions TPM (Trusted Platform Module) is defined by the "Trusted Computing Group" and specifications are publicly available. It's a hardware chip for system protection; encompassing secure data storage, platform integrity reporting, and platform authentication.
The UEFI security boot offers a process to ensure that your computer boots up using only software that is trusted by the manufacturer. When the computer starts, firmware checks the signature of each piece of boot software, including firmware drivers (Option ROMs) and the operating system. If the signatures are good, the PC boots and the firmware gives control to the operating system.
All Components Soldering Down: Robust and Reliable
SOM-2569 has soldering down all components, including CPU, memory, storage and wireless chips which provide robust and reliable characteristics to against harsh environment. It passes tests including vibration at 0.028G²/ Hz, 3.5 Grms, bumping at 1 corner, 3 edges, 6 faces, and thermal shock resistance, ranging from -40°C to 85°C at slope 10°C per minute, etc. With Advantech rigorous validation, it makes SOM-2569 robust enough to use in harsh environment.
SMARC V2.0 specification compliance
Intel® Atom™ E3900 & Pentium™ and Celeron™ N Series processors
Wi-Fi / Bluetooth module onboard
TPM2.0 & UEFI secure boot for system protection
Two independent LAN chips for 1000Base-T data transmission
32G eMMC and Max. 8GB LPDDR4 memory
Operating Temp: 0°C ~ 60°C or -40°C ~ 85°C
Founded in 1983, Advantech is a leader in providing trusted, innovative products, services, and solutions. Advantech offers comprehensive system integration, hardware, software, customer-centric design services, embedded systems, automation products, and global logistics support. We cooperate closely with our partners to help provide complete solutions for a wide array of applications across a diverse range of industries. Our mission is to enable an intelligent planet with Automation and Embedded Computing products and solutions that empower the development of smarterworking and living. With Advantech, there is no limit to the applications and innovations our products make possible. (Corporate Website: www.advantech.com).
As a global leader of the embedded computing market, Advantech Embedded-IoT Group not only offers a wide range of embedded design-in services but also provides diverse integrated IoT solutions that assist customers with IoT adoption while minimizing uncertainty and risk. Advantech's integrated IoT solutions include sensor nodes, gateways, Edge Intelligence Server (EIS), and the WISE-PaaS IoT software platform. Embedded-IoT.advantech.com