Advantech Launches First 2U Rackmount Chassis with GPU Card Support for Edge Video/AI Applications
3/4/2021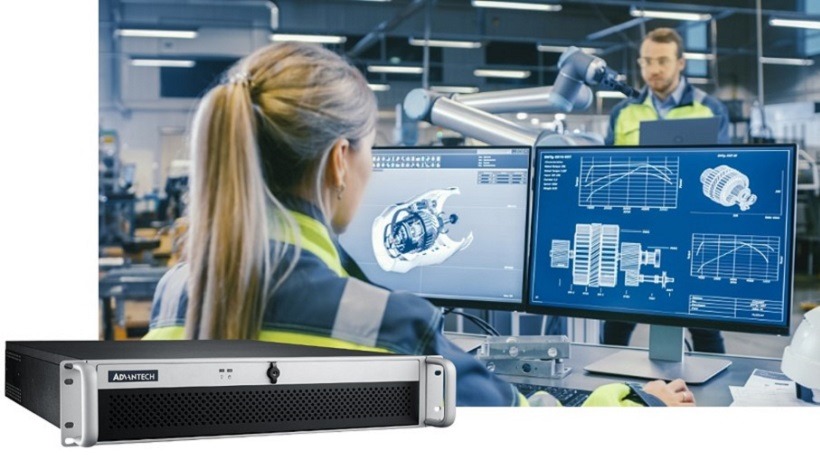 March 2021, Taipei, Taiwan - Advantech, a leading provider of industrial computing platforms, is pleased to announce its ACP-2020G 2U rackmount chassis with GPU card support.
With the growing popularity of decentralized computing applications, demands for edge computing capabilities and technologies have increased. Previously, to support edge computing, customers were required to purchase expensive GPU servers and bulky equipment. However, in an effort to respond to market demands, Advantech designed the ACP-2020G 2U rackmount chassis to be compatible with NVIDIA Quadro RTX-grade (250W/350W) GPU cards. This makes ACP-2020G the first 2U rackmount chassis to feature GPU card support.
Compact, Cost-Effective Solution for Industrial Deployment
In addition to supporting GPU cards and providing sufficient computing power for most general edge computing applications, the ACP-2020G offers a compact and cost-efficient solution for distributed image/video analysis applications. The compact form factor (88 mm/3.46 in height) ensures easy installation in server rack cabinets and/or environments with limited space, making it ideal for diverse industrial deployment.
Superior Thermal Design Ensures Reliable Operation
The ACP-2020G 2U rackmount chassis is also equipped with 850W 80 PLUS® Platinum-certified power supply, which ensures stable voltage control and quiet operation. The well-ventilated chassis design and inclusion of two 100 CFM cooling fans optimizes thermal management to ensure stable and reliable operation.
User-Friendly Installation and Convenient Maintenance
To improve the usage experience and enable convenient maintenance, ACP-2020G features a user-friendly GPU card bracket and adjustable card holder. No additional tools are required to install GPU cards. Additionally, the ACP-2020G 2U rackmount chassis is designed with a high vibration tolerance of up to 0.5 Grm, which exceeds the 0.25 Grm tolerated by standard servers, ensuring it can withstand deployment in harsh environments.
Supports ATX and uATX motherboards with max. 80W CPU TDP
Modularized GPU card bracket ensures easy and simple installation
2 x internal 2.5" drive bays or 1 x 3.5" drive bay with optional 2.5" hot-swappable module
Built-in 850W 80 PLUS® Platinum power supply

Wide operating temperature range (0 ~ 40 °C/32 ~ 104 °F)

Advantech's ACP-2020G 2U rackmount chassis with GPU card support is available. For more information about this or other Advantech products, contact your local sales support team or visit our website at www.advantech.com.
About Advantech Founded in 1983, Advantech is a leading provider of trusted, innovative products, services, and solutions. Advantech offers comprehensive system integration, hardware, software, customer-centric design services, embedded systems, automation products, and global logistics support. We cooperate closely with our partners to provide complete solutions for a wide range of applications in diverse industries. Our mission is to enable an intelligent planet by developing automated and embedded computing products and solutions that facilitate smarter working and living. With Advantech products, the application and innovation potential becomes unlimited. (Corporate website: www.advantech.com)