Advantech Releases IMC-150LPC Series — a Hardened PoE Long Reach Ethernet Extender over Coaxial that Eases Infrastructure Upgrade Projects
1/25/2022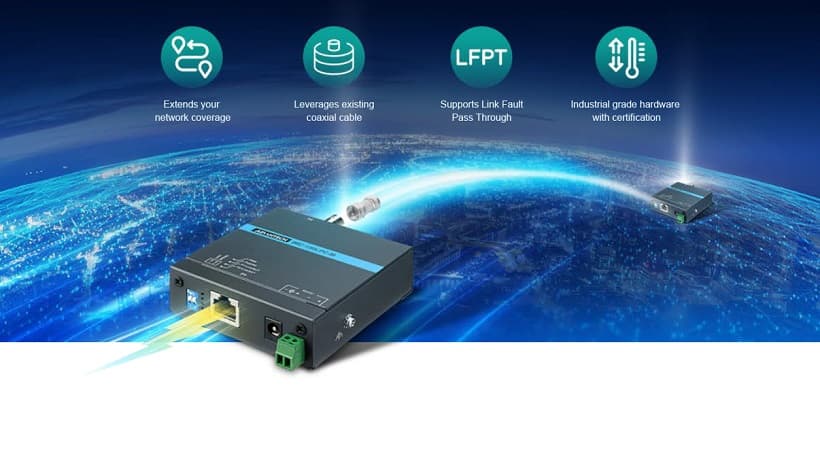 January 25, 2022, Taipei, Taiwan - Advantech, a leading supplier of industrial communication solutions, is proud to add the IMC-150LPC PoE Ethernet extender to its line of long-reach Ethernet solutions. This innovative device uses extant coaxial cables to deliver both power and data to locations up to 300 m (984 ft) away. These capabilities are buttressed by an LFPT mechanism that augments transmission quality. This combination of attributes and features make IMC-150LPC an excellent choice for network infrastructure upgrade projects with limited power and network resources.
Extend the reach of both power and data delivery
Advantech's IMC-150LPC series enables users to surpass former 100 m (328 ft) Ethernet transmission ranges to deliver power and data, via a single coaxial cable, to distances as far as 300 m (984 ft) away at speeds of 100Mbps. This empowers P.D. devices, such as IP cameras, while saving cabling costs, reducing installation complexity, and expanding power coverage and network services.
Leverage extant, legacy coaxial cables to upgrade network infrastructure
Upgrading network infrastructure usually necessitates costly rewiring and reconstruction. The IMC-150LPC supports both Ethernet and coaxial transmission, enabling network communication via extant underground coaxial cables. These features help users avoid halts in manufacturing and surveillance when upgrading network infrastructure.
Supports Link Fault Pass Through (LFPT) mechanism
LFPT, a troubleshooting feature designed for media converters, is used on both the local and remote IMC-150LPC extenders when they are used as a pair. When enabled, this feature will pass a link fault through the device at each segment. LFPT serves to prevent data loss by taking action during link failure incidents. For, example if the link fails on one IMC-150PLC, the other IMC-150LPC will force the link down on its link partner and avoid data loss.
Industrial grade hardware design with EN50121-4 EMC certification
The IMC-150LPC series is EN50121-4 EMC certified and designed with industrial grade housing that supports broad temperature operation (-40 to 75 oC; -40 ~ 167 °F). This advanced durability makes IMC-150LPC suitable for applications in harsh environments such as trackside surveillance.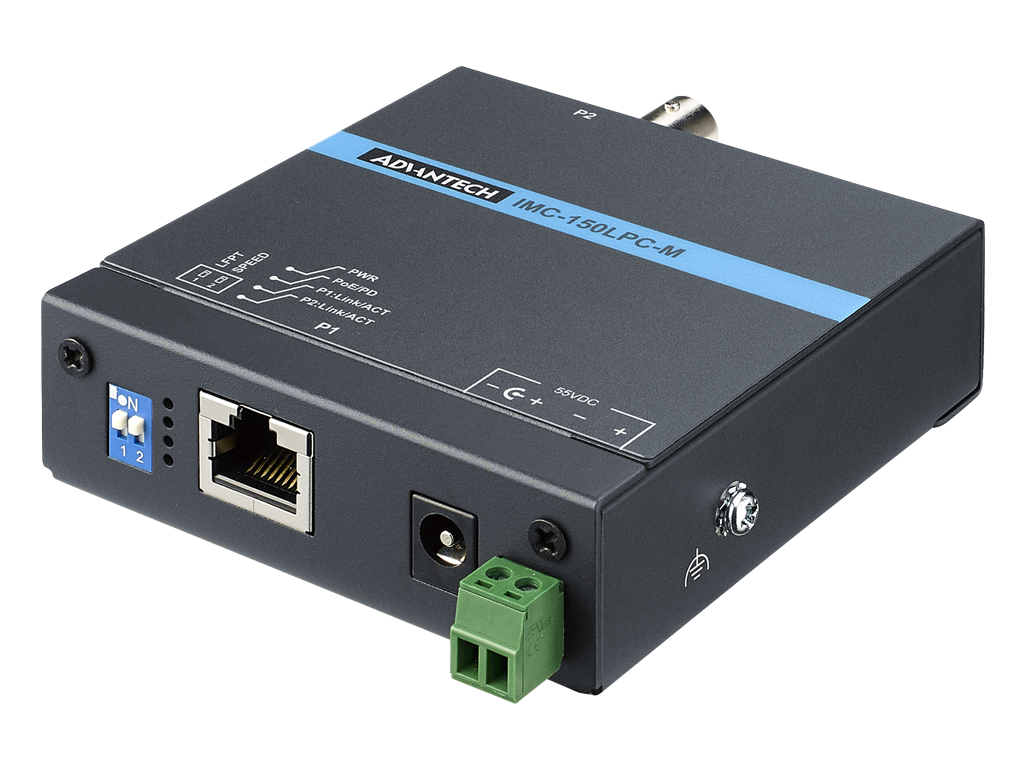 IMC-150LPC-M/R
Transmits data up to 300 m (984 ft) at 100Mbps via power over coaxial cable

Extends power >15.4 Watt power with 300m-long coaxial cable

Railway Trackside EN 50121-4 EMC certified
Features Link Fault Pass Through (LFPT)
Supports Remote PD power ON/OFF by disabling/enabling port via management switch
Advantech experts will be providing you with dedicated support soon!