Smart Machinery, a new essential and powerful support for digitizing shoe-manufacturing machines
10/03/2021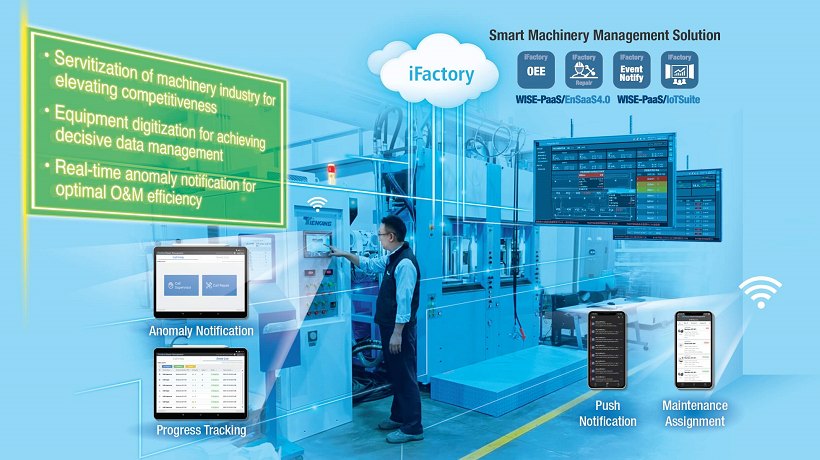 The Shoe Manufacturing Industry has always been in the form of Various and Small Amount Production. While the world has followed the trend of Intelligent Manufacturing in recent years, operators are enabled to get control of various data in the manufacturing site via all kinds of new technologies. Advantech has just launched cooperation with a major shoe manufacturing machine maker, Tien Kang, for customizing Smart Machinery Management Solutions addressing manufacturers of shoe-making facilities by introducing intelligent software and hardware technologies.
Established in 1982, Tien Kang Co., Ltd. has focused on R&D and production of high-tech shoe manufacturing machines. As the global market is getting more and more competitive, making good use of intelligent tools to fortify product performance and optimize after-sales service and warrant/maintenance support has become the necessary strategy for running businesses.
Based on years of experience in the industry, General Manager, Gong Song-Nien, points out that there are three major trends in the machinery industry: standardization of power-saving and carbon reduction, servitization of product systems, and smart machines; our recent cooperation with Tien Kang has been locked on the aforementioned trends and jointly built iFactory - Smart Machinery Management Solutions making use of Advantech's profound digitalization experiences regarding Smart Manufacturing, Machine Networking and AI Edge Computing.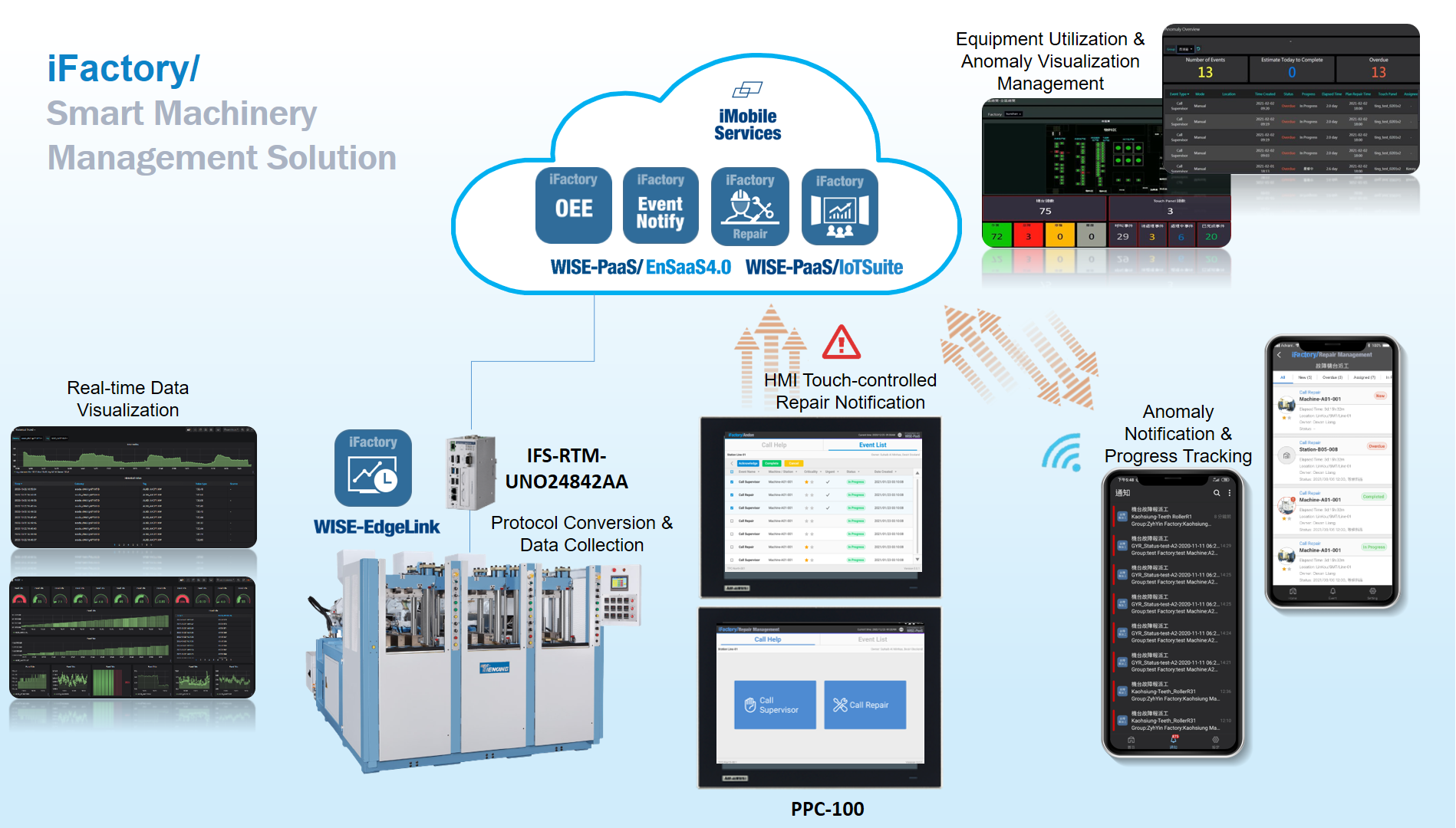 With Smart Machinery Solutions, repair notification is triggered via Repair Management Service, which works jointly with Event Notify to inform the Engineering Supervisor to assign the repair work, troubleshoot anomaly, and track the progress via the iMobile service.
General Manager of Tien Kang, Gong Song-Nien, also points out that Advantach possesses integral platform and APP services in the realm of Smart Machinery, an example is the iFactory RTM (Real-time Monitory) Gateway adopted by Tien Kang in the project. The main function of the service is to collect data of machines for monitoring their operations; facilitated by Anomaly Call-out function on the tablet, the manager is enabled to troubleshoot the problem in real-time.
Additionally, by pairing with Wise-PaaS Cloud Service, the iFactory – Smart Machinery Management Solutions of Tien Kang can also combine value added i.Apps included in the iFactory: Overall Equipment Effectiveness (OEE), Repair Management Service, and real-time Event Alarm and Notification (Event Notify), enabling digital upgrade of shoe-making facilities manufactured by Tien Kang, where more just-in-time after sales services can be provided.
Deputy Manager of Tien Kang Regional Sales Division, Hwang Bo-Ru, points out that Real-time Monitoring (RTM) function of the iFactory – Smart Machinery Management Solutions also solved a long-existing data integration problem in shoe-making machines due to different communication settings of respective facility brands; after collecting data from sensors and equipment, the plant manager is enabled to get control of status and productivity of each and every machines via the built-in visualized dashboard of the OEE App.
Based on alarm conditions assigned to respective facilities, the anomaly event will be sent in real-time to Edge Cloud when the machine encounters anomaly or error call, with relevant engineering supervisor or personnel notified via Event Notify, where service assignment and progress report can then be performed accordingly via the Repair Management iMobile Service, for reducing equipment down time and significantly increasing equipment utilization by preventing unscheduled stops; likewise, the equipment maker can also carry out data analysis for product optimization, with adjustments taken for subsequent machine developments thereby elevating their reliability.
Regarding benefits resulting from the introduction of iFactory – Smart Machinery Management Solutions , Gong Song-Nien concluded four immediate improvements following the system introduction into Tien Kang: increased machine assembly speed, integrated retrieval of equipment data, systematic and visualized data presentation, and remote management over cross-plant production lines.
He further points out that the first step to achieve Smart Machinery is to acquire accurate and integral data; the company had also collected production parameters, productivity info and some data in the past, however all those approaches were implemented by projects which were not only costly but also relatively difficult, and they lacked standardization mechanisms. In this cooperation, via comprehensive hardware production lines, professional teamwork, and rich actual experiences, Advantech has quickly assisted Tien Kang building up standardized O&M Management Solutions which are most helpful for Tien Kang to really stride out the first step of Smart Machinery.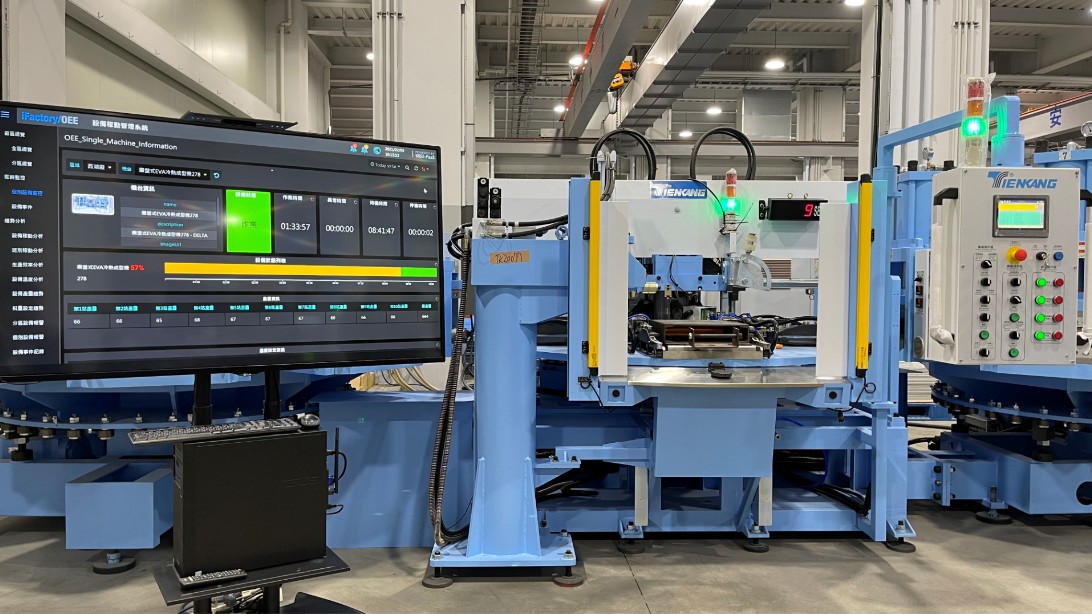 Currently Advantech and Tien Kang have accomplished the first stage of the iFactory/Smart Machinery Management Solutions. Through this service, the shoe manufacturing operator is enabled to get control of machine status, to carry out fault management, and to visualize production settings such as time, temperature, vibration, etc., that are crucial to the shoe industry. Both parties will continue cooperation in the future to expand smart functionalities of machines. Via data collection of intelligent shoe-manufacturing solutions, customers will be facilitated to enhance management efficiency of Lean Production and to smoothly accomplish their digital transformation.