Advantech Introduces Compact NVIDIA® T4 GPU Edge Computing Solution for Industrial Applications
5/25/2020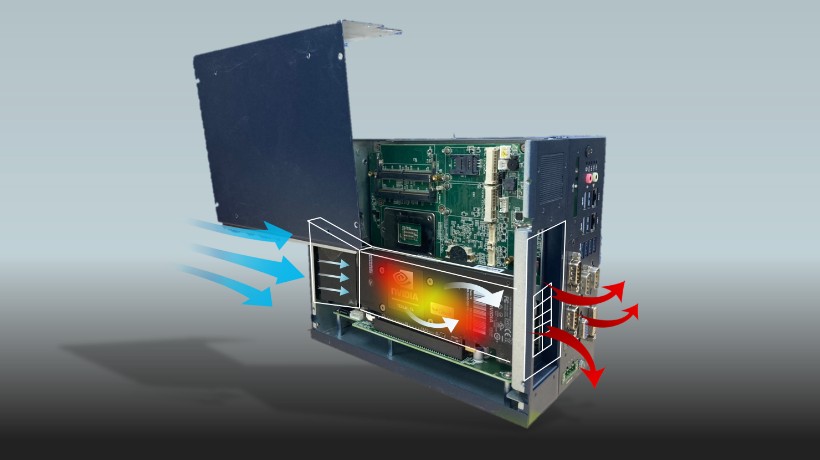 Taipei, Taiwan, April, 2020 – Advantech, a leading provider of intelligent systems, is happy to announce its GPU edge computing solution with NVIDIA® T4 GPU NVQual Validation: a MIC-770 compact industrial computer equipped with an MIC-75M20-B expansion i-Module. Compatible with the NVIDIA® T4 GPU Card, the GPU edge computing solution supports up to 2,560 CUDA cores and 16GB GDDR6 GPU memory. With compact size (127 x 192 x 230 mm) and a high-scalable design, plus the longevity of the Tesla T4 GPU card, it is an excellent AIoT solution for deep learning and inference applications such as factory automation, automated optical inspection (AOI), AI prediction in medical equipment, and smart sensing in autonomous vehicles.
Innovative Thermal Management Technology Offers Powerful GPU Computing
Featuring a dedicated server-grade air duct design that facilitates enhanced thermal management of the Tesla T4 GPU, the solution maintains a GPU IC operating temperature below 80 °C/176 °F in environmental conditions higher than 40 °C/104 °F. This design significantly reduces the operating temperature to deliver superior GPU performance and clock frequency. Equipped with PCIe Gen3 x16, the edge solution is certified by NVQual for fast, wide-ranging bandwidth and a reliable data processing solution.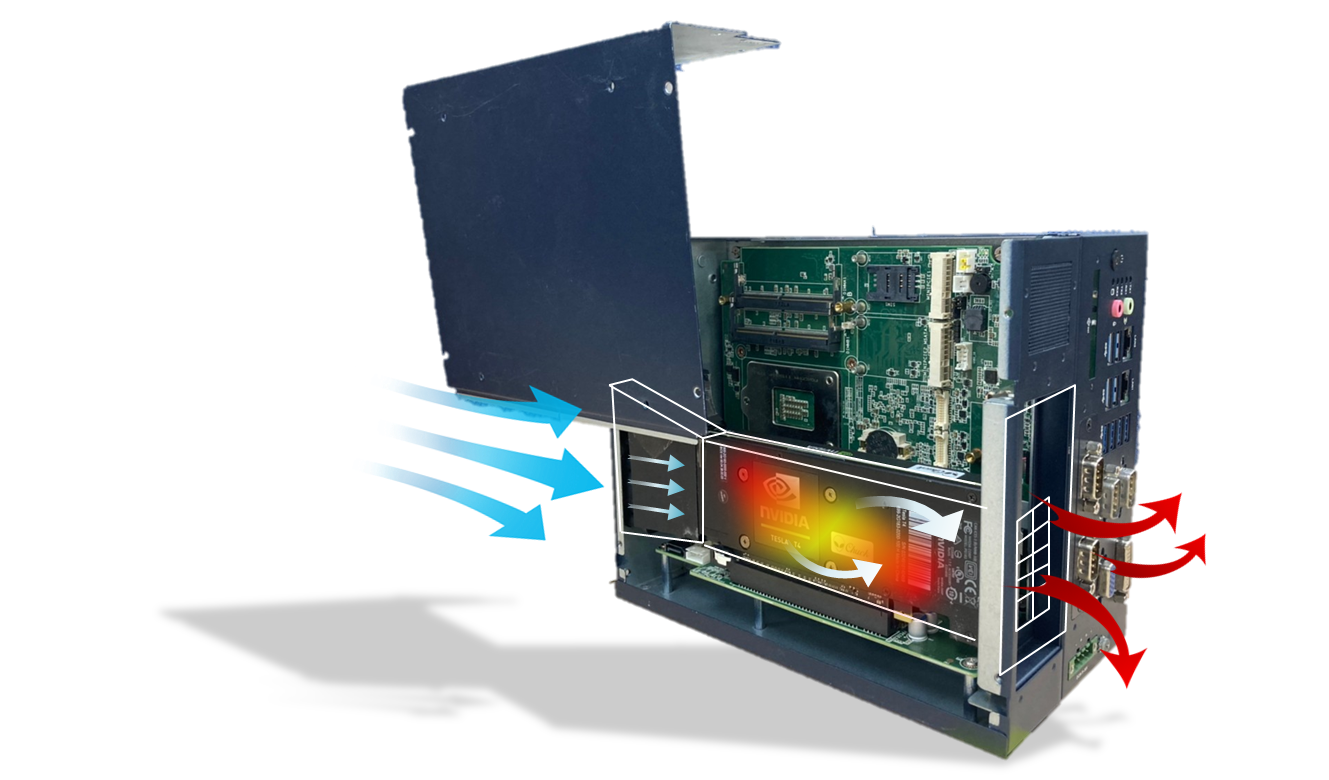 The dedicated server-grade air duct design that facilitates to enhanced thermal management of the Tesla T4 GPU
Powerful Performance with Small Form Factors and Scalable Flexibility
Featuring 127 x 192 x 230 mm dimensions and an Intel® 9th Gen Core™ i CPU, the powerful open-source x86 platform provides fast development for integrating the GPU solution. The innovative modular design for PCIe expansion and flex I/O in the front panel makes it possible for scalable configuration regarding multi-application requests. By adding PCIE-1674 vision frame grabber card, it can connect to 4-ch cameras for autonomous vehicles. Adding 4x GbE Flex I/O (98910770300), the controller connects to LiDAR for sensing. It can detect distance and shape in its surroundings before passing on the data for T4 GPU to build 3D models for graphics analysis.
Qualified by NVIDIA® T4 GPU NVQual Validation

Compact (127 x 192 x 230 mm) and ruggedized design

8th/ 9th gen Intel® Core™ processor
Supports PCIe slot expansion for I/O card
Supports Flex I/O expansion
Supports Windows 10 and Linux OS
Advantech's GPU edge computing solution (MIC-770 compact industrial computer with MIC-75M20-B i-Module) is available for order now. For more information regarding this or other Advantech products and services, please contact your local sales support team or visit our website at : Modular IPC Minisite
Founded in 1983, Advantech is a leading provider of trusted, innovative products, services, and solutions. Advantech offers comprehensive system integration, hardware, software, customer-centric design services, embedded systems, automation products, and global logistics support. We cooperate closely with our partners to provide complete solutions for a wide range of applications in diverse industries. Our mission is to enable an intelligent planet by developing automated and embedded computing products and solutions that facilitate smarter working and living. With Advantech products, the application and innovation potential becomes unlimited. (Corporate website: www.advantech.com)