Rolling Stock System
ITA-5000 Series are Advantech's product offerings that specifically cater to rolling stock's application including passenger information system, broadcasting system a, surveillance system and so on. All ITA-5000 Series have met the requirement of EN 50155 and have been employed M12 connectors to enhance shock and vibration resistance as railway is operating. ITA-5000 Series and EKI (Ethernet switch) provide the best solution in rolling stock system.
System Topology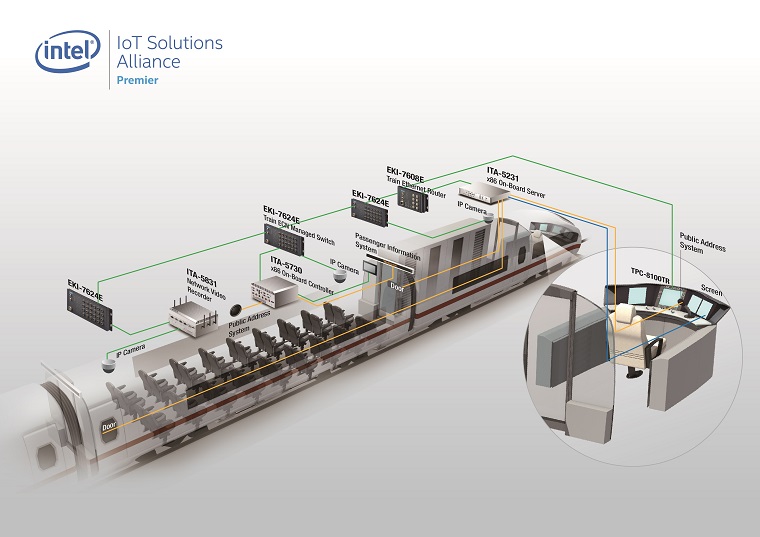 Rolling Stock System Offerings
Fully Compliant with EN 50155 EN 45545
Temperature Standard: EN 50155 TX (-40~70 ºC)
Compliant with EN 50121-3-2 EMC Test Standard
Ruggedized M12 Connectors
DC 24V/ 48V/ 72V/ 110V Input
Support Easy-swap HDD/ SSD/ CF Module
Application
Rolling Stock Passenger Information System (PIS)
System Requirement
Passenger information systems (PIS) provide weather forecasts, rail speed, arrival times and other information to riders. They are an important asset for travelers and commuters. An ideal passenger information system has the following attributes: it is stable, lockable (M12 connectors), EN 50155-certified and easily maintained. Advantech's ITA-5000 Series has met all of these requirements. In addition, the ITA-5000 series supports large storage capacity, allowing it to interconnect to all types of media devices, and serves as a hub for media broadcasting as well as entertainment content for rail passengers. A PIS system should be homed in a data center where all the information is collected and transmitted. A high performance and stable system cannot be overemphasized when it comes to designing a robust passenger information system. ITA-5000 series is best PIS integrator for use in rolling stock applications.
In-train Surveillance System
System Requirement
The ITA-5000 series provides a surveillance system solution for use in railway applications. It helps maintains passenger security under the supervision of a station master. During duty, the situation of each train carriage is recorded by IP cameras and transmitted over a network switch to a control unit which displays real-time and high definition images so that management can concurrently supervise the condition of each train car. ITA-5000 series is EN 50155-certified and equipped with M12 connectors to keep I/O connections firm and solid during rail operation. In addition, the ITA-5000 series can operate in a wide range of temperatures, assuring passenger security by providing a functional, stable surveillance system. ITA-5000 series is an integrated, railway-designed system that meets the demanding needs of rolling stock applications.
EN 50155 Railway Panel PC
System Requirement
Designed for use in the extreme conditions of the world's railways, the TPC, 10,4" TFT panel computer, helps locomotive engineers stay informed of the status of their trains and features optical bonding all-around IP65 protection, conformal coating of the internal boards, and an extended temperature range. TPC provides higher reliability for highly-changeable, atmospheric conditions of railways, such as altitude, pressure, and temperatures. This TPC has two Ethernet ports, serial interfaces, USB ports and built-in CFast devices. The railway power module design supports a 10 ms interruption (EN50155, S2), EMI EN55022 CLASS A filter, and over/short current protection for its railway application. The method of mounting is also designed especially for locomotive installations and also complies with EMC, shock and vibration test requirements of European standard EN50155 and EN45545 for railway applications.
M12 Industrial Ethernet Switches for Onboard Train Communication
EKI-6000 Series
Advantech's EN50155 certified M12 Switch fulfills a wide range of applications in moving trains as it guarantees reliable performance under vibration and shock. For passenger information systems (PIS) this allows modules to connect with LCD and LED display boards which offer travel information, news and advertisements. For in-seat video entertainment systems (VES) this offers video monitors mounted on the back of every seat. And for IP surveillance this guarantees these devices can reliably connect with cameras for a variety of applications that provide increased safety and security. Video surveillance system on a moving train requires unique considerations including power outlet locations, fluctuating voltages, underground tunnels, and synchronized data transmission and storage. To fit these requirements, equipments compliant with EN50155 standard are necessary and PoE based ethernet solution is a plus. EKI-6000 Series industrial Etherner Switches fit the requirements become the choice of such application.