OrthoGrid Reshapes Orthopedic Procedures with AI-powered Platform
2022/5/27
Photos provided by Advantech and OrthoGrid Systems
Interview with Edouard Saget, Co-Founder and Co-CEO of OrthoGrid Systems
Surgical navigation systems and computer-assisted surgery have been used in orthopedic procedures for over three decades. Traditional orthopedic image-based navigation systems, such as fluoroscopy, allow surgeons to execute their intraoperative plans and support precise navigation during surgery. However, rapid growth in the utilization of artificial intelligence (AI), robotics, and augmented reality has led to new innovations in orthopedics.
AI surgical guidance solution streamlines workflows
According to Mr. Edouard Saget, Co-Founder and Co-CEO of OrthoGrid Systems, within the US, fluoroscopy has the largest medical market share in the surgical image-based navigation segment, with usage growing from zero in 2008 to over 45% of all total hip replacement surgeries today, and over 90% in the fastest growing market of Direct Anterior Approach Total Hip Replacement (DA THA). "We anticipated the trends in DATHA, based on the ubiquitous use of fluoroscopy in other areas of orthopedic surgery, with over 10 million cases worldwide depending on intraoperative imaging. We discovered early on that extracting the data behind the imaging information in these surgeries could transform, forever, how orthopedic surgeons would be performing all these procedures," Mr. Saget stated. In this endeavor, OrthoGrid's goal was to extract data from images, create specialized data sets, and train algorithms in the pursuit of surgical workflows.
"Our goal was to extract data from images, create data sets, and make sense of them relative to the demanding professional workflows of surgeons. "- Edouard Saget, Co-Founder and Co-CEO of OrthoGrid Systems
Founded in 2012, OrthoGrid's vision is to be the leader in digital transformation of orthopedic surgery leveraging data-powered technology. OrthoGrid's applications can correct fluoroscopic distortion, interpret images, understand surgical steps and provide instantaneous feedback to surgeons who may benefit from improved performance without compromising on efficiency, invasiveness or cost. "We invested on the development of deep learning AI-algorithms with a focus on two requirements: high performance and efficacy. To date, we have deployed solutions for total hip replacement, trauma and hip preservation surgeries. Surgeonsassisted by AI using intraoperative imaging technology, can experience support provided by intuitive, automated systems in the varied context of orthopedic procedures, "said Mr. Saget. To minimize latency and guarantee the real-time performance of its intraoperative AI platform, OrthoGrid needed medical-grade hardware that can accommodate powerful video capture cards, a dedicated GPU, and meet the requirements of real-time AI-powered applications. It also had to be designed for use in various medical spaces. Coinciding with the company's vision of providing a value-based solution, OrthoGrid decided to create a subscription business model that enabled surgeons and hospitals to benefit from continuous improvements to AI algorithms. Therefore, OrthoGrid's software applications are hosted on a surgery-optimized, ergonomically designed hardware platform comprised of a high-quality wide screen, and the Advantech's USM-500 NVIDIA-certified medical-grade computer.
Medical-grade computer delivers stability, reliability, and future upgrade prospects
The USM-500 was developed based on Advantech's extensive experience in the medical industry. USM-500complies with CE, FCC, and IEC-60601-1-2 regulations for medical equipment, featuring a 9th Generation Intel® Core™ i7/i5/i3 processor. Its design gives expansion options to medical solution providers, without them worrying about corresponding drivers, OS, or heat dissipation. In this project, two video capture cards and an NVIDIA® Quadro RTX™ 4000 GPU were integrated into the USM-500 to capture large fluoroscopy X-ray images and execute AI algorithms and analysis in real time, delivering performance, stability, and reliability in line with medical industry requirements.
OrthoGrid's AI-powered orthopedic software provides real-time imaging guidance during surgery, offering the potential for surgeons to improve accuracy and efficiency and minimize intraoperative errors. To date, over 250 physicians have used one of OrthoGrid's products. With a 98% retention rate, the latest AI-powered solution for total hip replacement surgery to come on the market in May 2022 will be the first in the world to offer autonomous workflow interpretation in support of critical surgical steps, thus allowing surgeons to focus on their work and assessments. For the growing number of hospitals and physicians implementing these solutions, OrthoGrid's value proposition is to constantly optimize its role in improving quality by periodically upgrading total hip arthroplasty, hip preservation, and orthopedic trauma applications with enhanced performance and functionality. Due to USM-500's mini-ITX industrial mother board design with Win10 LTSC, Win10 Pro, Linux OS/drivers, and 10 years' long-term support, future solution migration, CPU or GPU and software updates can be performed quickly and easily.
Mr. Saget concluded, "Given that OrthoGrid is not a dedicated hardware company, Advantech's proven track record in the medical industry and expert team were key to helping us select the right platform and NVIDIA GPU so that we could focus on developing our applications. As a leader in the IoT and AIoT space, Advantech is the type of the partner we wanted; one that understands what it takes to be and stay ahead of industry trends!"
Solution and Application Benefits
OrthoGrid's AI-powered orthopedic software transforms how surgeons are empowered in their work by the improved performance of their image based navigation systems in the multi billion dollar orthopedic surgery market. Surgeons benefit from accelerated access to critical clinical data to support reproducible intraoperative decision making. OrthoGrid's AI powers more intuitive, less invasive, more efficient and easier to use solutions and thus optimizes the healthcare value equation of quality over cost for hospitals and partners.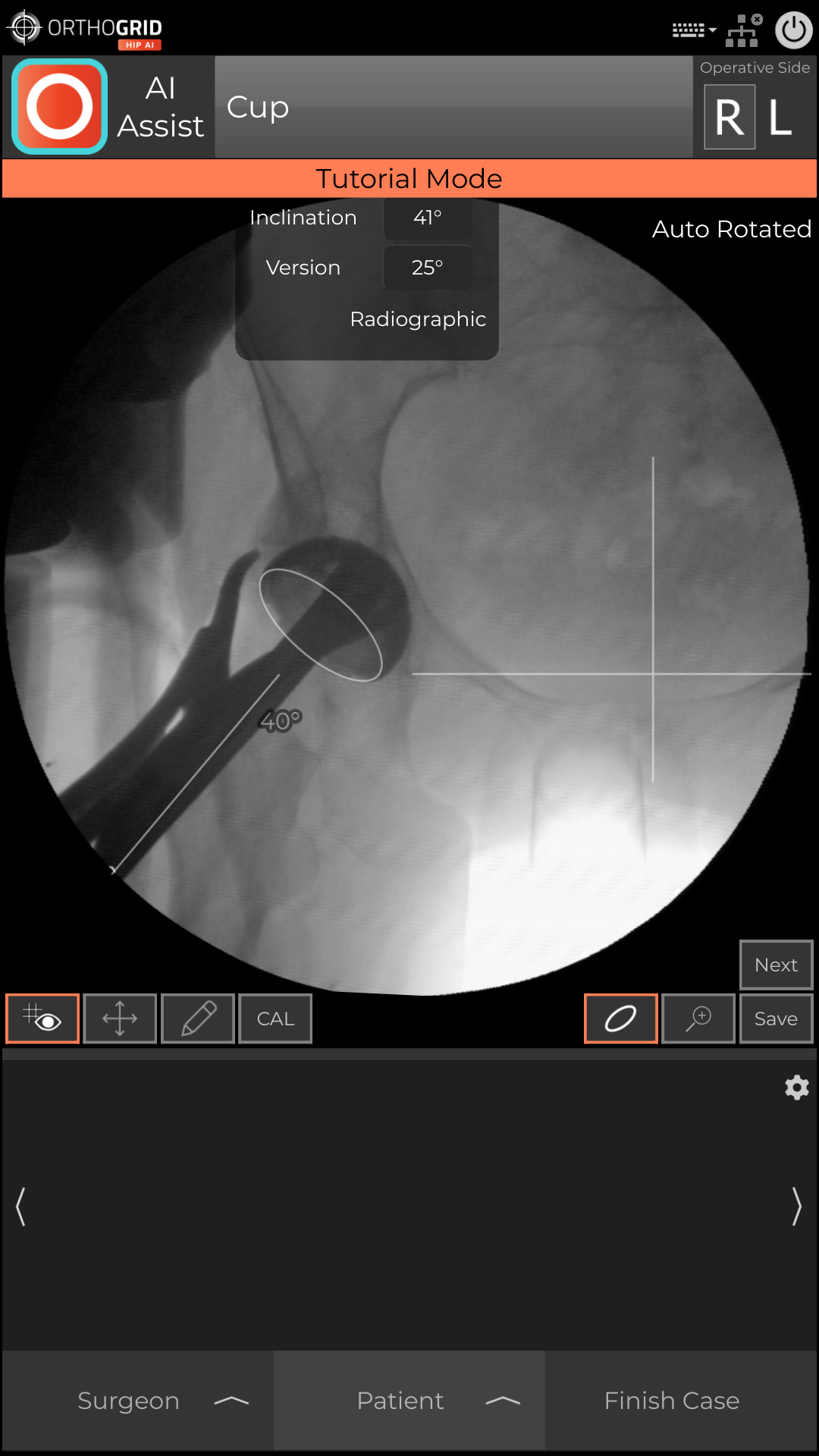 Acetabular cup position during Total Hip Replacement, assisted live with AI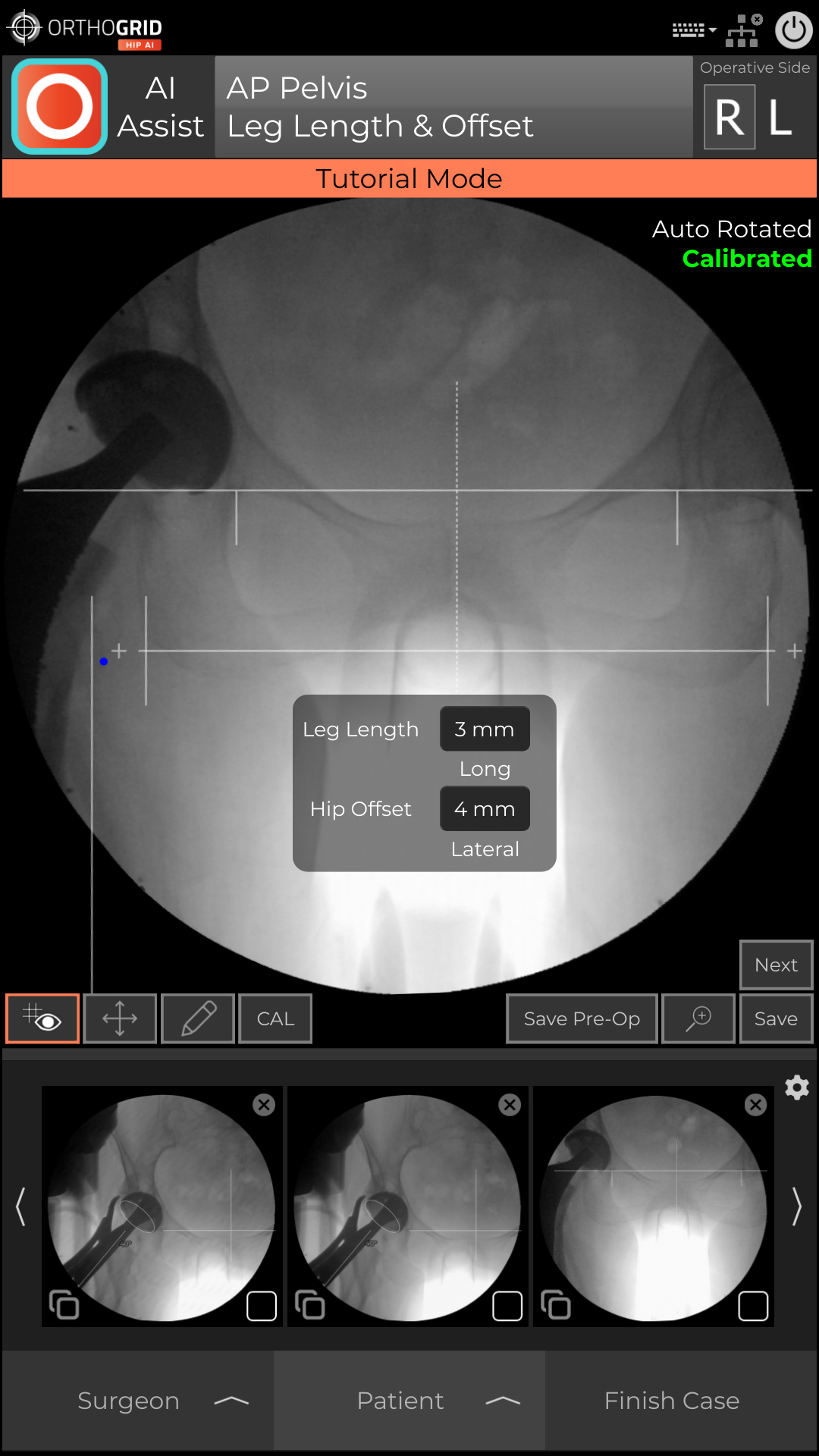 Leg Length Measurement during Total Hip Replacement, assisted live with AI