Strategic Cooperation Between Advantech, Intel, and Dones Yields iWard Solution for Smart Hospitals
2021/11/25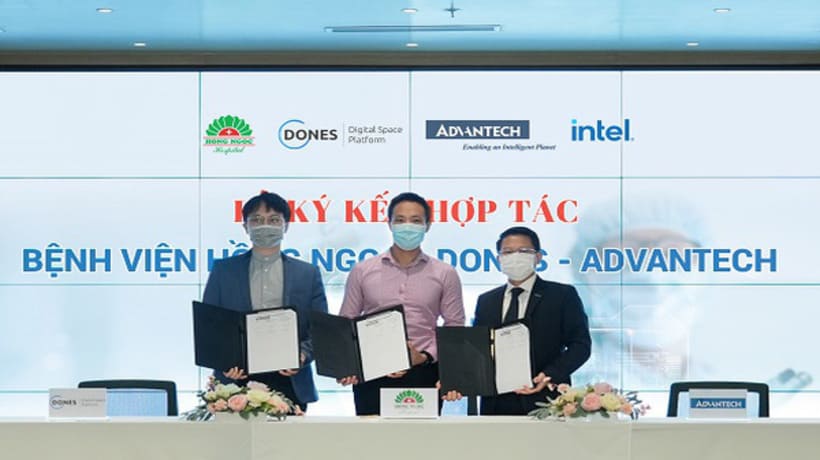 Advantech, Intel, and Dones have established a strategic partnership with Hong Ngoc Hospital in Hanoi, Vietnam, to implement smart devices and software at the hospital's Department of Obstetrics and Gynecology. This partnership marks a significant milestone in Hong Ngoc Hospital's digital transformation.
The Intel Technology Group and Advantech are offering Hong Ngoc Hospital and Dones (the systems integration partner) a US$30,000 iWard solution sponsorship package that includes intelligent machinery and software. Advantech's iWard solutions are innovative solution-ready packages designed to assist medical staff by improving workflow efficiency and increasing patient satisfaction during the treatment process.
iWard solutions provide diverse functions that support patient care management, order fulfillment, medication administration, and staff scheduling to streamline workflows, eliminate paperwork, reduce data errors, improve communication efficiency, and optimize operations. For patients, iWard solutions can be used for entertainment or to access personal medical records, review treatment plans, and retrieve medication information, ensuring convenience and comfort throughout the treatment period.
iWard Products Implemented
The nursing control station is an integrated platform for managing inpatient care operations, including updating medical records/bed status, issuing treatment plans, reviewing drug information and usage, and organizing staff schedules. The nursing control station also provides real-time notifications that allow nursing staff to promptly respond to patient requests and deliver professional, high-quality care.
Patient information terminals
Patient information terminals are installed in inpatient rooms and can be integrated with hospital networks and information systems to provide information access, entertainment, and real-time communication. For doctors and nursing staff, these terminals can be used to review medical imaging/test results and healthcare education information during patient consultations. For patients, the terminals can be used to request nursing assistance, review treatment information, order food/transport, communicate with family and friends, or be equipped with third-party applications that provide television and Internet services for entertainment.
Real-time location system (RTLS)
The RTLS that allows real-time location tracking and automatic check-in/out control throughout hospital areas. This allows patient locations within the hospital to be tracked, which is an especially helpful function for elderly, children, and infant patients. Personal assets and medical devices can also be tracked with the use of a location tag to avoid misplacement and loss.
At the project completion ceremony, Mr. Do Duc Hau, General Manager at Advantech Vietnam, thanked Intel and Dones for cooperating with Advantech on the iWard project and expressed his appreciation that Hong Ngoc Hospital selected Advantech as a technology partner. Mr. Hau also commented that he hoped the pilot implementation of iWard solutions at the Department of Obstetrics and Gynecology would be extended to all hospital departments to ensure the provision of premium healthcare and medical treatment.
Mr. Van Tuan Nhat, representative of Hong Ngoc Hospital said, "Our cooperation with Advantech, Intel, and Dones marks a new step in the digital transformation of medical environments. Hopefully, this partnership will contribute to increasing patients' satisfaction when visiting and receiving treatment at Hong Ngoc Hospital."
Indeed, this collaboration with the three "giants" of information technology in Vietnam promises to yield substantial benefits for patients, medical staff, and administrators at Hong Ngoc Hospital. Moreover, this project provides a benchmark for other hospitals and healthcare providers to adopt similar solutions for improving healthcare delivery.
Advantech's iWard solutions are available for order now. For more information about this or other Advantech products/services, contact your local sales support team or visit our website at https://wise-paas.advantech.com/zh-tw/marketplace/solutions/ihospital/iward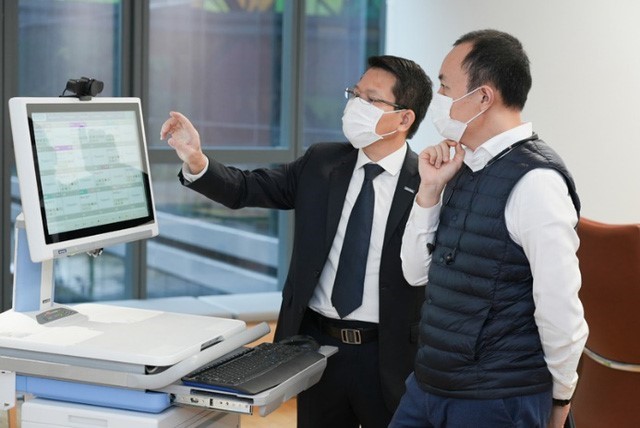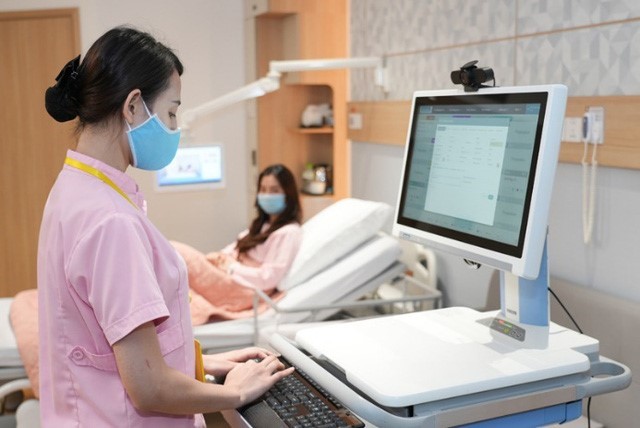 Founded in 1983, Advantech is a leading provider of trusted, innovative products, services, and solutions. Advantech offers comprehensive system integration, hardware, software, customer-centric design services, embedded systems, automation products, and global logistics support. We cooperate closely with our partners to provide complete solutions for a wide range of applications in diverse industries. Our mission is to enable an intelligent planet by developing automated and embedded computing products and solutions that facilitate smarter working and living. With Advantech products, the number of potential applications and innovations made possible becomes unlimited.
Intel Corporation (Integrated Electronics - USA) established in 1968, is an enterprise that plays a very important role in the global production chain of information technology equipment. Intel makes products such as microprocessor chips for computers, motherboards, flash drives, network cards, and other computing devices.
Dones (a product of Dones Technology Platform JSC) is the future generation digital space platform in connecting and supporting users to use cloud computing services easily and efficiently on management, sales, service improvement, revenue increase, and cost reduction.
Hong Ngoc Hospital is one of the oldest and prestigious private hospitals in Hanoi, providing a wide range of professional and dedicated healthcare services. Currently, Hong Ngoc's medical system has developed with 7 facilities, including 2 hospitals and 5 satellite clinics covering all districts of Hanoi city.