Advantech Introduces MIC-770 V3 Industrial Edge Solution with NVIDIA L4 GPU for Industrial AI Applications
2023/3/22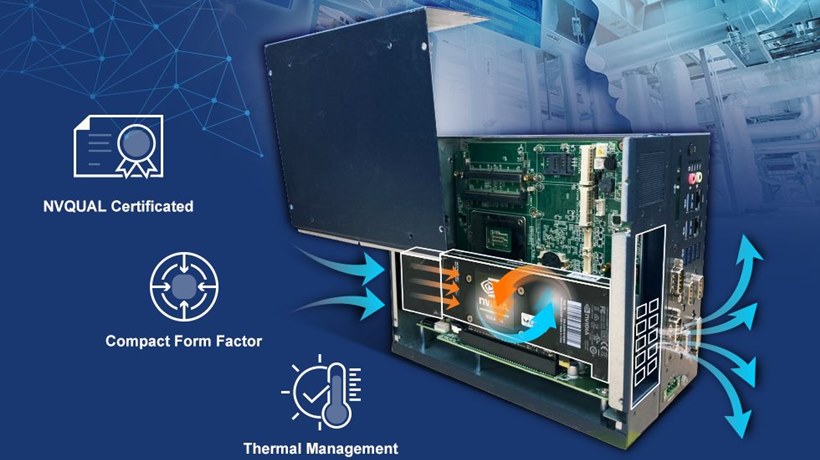 Taipei, Taiwan, March 21th, 2023 - Advantech (TWSE: 2395), a global leader in Industrial IoT, is excited to announce its GPU edge computing solution with NVIDIA® L4 GPU NVQual validation — the MIC-770 V3 Modular IPC with MIC-75M20 expansion i-Module. This industrial edge solution is compatible with the NVIDIA L4 Tensor Core GPU, boasts an impressive 7,424 CUDA cores and 24GB GDDR6 GPU memory; and consumes only 72W of power. When paired with the efficiency of the NVIDIA L4 GPU, the high-performance highly scalable compact design of this IPC creates an excellent AIoT solution for diverse deep learning and edge inference applications in factory automation, autonomous vehicles, automated optical inspection (AOI), and AI prediction in medical equipment, as well as smart city video surveillance and transportation.
High-Performance Compact Design with Flexible Expandability
Powered by the latest 12th Gen Intel® Core® i processor, MIC-770 V3 is designed as a high-performance open-source x86 platform capable of enabling the quick development of GPU-accelerated solutions. By Adopting MIC-75M20, a 2-slot expansion i-Module, this integrated solution is compatible with the NVIDIA L4 Tensor Core GPU with its small, energy-efficient, single-slot, low-profile 72W form factor. These features make it ideal for AI-based edge computing and inference. It delivers energy-efficient universal acceleration for AI inference, video, and graphics applications; and is ideal for global deployment in enterprise, cloud, and edge applications with limited space.
Innovative Modular Design Enables Diverse Industry Applications
MIC-770 V3 features a modular design that delivers enhanced functionality and flexibility for PCIe expansion via Advantech i-Modules and Flex I/O in the front panel. Adding a PCIE-1674 vision frame grabber card enables the connection of 4 x cameras when used in autonomous vehicles. Likewise, adding 4 x GbE Flex I/O (98910770301) enables this controller to connect to LiDAR systems, thus enabling it to detect distances and shapes in its environment then pass on data to the NVIDIA L4 GPU for the rendering of 3D models based on graphics analysis.
Remote Management Realizes Seamless Edge AI Computing
MIC-770 V3 supports the iBMC 1.2 Edge Intelligent Solution to simplify remote systems and edge device management. Indeed, by leveraging iBMC hardware-based out-of-band (OOB) management technology, this Advantech WISE-DeviceOn solution can serve as both an in-band and out-of-band management system, enabling the comprehensive access, configuration, monitoring, and analysis & control of IoT network assets on a single centralized platform. In addition, Enterprise IT and OT managers can remotely control the power (via reset/forced shutdown/power on/power off), conduct remote system recovery via Acronis or hardware, trigger SSD recovery, and check operating statuses — even during software or OS failures. These features address 90% of system failures without requiring users to dispatch maintenance crews to the site, thus drastically reducing system downtime and operational costs.
Advanced Thermal Design for Stable and Reliable GPU Computing
The MIC-770 V3 leverages an NVIDIA L4 GPU and supports wide operating temperatures (0 ~ 40 °C) when used in harsh environments. It features a dedicated server-grade air duct design that improves the thermal management of the GPU. This cooling solution maintains a GPU IC operating temperature below 70.5 °C in environmental conditions up to 40 °C to deliver superior performance and clock frequency residency. In sum, MIC-770 V3 leverages its advanced thermal design to deliver 30.3 TFLOPs computing power with 72 watts of power consumption.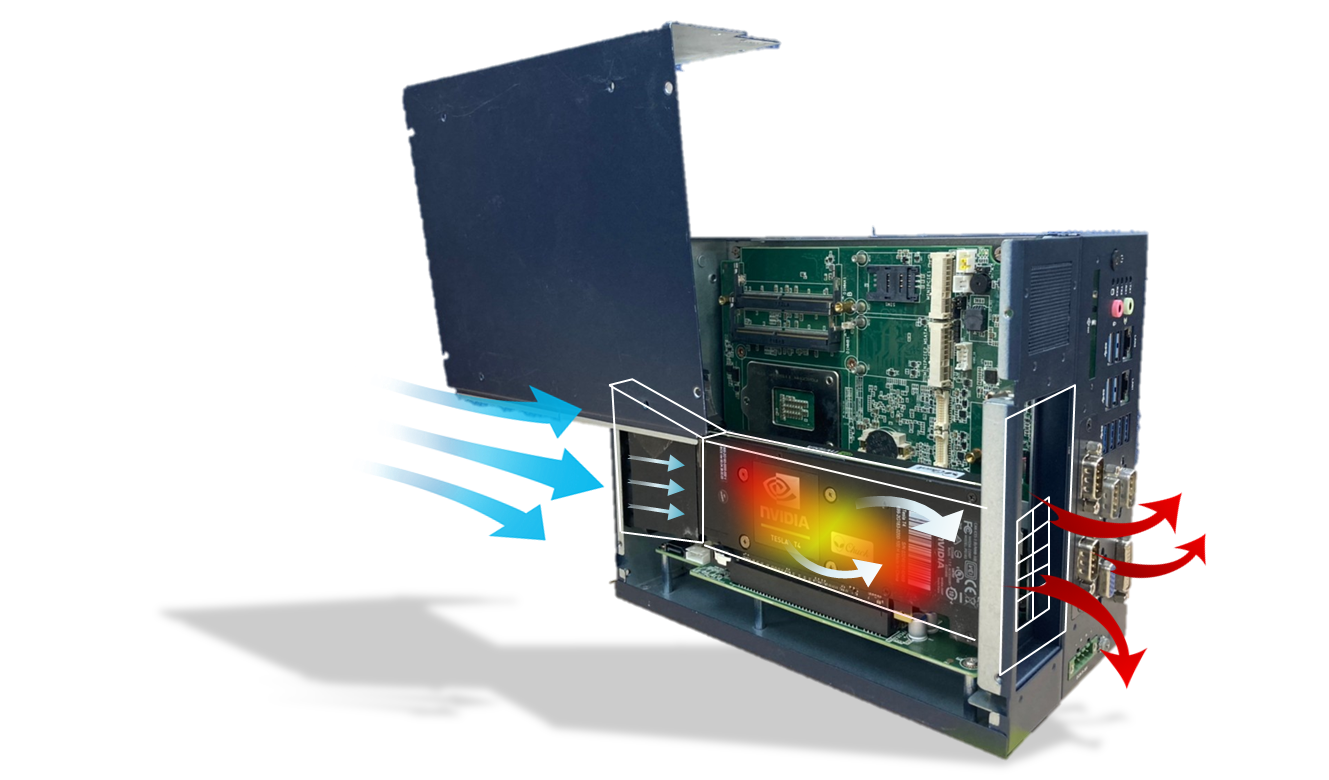 NVIDIA Qualified system with NVIDIA L4 Tensor Core GPU
Delivers 7,424 CUDA cores and 30.3 TFLOPS with 24GB GDDR6 GPU memory in 72W power envelope for edge AI and graphics applications
12th Gen Intel® Core™ i9/i7/i5/i3 processors (LGA 1700)
High-performance solution with compact ruggedized design & Flex I/O/iDoor expansions
Supports Advantech iBMC 1.2 Remote Management Solution on WISE-DeviceOn
Accommodates wide operating temperature and space-limited environments
The Advantech MIC-770 V3 compact industrial computer (with MIC-75M20 i-Module) is available for order now. For more information regarding this or other products, please contact your local sales support team, visit Advantech, or visit our website.
Founded in 1983, Advantech is a leading provider of trusted, innovative products, services, and solutions. Advantech offers comprehensive system integration, hardware, software, customer-centric design services, embedded systems, automation products, and global logistics support. We cooperate closely with our partners to provide complete solutions for a wide range of applications in diverse industries. Our mission is to enable an intelligent planet by developing automated and embedded computing products and solutions that facilitate smarter working and living. With Advantech products, the application and innovation potential becomes unlimited. (Corporate website: www.advantech.com)