When Biology Meets Technology: Harnessing the Power of Bioinformatics
31/01/2023
Location: United State
Unlocking the power of genome analysis through next-generation sequencing (NGS) is critical for advances in bioscience and medicine. To maximize genetic insights, researchers require powerful analysis tools that can accurately translate raw sequencing data into meaningful information. But in order to fully harness these benefits, organizations require easy-to-use solutions capable of accommodating diverse needs, with minimal financial or technical barriers to adoption. This case study describes how a leading bioinformatics solutions provider adopted Advantech's high-performance, industrial-grade SKY-6200 server hardware to develop a highly accurate and efficient software platform that enables laboratories of all sizes to better organize, analyze, and leverage genomic data.
Bioinformatics is a discipline that uses computer technology to analyze and identify patterns in large volumes of biological data. From the sequencer to the algorithms, bioinformatics infrastructure plays a critical role in understanding complex sets of big data. However, because developing unique bioinformatics tools in-house is costly, most laboratories prefer to adopt pre-existing, purpose-built solutions that can be flexibly integrated with their existing infrastructure and customized as required.
To meet this market demand, a leading provider of genome sequencing and secondary-analysis solutions that advance life science research and molecular diagnostics wanted to build a comprehensive and scalable automated solution platform for efficient processing of NGS data.
For all research laboratories, the accuracy of variant calling is critical to ensure the quality of results. With advances in NGS technology, the volume of sequencing data generated continues to grow exponentially. Additionally, with increasing population diversity and many relevant genes falling in difficult-to-map regions, basic data filtering and pattern referencing have become highly resource-intensive processes. According to Moore's Law—which states that computational progress grows significantly faster, smaller, and more efficient over time—computing power doubles every two years. Compare this with the fact genomic data doubles every seven months, and it's clear to see that storage space and processing efficiency are the key concerns for bioinformatics applications.
To provide an NGS analysis platform capable of supporting a wide range of current and future bioinformatics operations, the customer needed an industrial-grade server with numerous expansion slots for installing multiple acceleration cards and high-speed network interface cards (NICs). When working with vast datasets, larger amounts of system memory can accelerate analysis speeds, while increasing the number of CPUs can reduce the time required for read mapping.
The system also needed to be rugged enough to withstand operation in extreme environments, specifically locations with relatively high altitude and temperatures. Therefore, a wide operating temperature range, zero downtime, and high stability were essential hardware requirements. A powerful GPU server with deep-learning capabilities was also necessary to quickly process and transform the data into actionable insights.
Finally, prior to deployment, the solution needed to be certified for worldwide operation. As a global company that values rapid deployment and integration, the customer needed hardware that is standardized for widespread compatibility and third-party certification. In addition to the specific considerations of diverse installation environments, every country has different quality standards and safety regulations. To allow for rapid development and a faster time-to-market, the system must satisfy international standards for informatics technology.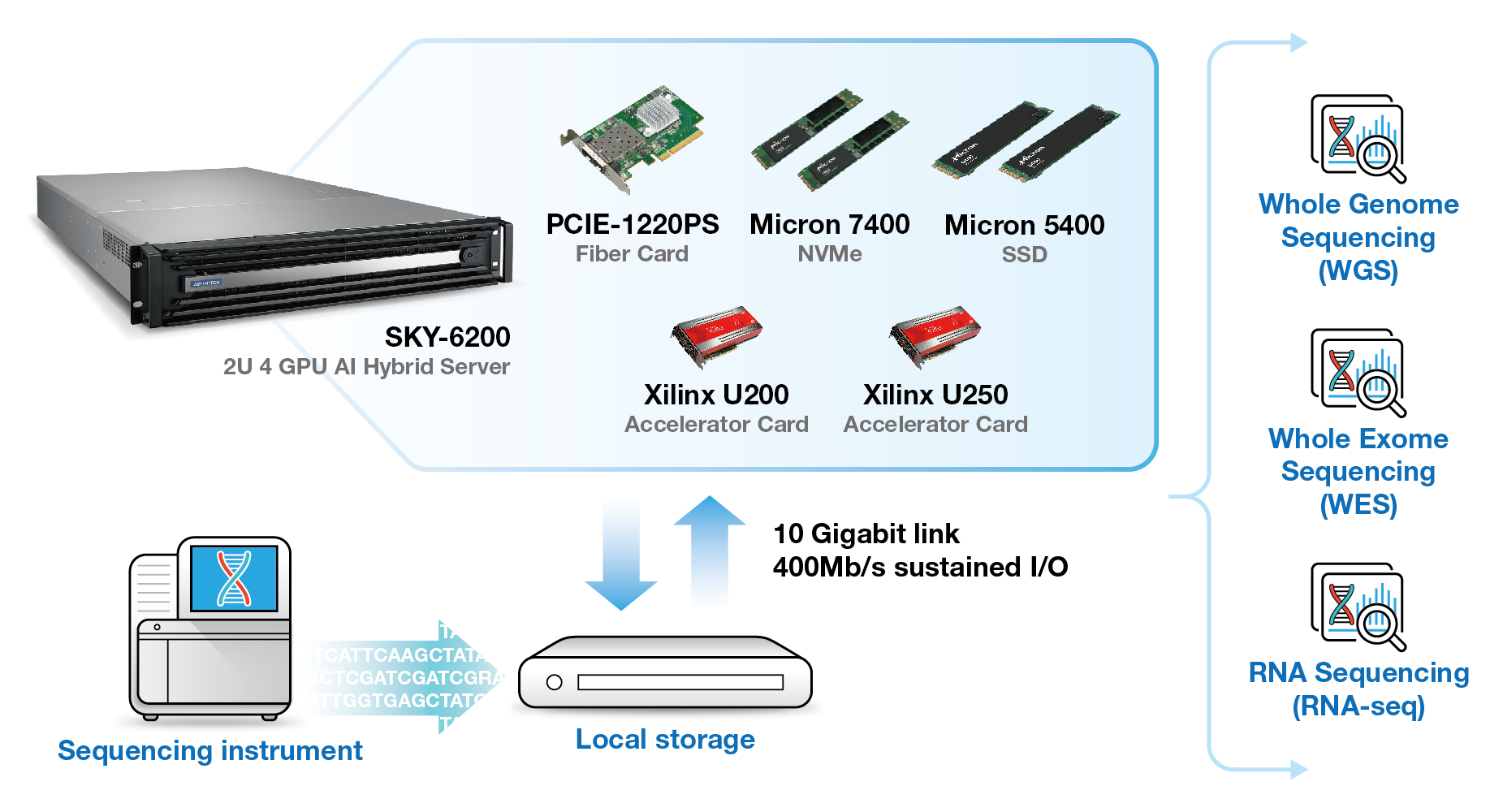 Considering the system requirements, Advantech provided its SKY-6200 series GPU servers. Built for demanding applications, SKY-6200 servers feature dual sockets for second-generation Intel® Xeon® scalable processors, 24 x memory DIMMs, 9 x PCI Express expansion slots, 8 x hot-swappable SATA bays, and 4 x LAN ports, as well as industrial-grade vibration tolerance to increase operational stability. The integrated fiber cards enable reliable high-speed networking, while the field-programmable gate array (FPGA) PCI Express cards allow accelerated deep learning and data analytics.
For streaming big data, a constant 400 Mbs input/output throughput between the server and storage is required. Accordingly, Advantech's SKY-6200 servers are equipped with dual 10 Gigabit network link to ensure reliable high speed always-on network performance. This allows analyzed data to be uploaded to a centralized database for subsequent downstream analysis, variant annotation, data sharing, and genome referencing. Individual laboratories, each with their own fleet of sequencers, can temporarily store raw sequencer output data on cache storage proximal to their instruments. Data can then be easily transferred to centralized compute and storage infrastructure, including network attached storage (NAS). To support computing-intensive processing, SKY-6200 was also equipped with 16 of Micron Technology's 32-GB DDR4 RDIMM modules. Advantech collaborates with Micron Technology as a member of its Industrial Quotient (IQ) Partner Program, which aims to develop high-quality, robust, and durable product solutions for a broad range of industrial applications. Membership in the IQ Partner Program demonstrates Advantech's enduring commitment to producing long-lasting technical innovations that enable an intelligent planet.

Innovative analysis software combined with industrial-grade server hardware provides a breakthrough secondary-analysis platform for genomic data sequencing and pattern referencing.
SKY-6200 server is equipped with dual second-generation Intel® Xeon® Scalable processors and 16 x Micron Technology 32-GB DDR4 RDIMM modules for high-performance computing.
Ultra-efficient workflows with hardware acceleration boost overall performance by 15% for a shortened runtime of 30 minutes.
Accelerated runtime offers 40% storage savings for processing joint genotyping pipelines.

Highly reconfigurable FPGA technology dramatically accelerates mapping, alignment, and variant calling.

Advanced smart fan control optimizes FPGA thermal management to reduce noise levels and maximize computing power.

All the solution hardware, including multiple processors, memory, and network cards, can fit into a compact 2-unit rackmount case for space savings.

Advantech provides an extensive portfolio of mature, industrial-grade products that can be easily customized to deliver breakthrough solutions. For the bioinformatics market, Advantech offers comprehensive IoT solution architecture, including edge sensing, computing, connectivity, and server storage devices with an extended product lifecycle of up to 5 years. From components to systems, Advantech solutions offer design flexibility, operational reliability, and extended longevity support.
Advantech's Design-to-Order team can assist customers with integrating internal firmware and extended functions, such as FPGA thermal management, and adding their unique brand logo as required. This reduces systems integration time and the overall cost of ownership, allowing customer to focus on application development and implementation.

Industrial Quotient (IQ) Partner - Micron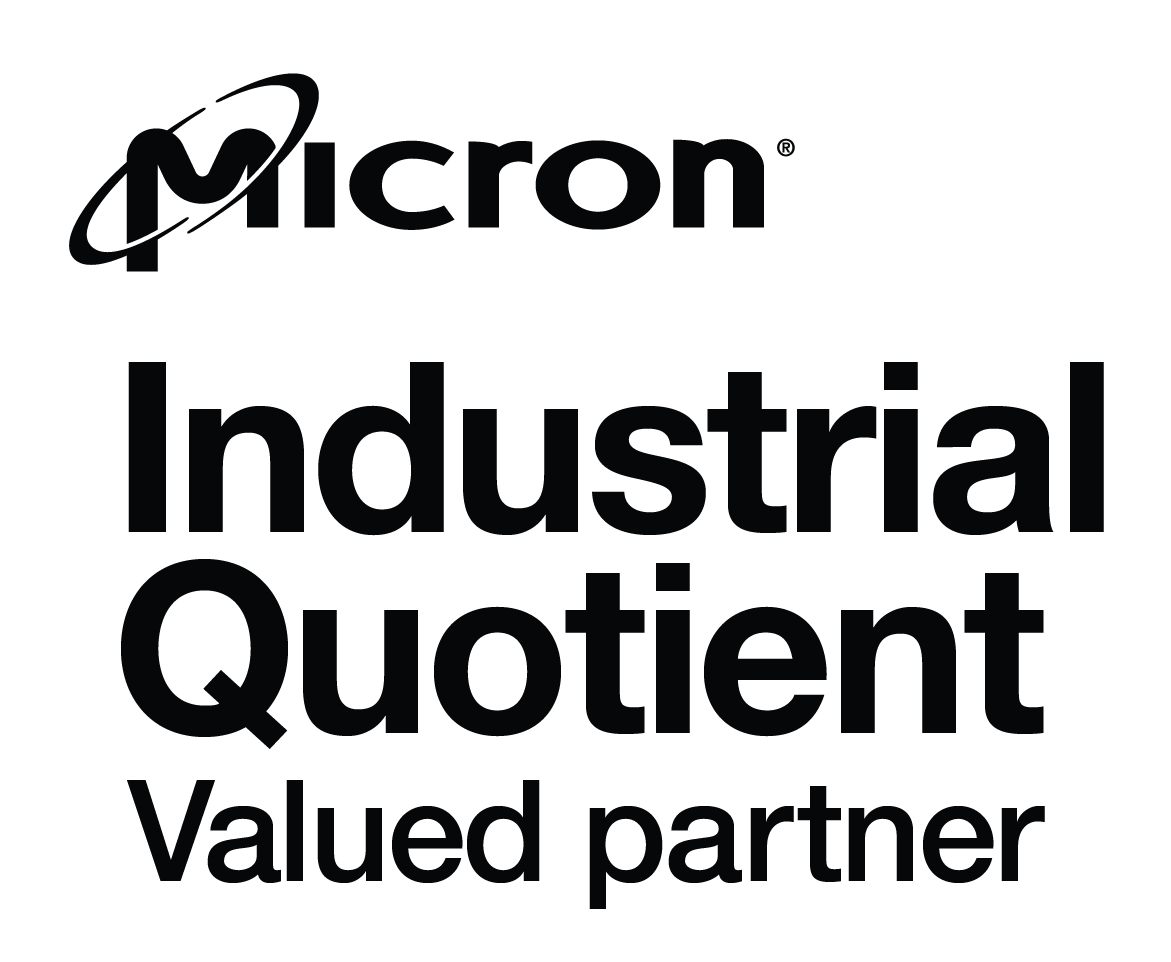 Micron is an industry leader in innovative memory and storage solutions transforming how the world uses information to enrich life for all. With a relentless focus on our customers, technology leadership, and manufacturing and operational excellence, Micron delivers a rich portfolio of high-performance DRAM, NAND and NOR memory and storage products through our Micron® and Crucial® brands. Every day, the innovations that our people create fuel the data economy, enabling advances in artificial intelligence and 5G applications that unleash opportunities — from the data center to the intelligent edge and across the client and mobile user experience. To learn more about Micron Technology, Inc. (Nasdaq: MU), visit www.micron.com.