Advantech Launches AMiS-30EP Clinical Pole Cart for Easy Positioning and Rapid Care Delivery
12/24/2021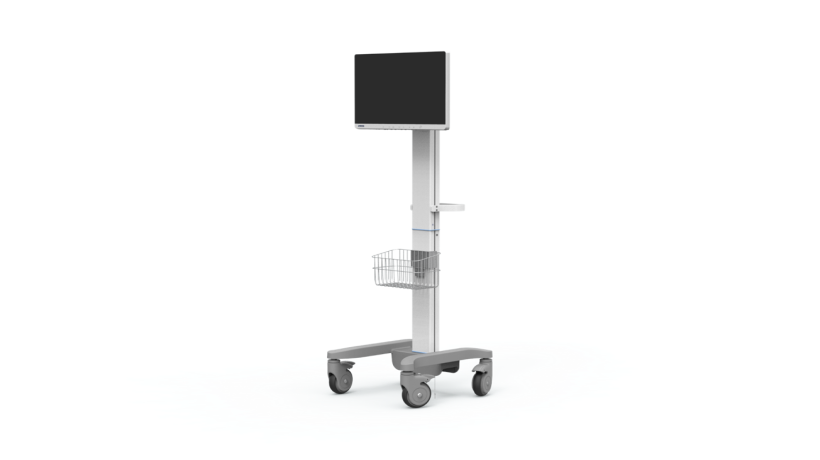 December 24, 2021, Taipei, Taiwan - Advantech, a leading provider of medical computing systems and services, is pleased to announce the latest addition to its AMiS product line – the AMiS-30EP pole cart. Built to round out the AMiS product line by providing a fully configurable mobile cart option, AMiS-30EP is a lightweight (15 kg/33 lb) pole-based rolling stand that can be equipped with various monitors and devices according to specific application requirements.
Standing at a height of approximately 1400 mm/55 in, the AMiS-30EP pole cart features four anti-static 4" casters with round tread wheels for easy movement on various floor surfaces. Affixed at the top of the pole cart is a VESA mount that supports loads of up to 8 kg/17.63 lb for installing an all-in-one monitor, panel PC, or tablet device. Meanwhile, the central pole stand can be equipped with utility baskets for carrying a variety of optional peripherals and devices. This allows healthcare providers to configure the cart to their preference and budget considerations, instead of overspending on redundant features. Compliant with IPX1-rated for water resistance, AMiS-30EP provides a highly customizable cart solution for use in diverse healthcare environments. The compact design and small footprint ensures the cart can be easily positioned in tight spaces to support point-of-care treatment. Thus, AMiS-30EP enables rapid care delivery and is ideal for mobile healthcare applications, such as mobile ultrasounds, ECGs, and vital sign monitoring.
Configurable Multi-Purpose Utility Baskets
The AMiS-30EP central pole stand is designed to be easily fitted with utility baskets and other optional peripherals to satisfy diverse usage requirements. Moreover, such accessories can be installed either at the front or rear of the cart, at whatever height on the central pole, for optimal configuration. This flexibility allows healthcare providers to customize the AMiS-30EP pole cart with multiple peripherals for convenient ergonomic operation.
Convenient Built-in Cable Management
Optimized for enhanced usability, AMiS-30EP offers built-in cable management for safe and convenient service delivery. The central pole features two pole cutouts for routing cables internally. This ensures all cables are safely hidden within the pole, thereby eliminating potential trip hazards and reducing the risk of accidents.
Sturdy Design Ensures Reliable Operation
The AMiS-30EP cart is lightweight and ergonomically designed for high mobility. To ensure reliable long-term operation, the cart features a tilt-resistant base and sturdy center pole with VESA mount capable of supporting up to 8 kg/17.63 lb. The 4" casters (two lockable and two non-lockable) and round tread wheels ensure easy movement and portability. Overall, the cart's small footprint and flexible configuration ensures maximum usability to facilitate rapid care delivery in hospital wards and emergency rooms.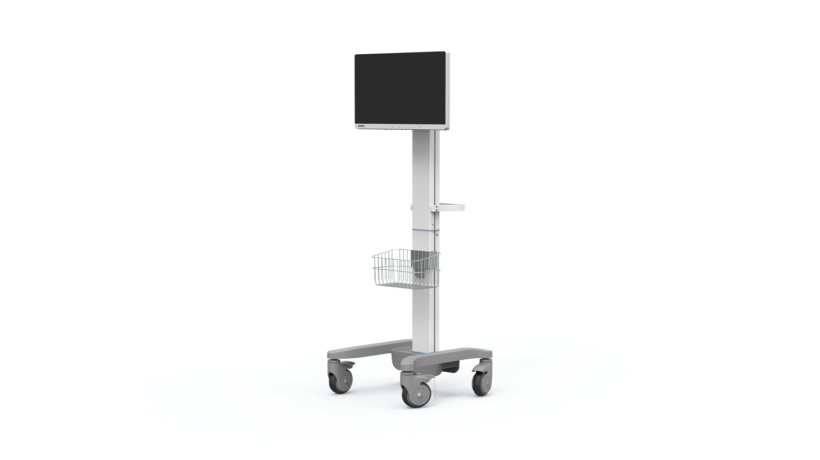 IPX1-rated protection from water ingress
Built-in cable management minimizes trip hazard
Tilt-resistant base with sturdy center pole
Multi-purpose utility basket for storage
4" casters and round tread wheels ensure easy portability Can be rapidly assembled