Advantech Launches New DeviceOn-iService Suite SaaS for Remote Device Management Cloud Service
11/09/2023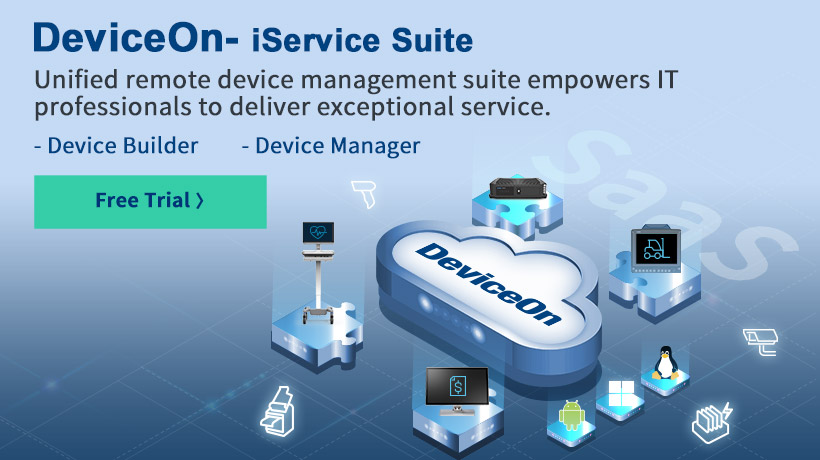 September 11, 2023, Taipei, Taiwan — Advantech, a leading provider of intelligent systems, is pleased to announce the launch of its latest product, a cloud-based version of DeviceOn-iService suite. This new version promises a more user-friendly and convenient remote device management experience, in addition to the comprehensive equipment and peripheral monitoring and management capabilities offered by its predecessor. With the new cloud service design, users can easily connect their devices to DeviceOn-iService suite and efficiently carry out related application deployment and update maintenance tasks. The service is available in two subscription modes, Device Builder and Device Manager, allowing users to choose the option that best suits their requirements.
Device Builder: Configure & Update Devices for Optimal Functionality
This service is primarily targeted toward solution providers or system integrators who need to swiftly customize and modify hardware platform and peripheral settings, and remotely install software updates to meet the evolving application needs of various industry customers. Device Builder offers a highly flexible profile configuration file design that optimizes system-level configuration for different OS platforms. It also integrates cloud storage and content delivery network (CDN) functionality, enabling manufacturers to securely and efficiently install and update application software on devices worldwide. This effectively addresses the staffing requirements of large-scale device deployment and system tuning at the onset of a project.

Device Manager: Monitoring & Managing Devices for Enhanced System Stability
The Device Manager subscription plan provides a full-featured remote device management service that includes all the features of Device Builder, as well as advanced management capabilities for real-time monitoring of hardware, software, and peripherals deployed in different geographic locations worldwide. The service provides real-time alert notifications for potential issues. In addition, DeviceOn-iService suite supports on-site troubleshooting through remote device access features such as screenshot, remote desktop sessions, and device reboot. This allows staff to promptly identify and resolve issues, as well as conduct preemptive maintenance to minimize critical failures and unnecessary downtime.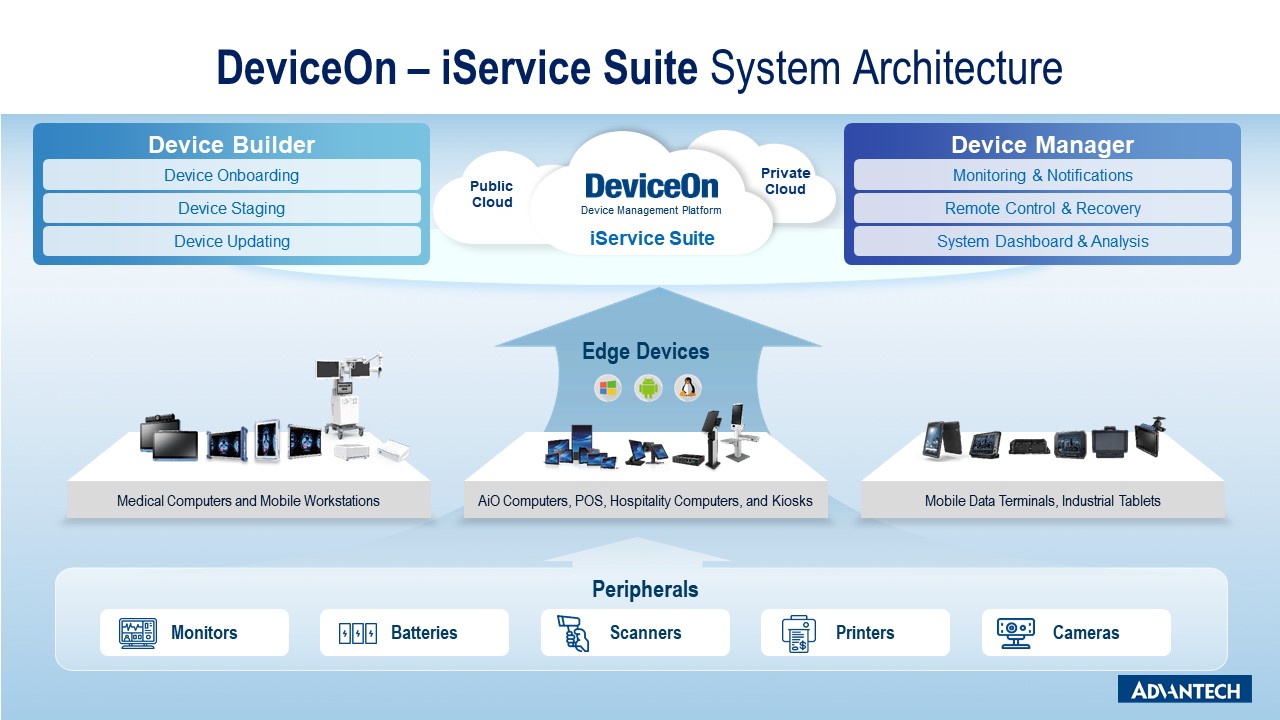 DeviceOn-iService suite SaaS enables users to effortlessly manage thousands of remote devices, streamlining the process of remote device management and maintenance. This significantly reduces operating costs, and minimizes the time required for repairs. To learn more about Advantech's DeviceOn-iService suite solution, please contact your local sales support team or visit our landing page at https://campaign.advantech.online/en/DeviceOn_iService/index.html