Introduction of Cold Chain
The cold chain is a supply chain in which goods are maintained in a temperature-controlled environment. It is common in pharmaceutical and food industries. A poorly controlled supply chain can lead to contaminated foods or drugs, which can cause serious illnesses or even death.

Cold Chain Management Solution
Advantech's cold chain management solution spans temperature and humidity sensors, gateways, an Android APP for configuring the sensors and a backend dashboard that displays the data collected along the cold chain and presents a map indicating where the temperature is poorly controlled, leaving stocks at risk of being damaged.
The temperature and humidity sensors pass data to a gateway, and the gateway uploads the data to the cloud. The manager can use Advantech's cold chain management platform to monitor cold-chain logistics in different stores simultaneously in real time.

System Architecture

Feature Highlights
Ensures Food Safety and Reduces Food Loss by 30%
Closely monitors the temperature of the environment in which the food is stored, guaranteeing food safety and effectively reducing the loss of food along the supply chain up by 30%.
Secures Pharmaceutical Quality
Assures that pharmaceutical products are transported in temperature-controlled means, providing safe medicine and vaccines to the users.
Unified Platform
Integrates all data collected by the sensors on a visualized platform, including information from the warehouses, the vehicles and the stores.
Application Story
A Supermarket Chain Strives to Deliver Food Quality and Safety
A global supermarket chain's Taiwanese branch has implemented Advantech's cold chain solution in its distribution centers, warehouses, refrigerator trucks, and retail stores closely monitor the transportation and storage of food products.
Through sensors installed in refrigerator trucks, Mr. Yang, who runs a store of the supermarket chain in northern Taiwan, can monitor the temperatures at which his food orders are delivered in the trucks to the store. To maintain the quality and safety of these food products upon their arrival and before sold to customers, he uses Advantech's temperature and humidity sensors to ensure they are stored at proper temperatures in fridges and freezers.
Through the cold chain management dashboard, Mr. Yang can have real-time access to all the data collected by the sensors and get notifications when something goes wrong in the supply chain, warehouses and his store. Advantech's cold chain solution enables store owners to efficiently and effectively control the quality of food products and minimize risks due to poor maintenance of the storage environment.
• Quick proof of concept
• Cableless setup
• Easy installation
• No damage to all / equipment / vehicle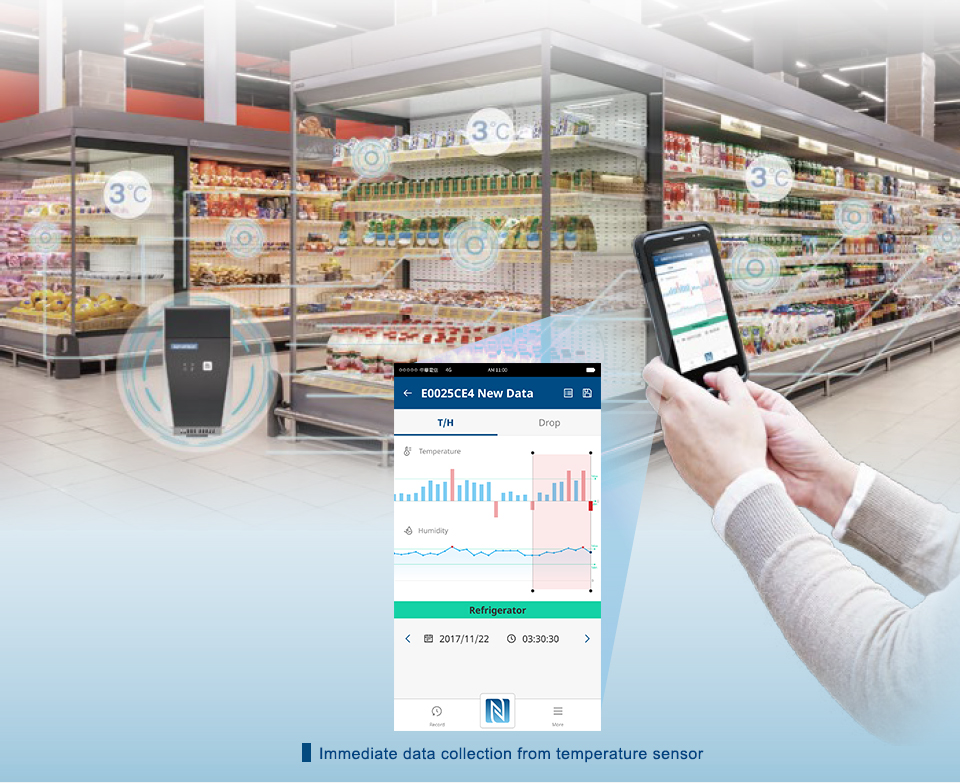 SRP Visualization

Focal Point
Displays details about the real-time status of all sensors installed in the store, highlighting those that report unusual events.
Dashboard with Alert Report:
Enables in-depth monitoring and management of the end-to-end cold chain, including all the sensors deployed in refrigerator trucks, distribution centers, and stores, to help store managers ensure food products are carefully delivered with their quality unimpaired.
KPI Score Card:
Provides store managers with a quick overview of the KPI of different stores, with which store managers can monitor performances of numerous stores within a successive period of time.